---

The Chartered Institute of Marketing (CIM) Sri Lanka held its inaugural Talking Point programme for the new year titled 'Insights for Marketing in 2017' in January at the Union Ballroom, Hilton Colombo Residences.
With an aim to appraise participants on the marketing trends of 2016 and navigating through what is forecast for 2017, the vibrant panel also discussed maintaining best practices and ways in which to support a company's future strategic direction.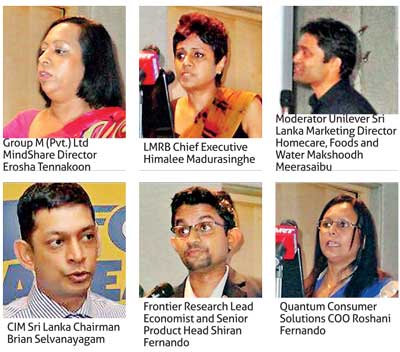 The event brought together corporate leaders, professionals and marketers, presenting insights on how marketing has evolved in 2016 and the unique challenges shaping 2017.
The panel consisted of Quantum Consumer Solutions COO Roshani Fernando, Frontier Research Lead Economist and Senior Product Head Shiran Fernando, LMRB Chief Executive Himalee Madurasinghe and Group M MindShare Director Erosha Tennakoon. The panel discussion was moderated by Unilever Sri Lanka Marketing Director Home Care, Foods/Refreshment and Pureit Makshoodh Meerasaibu.
Presenting an overview of the Sri Lankan economy, Shiran discussed the 'Macro insights for 2017' with a detailed outlook on interest rates and currency trends while identifying key factors to watch out for during the new year.
"The last two years there shows some stability and assurance in the markets. There are many key reasons to be positive and at the end of 2017 the economy could be much better," he noted. However, Fernando cautioned the need to be prepared for external risks which could derail stability and to expect some domestic bumps.
Addressing those present, Roshani explained on 'Insights from a psychographic lens of the Sri Lankan household', which described five different psychographic profiles that exist across Sri Lankan households. She presented valuable qualitative information in understanding the country's divergent households and 'keys to unlock opportunities to look at consumers differently'.
Madurasinghe outlined insights on 'Emerging patterns of consumer behaviour and lifestyles'. Citing a wealth of data from branded products over three decades and numerous surveys she explained 'how the household income has shifted over time and doubled from 2009-2016.' Madursinghe emphasized on a series of opportunities for marketers in terms of durable goods due to lifestyle changes and increase in income in addition to the blurring lines between urban and rural.
"Changing consumer demographic and lifestyles have contributed to the growth of many sectors, where convenience options have increased. While urban and especially rural consumers now make very informed decisions, the need for two price tiers for the emerging segments due to market changes has arisen," she opined.
Tennakoon spoke on 'Emerging trends in the media and communication landscape in Sri Lanka'. She noted, "The consumer today is complex and demanding with many needs and wants portraying dynamic behaviour. Communication should be personalized and interactive through adaptive methods."
She urged marketers to seek integrated communication plans as they are a marriage of traditional and new media showcasing better results rather than using the streams in isolation.
A vibrant interactive discussion that followed the sessions presented the audience with further discerning thoughts in understanding and connecting with consumers in new and meaningful ways, in the current evolving and dynamic business environment.
The Chartered Institute of Marketing (CIM) UK is the world's largest professional body for marketing. CIM Sri Lanka is the first international branch of CIM UK comprising the largest number of members, both students and professional members.
The regional institute has always campaigned for greater recognition and excellence in the marketing profession in Sri Lanka, through education, training and professional development.