---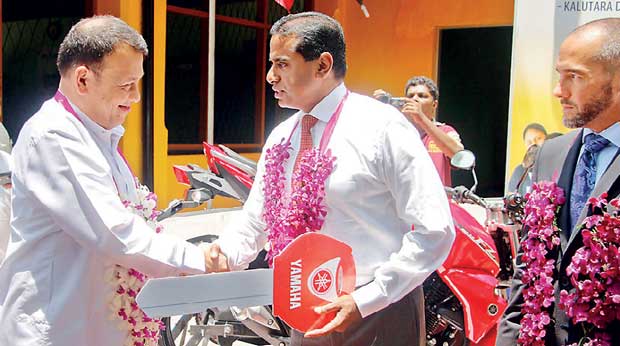 With the objective of creating global opportunities for our rural youth, Associated Motorways (Pvt) Ltd (AMW), the number one automotive company in Sri Lanka with its parent company Al-Futtaim Automotive Group (AFG), UAEand the Vocational Training Authority (VTA)joined hands to set up a state of the artmotorcycle and three-wheeler training centre at the Vocational Training Centre premises in Panapitiya ,Kalutara.

This endeavor is expected to provide a platform for talented youth from rural areas to sharpen their skills in two wheeler and three wheeler automobile technology by undergoing a global training curriculum which is to meet international standards. The students will be equipped with the essential skills such as English, computer literacy and other soft skills required for them to work in leading automobile companies in Sri Lanka as well as in overseas.

AMW & AFG has identified that there are professional technicians in rural areas of this country, who are currently lacking the skills set required to meet local and international automobile standards. In order to bridge this gap AMW & AFG has undertaken to provide the students with an internationally recognized curriculum which is developed with the assistance of Al-FuttaimTraining Academy in Dubai. Also computers to enhance their computer literacy andlatest motor cycles in the Yamaha FZ Version 2 range have been provided by AMW.

The concept and vision for this training centre was initiated by the Minister Mahinda Samarasinghe (Minister of Skills Development and Vocational Training), which came to life on the 17th of March with the inauguration at Panapitiya - Kalutara. The training centre was inaugurated by the chief guest Mahinda Samarasinghe (Minister of Skills Development and Vocational Training), Sumith Lal Mendis(Minister of Health and Indigenous Medicine, Social Welfare, Probationary, Child Protections and Women Affairs of the Western Province), Major General Gamini Hettiarachchi (Chairman - VTA), Samantha Rajapaksa,(Managing Director - AMW),MrAbdul Rahman Saqr (Director, Human Resources - AFG), KushanWijewickrama(Director Human Resources & Shared Services-AMW), Sarah Drake (Automotive Trainer, Al-FuttaimAutomotive Academy) and other distinguished guests.
The event was marked by the unveiling of a plaque followed by the handing over of three Yamaha motorcycles, donated by Samantha Rajapaksa (the Managing Director of AMW) to Mahinda Samarasinghe (Minister of Skills Development and Vocational Training). MrSamantha Rajapaksa further emphasized on this venturebetween AMW and VTA, "AMW being the leading automobile company in Sri Lanka is not focusing only on profit but also to be a great partner in social development. Our main objective of this public private partnership is to draw foreign revenue to the country by sending skilled hands who will be more competent in technical skills, English Language, computer skills and other soft skills to Middle Eastern countries instead sending unskilled labor". Furthermore the Honorable Minister touredaround the training premises to gain first-hand knowledge regarding
the standard and quality of training facilities.

The students will undergo a six months of theoretical training on three-wheeler and two wheeler and practical training at AMW premises. Students who excels during the training period and meets the international standards will be absorbed into the AMW and AFG Dubai staff.