---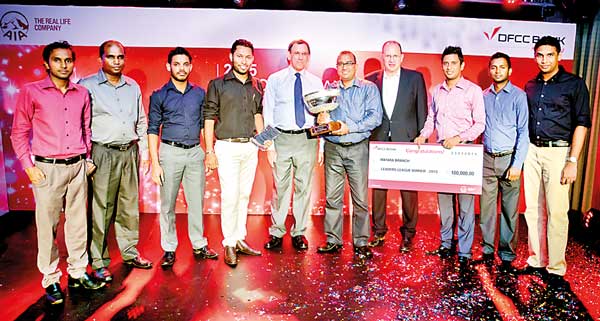 Leader's League Trophy winners – the team from Matara branch – with AIA Group CEO Mark Tucker and DFCC Chairman Royle Jansz
AIA Sri Lanka and DFCC Bank joined hands recently to hold the partnership's first-ever Awards Night at Water's Edge. AIA Group Chief Executive and President Mark Edward Tucker was in Sri Lanka to personally congratulate and recognize the outstanding progress made by the partnership in a short span of 18 months.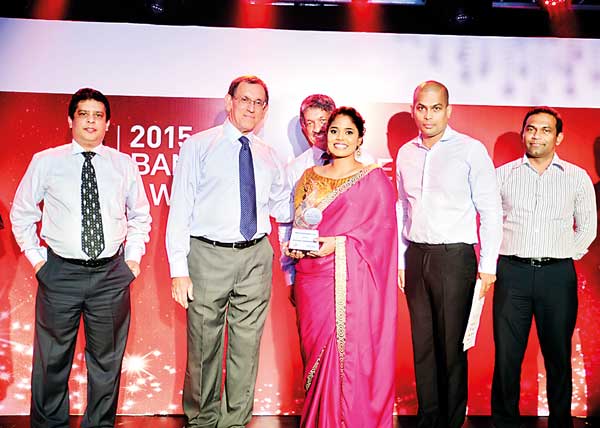 Best Bancassurance Sales Executive Nishara Gunewardena receiving the award in the presence of (from left) DFCC Deputy CEO Lakshman Silva, Chairman Royle Jansz, CEO Arjun Fernando, AIA Director Partnerships Amal Perera and DFCC AVP Bancassurance Sajith Silva

Chairman Royle Jansz, Chief Executive Officer Arjun Fernando, Deputy CEO Lakshman Silva of DFCC and CEO Shah Rouf, Director Partnerships Amal Perera of AIA Sri Lanka also participated in the awards presentation held to reward and recognize the partnership's best performers in bancassurance for the year 2015.

Two outstanding achievers awarded were Ravi Hemawardana and Nishara Gunawardene, both Million Dollar Round Table (MDRT) members. MDRT membership is the world's highest hallmark of excellence a life insurance sales person can achieve, demonstrating exceptional professional knowledge, strict ethical conduct and outstanding client service. They were among the 15 bancassurance executives at AIA Sri Lanka who are MDRT members this year demonstrating AIA's stature in bancassurance in Sri Lanka.

The Grand Award of Leader's League Trophy for the Best DFCC branch was presented to the Matara branch. The award for the Best Senior Sales Executive at AIA for his role in managing a sales cluster was presented to Nishan Rangana. The Best Bancassurance Sales Executive was AIA's Nishara Gunawardena attached to DFCC's Nawala branch. The Best AIA Bancassurance Newcomer's Award was presented to Sales Executive Ravi Hemawardana attached to the Matara branch.

Fernando said, "Our history of 60 years makes us one of the oldest development banks in Asia and certainly the wind beneath the wings of many trail-blazing businesses in the country. DFCC entered into a partnership with AIA with the objective of enhancing our customer value proposition. I believe that DFCC and AIA complement each other to bring exceptional value
to customers."

Perera said, "For a fledgling partnership, DFCC and AIA have together created positive synergy, resulting in reaching significant milestones in our first year of operation, while setting a strong foundation for the future."