---
Says the party has accepted the policies and principles of the alliance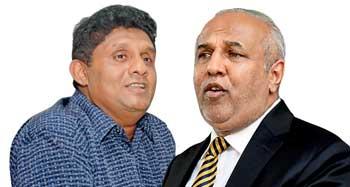 By Yohan Perera

The Sri Lanka Muslim Congress (SLMC) yesterday officially joined the Samagi Jana Balawegaya (SJB) led by Opposition Leader Sajith Premadasa and this was announced at a news conference held at Parliamentary complex yesterday.
Mr. Premadasa said he had accepted the SLMC into the alliance under the powers vested in him by the United National Party (UNP). "The UNP working committee has given its approval to the SJB while UNP Leader Ranil Wickremesinghe had officially appointed me as the UNP representative of the alliance. Therefore I have accepted the SLMC into the alliance legally under the powers vested in me," he said.

When asked for more details on the agreement with the SLMC, Mr. Premadasa said the SLMC had accepted policies and the principles which the SJB stood for such as nationalism, unity among all ethnic and religious groups in the country and to address the concerns of the people.

SLMC Leader Rauff Hakeem said his party's agreement with the alliance will include the areas which SLMC will contest and on the allotment of candidates for the general election. "This is a unique alliance which will focus on establishing unity and reconciliation among the people in the country," he said.

Responding to a question asked by the journalists as to what SJB's symbol was going to be at the general election, Mr. Premadasa said it would be revealed to the people soon. "There is no issue regarding the symbol as we have sorted this matter," he said.