---
Sarath Amunugama will lead delegation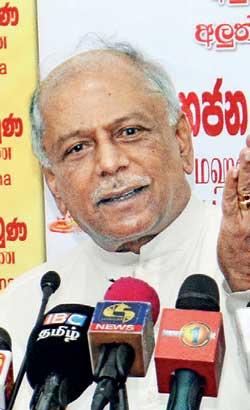 By Sandun A Jayasekera
President Maithripala Sirisena has appointed a separate three member delegation to represent the country at the ongoing UNHRC sessions in Geneva as he does not have confidence in the government, MEP leader and joint opposition frontliner Dinesh Gunawardana said yesterday.
Mr. Gunawaerdana said President Sirisena was never in agreement with the resolution passed on Sri Lanka at the United Nations Human Rights Council session in September 2015 co-sponsored by Sri Lanka with the US that mandated to appoint a hybrid court with foreign judges to hear allegations against armed forces on alleged violation of the International Humanitarian Law (IHL).

The delegation of President Sirisena will be led by former Minister Dr. Sarath Amunugama to represent Sri Lanka at the ongoing 40th session of the UNHRC in Geneva. The sessions will conclude on March 22. Other members of the committee are former Minister Mahinda Samarasinghe and Northern Province Governor Prof. Suren Raghavan.

In response to Daily Mirror, Mr. Gunawardana said the Presidential delegation would seek the possibility of withdrawing from the UNHRC resolution passed in 2015 based on incorrect data and added the resolution's stand that 40,000 civilians were killed during the final stage of the Humanitarian Operation was hearsay.

Mr. Gunawardana told media at the Sri Lanka Foundation that Sri Lanka Government has never taken a concerted effort to counter charges levelled against armed forces at the UNHRC on alleged human rights violations.

The allegations and the resolution came under heavy criticism once again by Baron Lord Naseby last week, he noted.

Lord Naseby has said Sri Lanka is not a country that has to be monitored by the Western countries almost everyday and now is the time for closure and to let Sri Lanka stand on its own feet.

"Is this really a country that has to be monitored by the West almost every day. My view as President of the All Party British Sri Lanka Parliamentary Group is no. I shall put all these points and more in a Debate. I shall finish by reminding the Government of the old adage 'keep your friendships in repair'. We may well need Sri Lanka's friendship again soon over Brexit," he has said.

After all it is nearly four years since these resolutions were passed; being originally moved by the USA and the UK and co-sponsored by the Government of Sri Lanka who welcomed help.
Specifically two resolutions were adopted by the UNHCR in September 2015 and again in March 2017. The resolutions were entitled 'Promoting reconciliation, accountability and human rights in Sri Lanka'.