---
District Parliamentarians Shantha Bandara and Samanpriya Herath promised to ban earth mining by a gazette notification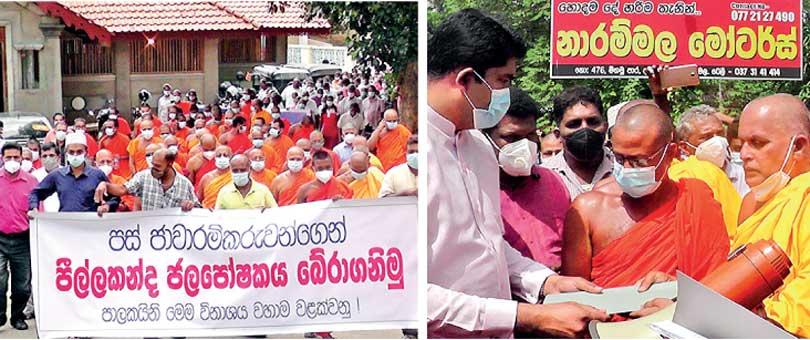 The protest continued for the eighth day yesterday
By Adikari Mudiyanse
As the protest against earth and gravel mining in Peellakanda forest reserve at Dampelessa in Narammala continued for the eighth day yesterday, District Parliamentarians Shantha Bandara and Samanpriya Herath who met the protestors, promised to ban earth mining in the area by gazette notification.
Protestors including the Mahasangha, the National Organiser of the All Ceylon Agrarian Congress Namal Karunaratne, and residents of the area who continued the protest at Dampelessa junction for about three hours, handed over a memorandum to the parliamentarians requesting to declare Peellakanda a protected forest reserve and the catchment of water resources.

They pointed out that the earth moving and gravel mining which had now been suspended, should be banned permanently. They called off the protest when the two parliamentarians who showed a positive response to the memorandum, undertook in writing to issue the relevant gazette notification soon.
They called off the protest when the two parliamentarians who showed a positive response to the memorandum, undertook in writing to issue the relevant gazette notification soon