---
Says former cricketers became legends due to disciplined playing and team spirit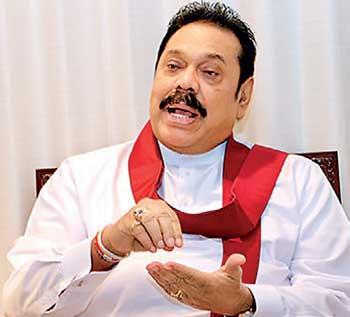 Prime Minister Mahinda Rajapaksa today revealed two unforgettable incidents that took place during the 1996 cricket World Cup which highlighted the humanitarian aspect of the then Sri Lanka cricket team.
Reminiscing his memories on one incident, he said during the semi final match played in India where the excited crowd started pelting bottles and stones, Sri Lanka reserve player Upul Chandana had volunteered to field in the boundary in place of Aravinda de Silva saying that this veteran would sustain injuries preventing him from playing the World Cup final.
Speaking at the 25th anniversary commemorations held to felicitate the 1996 World Cup winning Sri Lanka cricket team, he said players at that time had a feeling about the country where they were prepared even to sacrifice their lives. "This is a story of humanity," he said. The Prime Minister also resurrected another incident highlighting the humanity of the then cricket team where he said that after returning with the World Cup, Arjuna Ranatunga first visited the residence of late Gamini Dissanayake who was assassinated by the LTTE, to pay his gratitude for the service he did for Cricket, despite his father being a minister of the then government.

Speaking further the Prime Minister said that former cricketers have become cricketing legends not because of the money or facilities but due to the training they got through disciplined playing and team spirit.

He said the cricketing legends of Sri Lanka are winning consecutively at the legends tournament currently underway in India.
"I believe that the secret of their victory is not the money or the facilities of the game but the training they got through disciplined playing and team spirit. That is why they have become cricketing legends," he said.