---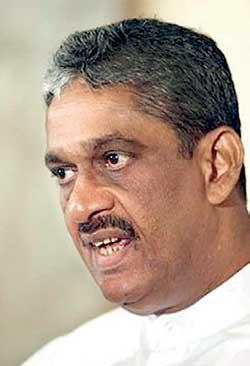 By Yohan Perera and Ajith Siriwardana
Prabhakaran's youngest son was a commander of the LTTE baby brigade, but the Sri Lankan army never killed him, SJB MP Field Marshal Sarath Fonseka told Parliament yesterday.
He said this in response to an allegation made by Tamil National People's Front MP Selvaraj Gajendran that the security forces killed Prabhakaran's little son after feeding him with biscuits.

"Prabhakaran's wife was a member of the LTTE, his eldest son a colonel in the LTTE, his daughter a member of the LTTE women's wing and his youngest son was a commanding officer of LTTE baby brigade," the MP said. "The boy was seen in a sarong in the picture which was circulated in the media in 2009 while the person who is with him in the picture is dressed in uniform worn by the jungle brigade of the Indian Army. The National People's Front Member should refrain from making false allegations."

SLPP Badulla District MP Sudarshan Denipitiya who objected to Mr. Gajendran's allegation said it should be expunged from the Hansard.