---
SLMC demands that the SL Govt reverses it's 'unjustified' cremation only policy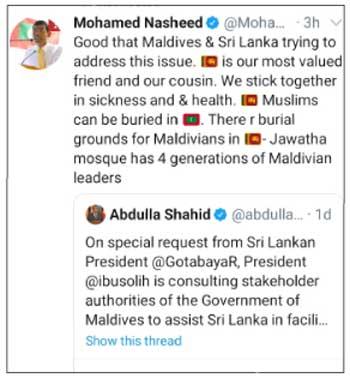 By JAMILA HUSAIN
Maldives Speaker of Parliament and former President, Mohamed Nasheed yesterday reiterated an invitation that Sri Lankan Muslim COVID-19 victims can be buried in the Maldives.
In a statement on his official Twitter account, Nasheed said that it was good that both the Maldives and Sri Lanka were trying to address this issue as Sri Lanka was a most valued friend and cousin of the Maldives.
"We stick together in sickness and health. Sri Lanka Muslims can be buried in the Maldives. There are burial grounds for Maldivians in Sri Lanka - Jawatha mosque has four generations of Maldivian leaders," Nasheed said.
Maldives Foreign Minister Abdulla Shahid, on Monday in a statement said that following a special request from Sri Lankan President Gotabaya Rajapaksa, Maldives President Ibrahim Solih was consulting local stakeholders to assist Sri Lanka in facilitating Islamic funeral rites in the Maldives for Sri Lankan Muslims succumbing to the COVID-19 pandemic.

However since the statement, the Muslim community in Sri Lanka, while thanking the Maldives government said it urged the Sri Lankan government to allow Sri Lankan Muslim citizens who succumb to the virus to be buried within the country as they were all citizens of Sri Lanka.

Following the Daily Mirror story on Monday, titled 'Maldives Steps in Over Burial Row, Offers to bury COVID-19 victims', Sri Lankan Muslim Congress Leader Rauff Hakeem, in a letter to the Maldives Ambassador in Colombo said while he appreciated the invitation by the Maldives government, he was nevertheless constrained to say that Muslims will instead, demand that the Sri Lankan government reverses it's 'unjustified' cremation only policy which is not based on epidemiological scientific evidence nor is ethically sanctioned based on WHO and UNESCO guidelines governing protocol on COVID-19 disposal of dead bodies.
Sri Lanka Muslims can be buried in the Maldives. There are burial grounds for Maldivians in Sri Lanka