---
Says not a constructive move to meet at Temple Tress, without reconvening Parliament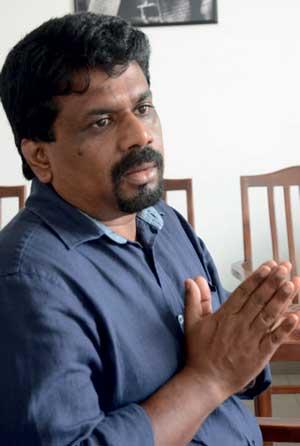 By Ajith Siriwardana
The Janatha Vimukthi Peramuna (JVP) has informed Prime Minister Mahinda Rajapaksa that they would boycott former MPs' meeting convened by the latter at Temple Trees on May 4 to discuss the current situation in the country.
This has been conveyed to the Prime Minster in a letter written by JVP Leader Anura Kumara Dissanayake.
He said in the letter that it was not a constructive move to convene the 225 former MPs to Temple Trees instead of convening parliament, which has constitutional powers to seek ideas of the current situation and combat the corona pandemic.

"We also stress that in a situation where no action has been taken to form a common mechanism to face this epidemic as proposed by us and several other parties, it is pointless to convene a meeting of former MPs," he said and added that "On the other hand, we see that it is best to arrange a meeting with all political party leaders to discuss about facing the corona pandemic.

However, he said if the meeting was convened to discuss the constitutional crisis, such a meeting would not provide any solution to a constitutional crisis. He said former JVP MPs would not attend the meeting as they deemed it was not fruitful to educate the MPs about a constitutional crisis created by the government itself.