---
He has deprived the general public of this country of their human rights of the "right to information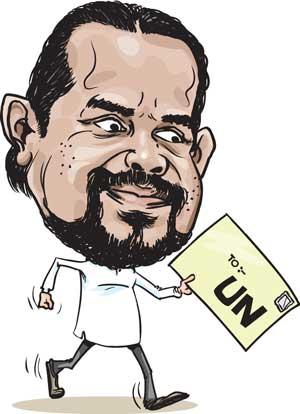 By Sheain Fernandopulle
The National Freedom Front (NFF) led by MP Wimal Weerawansa, in a letter addressed to the UN Office in Colombo, condemned the interference with independence of the Judiciary of Sri Lanka by UNO Special Representative Clément Nyaletsossi Voule.
In a letter addressed to UN Resident Coordinator Hanaa Singer, Mr. Weerawansa said that non-intervention with the independence of the judiciary of any country either by the local officers or officers of the international non-governmental organizations is a peremptory law or jus cogens under the principles of customary and treaty-based International Law.
"After concluding his 8-day visit, he issued a statement dated July 26, 2019 wherein he has admitted that he met the Chief Justice of Sri Lanka.

Further, it was revealed that the Acting Secretary to the Ministry of Foreign Affairs in a letter addressed to the Secretary to the Ministry of Justice, had sought the facilitation of a meeting between Mr. Clément and the members of the judiciary including the Chief Justice.

When the media questioned Mr. Clément as to whether he met the members of the judiciary and also of the meeting, he has said that those details were confidential and refused to comment further in this regard.

Thereby he has deprived the general public of this country of their human rights of the "right to information".

Furthermore, the local media reported that Mr. Clément had wanted the members of the judiciary to visit him with files of some special cases that are now sub judice.
In this context firstly, I would like to draw your attention to the constitutional provisions of Sri Lanka regarding the independence of the Judiciary.

Article 111C. (1) provides that

"Every judge, presiding officer, public officer or other person entrusted by law with judicial powers or functions or with functions under this Chapter or with similar functions under any law enacted by Parliament shall exercise and perform such powers and functions without being subject to any direction or other interference proceeding from any other person except a superior court, tribunal, institution or other person entitled under law to direct or supervise such judge, presiding officer, public officer or such other person in the exercise or performance of such powers or functions.

(2) Every person who, without legal authority, interferes or attempts to interfere with the exercise or performance of the judicial powers or functions of any judge, presiding officer, public officer or such other person as is referred to in paragraph (1) of this Article, shall be guilty of an offence punishable by the High Court on conviction after trial without a jury with imprisonment of either description for a term which may extend to a period of one year or with fine or with both such imprisonment and fine and may, in addition, be disqualified for a period not exceeding seven years from the date of such conviction from being an elector and from voting at a Referendum or at any election of the President of the Republic or at any election of a Member of Parliament or any local authority or from holding any public office and from being employed as a public officer.

As per these constitutional provisions, Mr. Clément Nyaletsossi Voule is not entitled under any law in Sri Lanka or international law to supervise or to give directions to any judicial officer, court or tribunal in Sri Lanka. He has committed a serious offence under these provisions of the Constitution of the Democratic Socialist Republic of Sri Lanka," he wrote.