---
The unscheduled and unannounced power cut last Monday, in the south, is due to a lack of understanding between the CEYPETCO and the Ceylon Electricity Board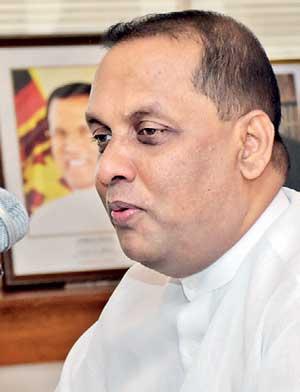 By Sandun A. Jayasekera
Power, Energy and Commuter Transport Management Minister Mahinda Amaraweera will seek cabinet approval tomorrow to increase the credit limit to the Ceylon Electricity Board (CEB) from the Ceylon Petroleum Corporation (CEYPETCO) to Rs. 100 billion to prevent any unscheduled power cuts like the one imposed in the South, on Monday last week (03).
At a crucial meeting held yesterday (10) at the Power and Energy Ministry, the Bank of Ceylon (BOC) pledged a further Rs, 5 billion immediately and the People's Bank took an undertaking to get board approval for a credit facility of an additional Rs. 5 billion as the CEB was facing the risk of country wide power cuts this week as CEYPETCO had refused to provide fuel any longer because the CEB, the state owned power monopoly, had exceeded the credit limit of Rs. 80 billion by another Rs. 6 billion by last week.

Minister Anmaraweera held a crucial discussion with top officials of the Power and Energy Ministry, CEB, CEYPETCO and other key establishments involved with fuel and electricity supply to
the country. It was agreed at the talks, that the CEB will pay 50% of the fuel bill immediately when purchases are made from CEYPETCO to keep the credit limit to a manageable level.

Minister Amaraweera gave instructions to the CEB management to refrain from imposing power cuts under any circumstances without approval from him or the Ministry Secretary. The Minister also made arrangements to pay Rs. 10 billion immediately to the CEYPETCO and instructed the CEYPETCO management to increase the credit limit to the CEB to Rs. 100 billion."The unscheduled and unannounced power cut last Monday (03) in the south is due to a lack of understanding between the CEYPETCO and the CEB," the Minister said. Minister Amaraweera appointed a three-member committee chaired by Prof. Rahula Athalage on Friday to look into last week's sudden power-cuts and submit a report by tomorrow

The committee has been mandated to inquire into the circumstances that led to the unscheduled power cut and has been authorised to summon and question any official of the Ministry or at any other establishment that comes under the purview of the Power and Energy Ministry. Other members of the committee are Additional Director General E.A.Ratnaseela and Director Sulakshana Jayawardana.
The unscheduled and unannounced power cut last Monday, in the south, is due to a lack of understanding between the CEYPETCO and the CEB