---
The Navy had detected 500 kg of ICE, 500 kg of heroin, 200 packets of narcotics know as 'Babul' and 100g of unidentified narcotics pills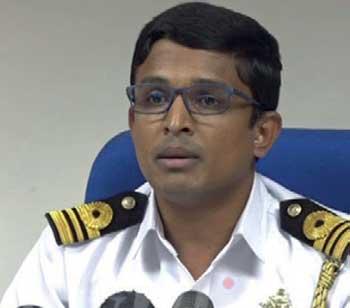 By Darshana Sanjeewa Balasuriya
The Navy seized a stock of narcotics suspected to be Crystal methamphetamine (ICE) and more than 500kg of Cocaine worth more than Rs.12.5 billion during an operation conducted in the high seas, Navy Spokesman Isuru Sooriyabandara said yesterday.
He said navy personnel on board the 'SLN Sayura' engaged in deep sea surveillance, detected the ship some 463 nautical miles or 835km off the Southern coast of Sri Lanka on Saturday.

The spokesman said on searching the vessel, the Navy had detected 500 kg of ICE, 500 kg of heroin, 200 packets of narcotics know as 'Babul' and 100g of unidentified narcotics pills with a street value of more than Rs.12,500 million.

He said the vessel -- the 3rd foreign-owned vessel to be seized while transporting narcotics -- would be brought to the Dikowita Harbour for further investigation.

Meanwhile, on February 22 and 25, two foreign vessels and a Sri Lankan vessel were seized and 16 foreigners and five Sri Lankans arrested in the South on charges of smuggling narcotics to Sri Lanka.
The 3rd foreign-owned vessel to be seized while transporting narcotics -- would be brought to the Dikowita Harbour for further investigation