---
No decision to close schools or cancel sports meets
Some businessmen are attempting to sell masks at exorbitant prices capitalising on the prevailing situation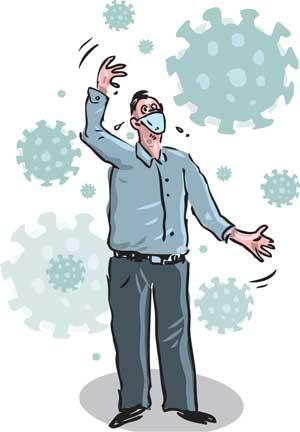 By Sheain Fernandopulle
The government has so far not been made it compulsory for people and schools students to buy and wear masks in the wake of Coronavirus epidemic prevailing in several countries in the world, Minister Bandula Gunawardane said yesterday.
Addressing a news briefing, he said the situation in the country had not reached to a serious epidemic and thus there is no need to have unnecessary panic.

He said some businessmen were attempting to sell masks at exorbitant prices capitalising on the prevailing situation. They want to make use of this opportunity to fulfil their mere business objectives. However, he stressed that there is no need for people to buy and wear masks.

"It is visible that there is an ongoing move by several individuals to create an unnecessary fear among people," Gunawardene said.
"We request the general public not to be deceived by the false information circulating on social media in relation to Coronavirus since there is only one confirmed case that has been reported so far from Sri Lanka with about 10 suspected cases," he added.
Meanwhile, Secretary to the Ministry of Education N.H.M. Chithrananda said there was no decision taken by the ministry to close schools or cancel sports meets.

"We have informed the relevant principals of schools not to cancel or postpone any extracurricular activities as it might transmit a wrong impression among people that the situation has worsened in the country," Mr. Chithrananda said.

"Therefore, we have asked them to carry out their activities as usual, he added.