---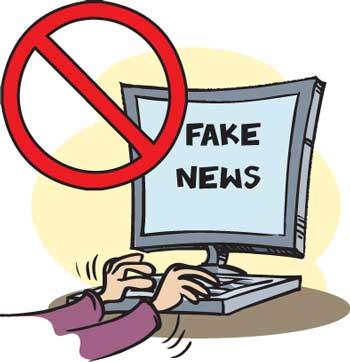 By Sandun A. Jayasekera
According to a Cabinet memo, the government will introduce new laws to fine more than Rs.1 million, imprison for not more than five years or impose both for fake or false news and fabrications that aim at purposeful character assassination and mislead readers, listeners or TV-viewers.
Accordingly, the Parliamentary Sectoral Oversight Committee on National Security has requested the Justice and Prison Reforms Ministry in the aftermath of the Easter Sunday carnage to bring an amendment to the penal code and the code of criminal procedure with regard to fake news in view of the prevalent security situation.

The new legal measures that provide for conviction after a trial in a high court also claim providing financial assistance for purposes of committing or facilitating commission of offence under the penal code and failing to carry out duty to remove publication containing fake news are liable to an order for removal of publication containing fake news.

The Cabinet memo that was approved last week gave the green light to proceed with necessary amendments.

Accordingly, amendments to the penal code will define 'fake news' as any news item, information, date and report, which is/are wholly or partly false, whether in the form of features, visuals or audio recordings or in any other form capable of suggesting words or ideas and any written publication or publication of a nature similar to any written publication and every copy and reproduction or substantial reproduction of such publication in print media.

In electronic media, 'fake news' defines as any digitally, electronically, magnetically or mechanically produced publication and a replication or substantial replication of such publication. The laws will have extra-territorial application.

The proposed legal provisions stress that any person who by means, knowingly creates, offers, publishes, prints, distributes, circulates or disseminates any fake news item or publication containing fake news commits an offence and shall on conviction be liable to a fine not exceeding Rs.1 million and for a term not exceeding five years or both, and in the case of a continuing offence, to a further fine of Rs.1 million and imprisonment.

Abatement should also be an offence punishable under the penal code. High Court should have jurisdiction and upon conviction will be liable to a fine and an imprisonment as referred to above.

The Sectoral Committee had observed that since April 21 there had been instances where fake news had contributed to major communal disharmony and religious tension among the citizens. The committee opined that deterrent laws must be enacted to deal with such practices and that these laws should be strictly enforced as it was needed for peaceful coexistence.
Article 3 of the Constitution guarantees the sovereignty of the people which includes fundamental rights. Article 10 of Chapter III of the Constitution has recognised that every individual is entitled to freedom of thought, conscience and religion, including the freedom to have or to adopt a religion or belief of his choice. Article 14 (1) (a) of the Constitution guarantees the freedom of speech and expression including publication. Article 14 (e) of the Constitution has further recognised freedom, either by himself or in association with others, and either in public or in private, to manifest his religion or belief in worship, observance, practice and teaching.

Furthermore, Article 15 of the Constitution recognises the restrictions in the interest of national security. Thus, Section 15 (2) of the Constitution specifies the exercise and operation of the fundamental right declared and recognised by Article 14 (1) (a) shall be subject to such restrictions as may be prescribed by law in the interests of racial and religious harmony or in relation to parliamentary privilege, contempt of court, defamation or incitement to an offence.

The International Covenant on Civil and Political Rights (ICCPR) Act No. 56 of 2007 has given recognition to human rights which had hitherto not been given recognition to through legislative measures. Thus, Section 3 (1) of the said Act specifies that: "No person shall propagate war or advocate national, racial or religious hatred that constitutes incitement to discrimination, hostility or violence."
Cabinet memo that was approved last week gave the green light to proceed with necessary amendments