---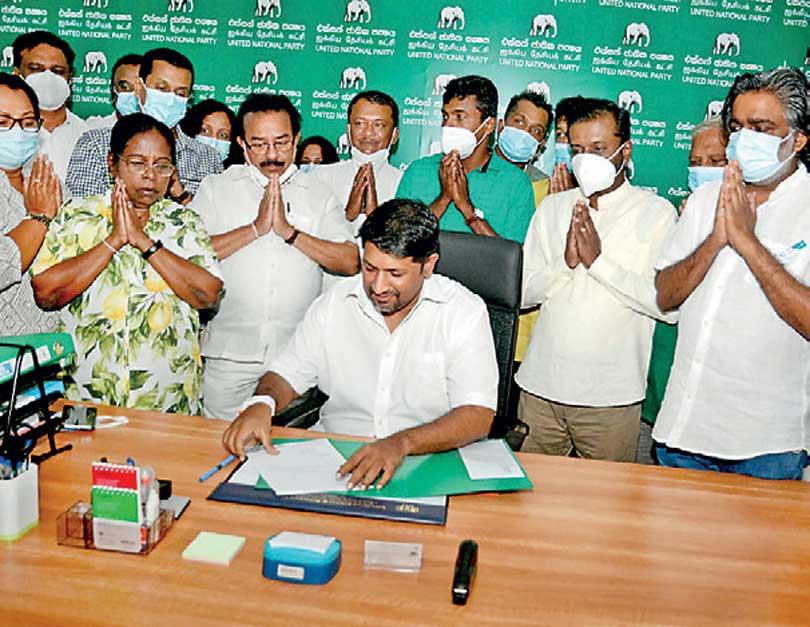 Says willing to enter parliament on national list if party agrees, but desires to be elected to Parliament
By Yohan Perera
The Eastern Container Terminal (ECT) issue might be a decisive factor when it comes to the resolution that is to be brought against Sri Lanka during the upcoming UNHRC session, UNP Deputy Leader Ruwan Wijewardene said yesterday.
Mr. Wijewardene told journalists after assuming duties in his post for the year 2021 that the Eastern Container Terminal might become an issue when it comes to discussions in getting the support of certain countries to support Sri Lanka at UNHRC sessions. "I would not say that handing over the ECT will be a bribe to get India's support to Sri Lanka but it could become a vital factor when it comes to discussions pertaining to the UNHRC resolution on Sri Lanka," he said. "Our government was blamed for selling state assets to foreign countries but it is this government which is engaged in such exercises," he added. Mr. Wijewardene said he was willing to go to Parliament on the National List if the party decided so but stressed that he preferred to be elected to Parliament rather than being appointed on the national list.

"However the party had already decided that Leader Ranil Wickremesinghe is the best choice to fill the slot. We have already made a written request from him in this regard. Besides the other opposition parties and even ministers want Mr. Wickremesinghe to come to Parliament," he added.

When asked about party members including former National Organizer Navin Dissanayke and Arjuna Ranatunga, Mr. Wijewardene said the issues faced by the duo could be resolved in time to come. He also said the UNP would be reorganized at grassroots level within six months.

He stressed it was important that all opposition parties should get together to contest the ruling party at future elections rather than trying to get certain people elected as President in 2024.