---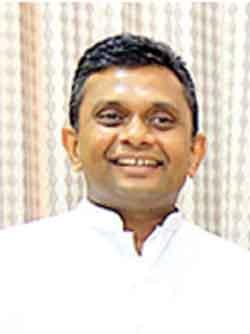 By K.D. Devapriya and M.K. Nandasena
Former Devinuwara Devala Basnayake Nilame, Dishan Gunasekera was unanimously elected as the new Basnayake Nilame of the Kataragama Devala yesterday.
The election to elect the 12th Basnayake Nilame of the Kataragama Devala was held at the District Secretariat's Office, Monaragala under the guidance of Buddhist Affairs Commissioner General Sunanda Kariyapperuma. Mr. Gunasekera's name was proposed by Kataragama Kiri Vehera Chief Incumbent's representative and the Temple's Custodian W. A. Sirithilake. It was seconded by Kataragama Sri Abhinawarama Custodian Wewala Gamage Sunil.

Three candidates -- the elected Basnayake Nilame, Lasith Sameera, a youth from Kataragama who represented the Youth Parliament and Lakshman Jayampathi Vithana, a businessman from Peliyagoda contested for the post.

Those eligible to vote at the election of the Kataragama Devala Basnayake Nilame are: the Chief Incumbents of Kataragama Kiri Vehera, Kataragama Sri Abhinawarama and Sella Kataragama Mahasen Rajamaha Vihara, the 11 divisional secretaries of Monaragala District, the Acting Basnayake Nilame of Kataragama Devala and the Basnayake Nilame of Kuda Kataragama Devala at Kotabowa.