---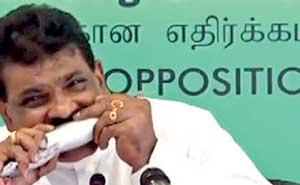 Former State Minister of Fisheries and Aquatic Resources Development SJB MP Dilip Wedaarachchi ate a raw fish during a news conference held at the Opposition Leader's office yesterday (17) in order to encourage people to consume fish without fear of COVID-19 virus on them.
He said the fishing community had been highly affected and were in a desperate situation as they had been unable to sell the fish due to fears prevailing among people that fish carry COVID-19 virus.
"However, I would like to request people not be afraid of consuming fish and that's the only way that we can help the fishing community to overcome this critical situation," he added.

He also said it was the responsibility of the Health Ministry to educate people on the relevant matter.
However, I would like to request people not be afraid of consuming fish and that's the only way that we can help the fishing community to overcome this critical situation