---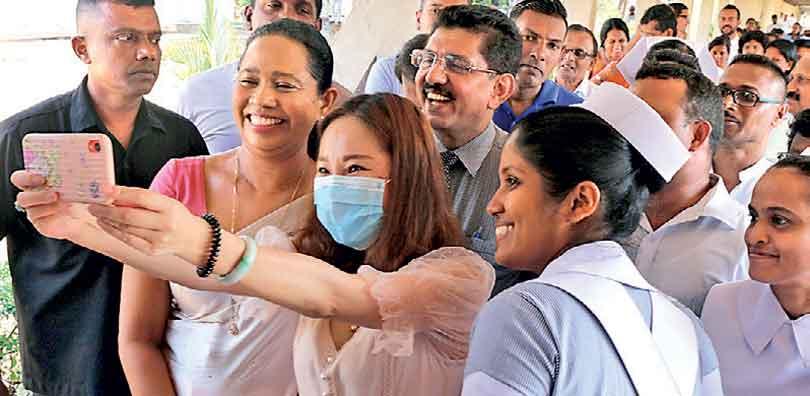 Pic By Lahiru Harshana
By Sandun A. Jayasekera
Luo Yan (43), a Chinese female patient who had been treated at the Angoda Infectious Disease Hospital (IDH) for suspected coronavirus, has been discharged yesterday after she has been fully recovered from the dreadful infection and took flight home to Wuhan in the Hubei province in China last afternoon.
The mother of 14-year old twins was impatient and jubilant to return home after almost a month since she had arrived in Sri Lanka as a tourist with her family members and was extremely grateful to the doctors and the medical staff of the IDH for her early recovery, benevolent care and the pleasant atmosphere that prevailed within the hospital.
The doctors and the medical staff gave her a warm and poignant farewell at the hospital which was also attended by Health Minister Pavithra Wanniarachchi, Director General Health Services, Dr. Anil Jasinghe and the media.
"I appreciate and pay my gratitude from the bottom of my heart to the wonderful medical attention and benevolent care I got from doctors, nurses and all the supporting staff at the hospital. It was because of their highly professional treatment and care that gave me complete recovery from my disease so early," Yan said.
She would visit Sri Lanka again with her family and relatives and also promote the Sri Lanka's warm hospitality in Hubei and the friendly and highly cultured way of life of the Sri Lankans, she said. Minister Wanniarachchi paid tribute to Dr. Jasinghe for his leadership and the medical staff of the IDH for their excellent commitment.