---
NMRC is yet to give regulatory clearance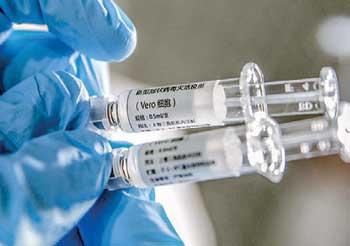 By Kelum Bandara
China has promised to gift another 300,000 doses of its Sinopharm Covid-19 vaccines to Sri Lanka, in addition to 300,000 pledged previously, an official said. However, the question arises as to why the National Medicines Regulatory Authority (NMRA) is yet to give clearance for this vaccine for emergency use in Sri Lanka.
According to Sri Lankan ambassador to China Dr. Palitha Kohona who held talks with Chinese Vice Foreign Minister Luo Zhaohui on March 3, China had promised to dispatch 600,000 doses altogether.

The Chinese vaccine has been delivered to 56 countries at the moment. Asked about the delay in regulatory clearance, State Minister Prof. Channa Jayasumana said the NMRC was awaiting some more details from the manufacturer of this vaccine. He said he was hopeful that the problem could be addressed in a week's time. Sri Lanka has so far approved only two vaccines –Oxford/AstraZeneca and Sputnik V.