---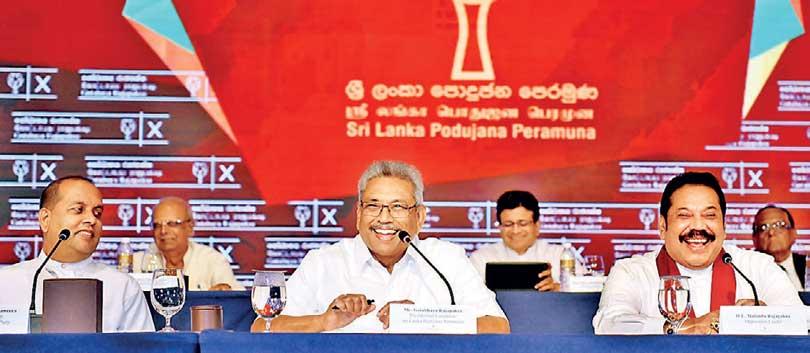 PIC BY NISAL BADUGE
Rejects allegations that surrendered LTTE cadres went missing
Says better to concentrate on future
By Lahiru Pothmulla
SLPP presidential candidate and former defence secretary Gotabaya Rajapaksa said yesterday though he would work with the UN and human rights organisations in resolving contentious issues he could not recognise the UNHRC resolution on Sri Lanka because it was 'illegal'.
The 30/1 UN resolution titled, 'Promoting reconciliation, accountability and human rights in Sri Lanka' was co-sponsored by the present Sri Lankan government and adopted in 2015.
As the SLPP presidential candidate, he told his maiden news briefing at Shangri-La Hotel in Colombo that he will always work with the UN but would not recognise what it had signed with different governments. Mr. Rajapaksa was flanked by SLPP Leader Mahinda Rajapaksa and other party leaders.

"It was not a government of mine. My personal view is that it is not a legal document," he said when asked how he would follow up with commitments made through the UN resolution in 2015 and added that as a party they had already rejected that resolution in public and said everyone knew that there was a stark difference between their policies and that of the incumbent government.

"We will work with UN and Human Rights organisations as well in solving issues but the resolution is not something we signed," Mr. Rajapaksa said.

Clarifying this matter, SLPP Chairman G.L.Peiris said the present government itself has stated categorically that some of the commitments given to the UNHRC were contrary to Sri Lanka's Constitution.

"They have said some of the commitments cannot be implemented because they are directly contrary to the constitution. No government, either the current or a future, can take action which are contrary to the Constitution," he said.

Mr. Rajapaksa said they had a system to promote accountability during the previous Rajapaksa government's tenure but it was replaced by the incumbent government.
"We took many measures to promote accountability. We did a survey to record the number of people missing including the LTTE. Correct numbers were produced but unfortunately, without even coming here, some produced their own numbers. There are ambiguous documents in this area. We will follow up and discuss," Mr. Rajapaksa said.

He also rejected the allegations that surrendered people had gone missing during the war.
Meanwhile, former president Mahinda Rajapaksa responding to another question said the war crimes which allegedly took place during the Indian army's occupancy should also be probed at this rate.

"Then we have to probe all, including the riots, and all incidents dated back towards Indian Army's occupancy in the country," the former president said. SLPP candidate Gotabaya Rajapaksa meanwhile rejected the allegations of 'white vans' levelled against him. "I do not posses any white van and this 'white van culture' was something in the country way before our time," he said.

When asked about the nature of his foreign policy if elected, he said he believed it has to be neutral. "We have to be realistic in maintaining our foreign policy. We can't get involved in power struggles of power houses," he said. He also commented on the Status of Forces Agreement (SOFA) and the Acquisition and Cross Services Agreement (ACSA) -- two agreements the incumbent government is trying to sign with the US.

"When we signed the agreements back then, we ensured that we benefited from them. This government does not have best interest of the country at heart. Any agreement will have to be negotiated with me, if I'm elected president," Mr. Rajapaksa said.
---
Some of the questions and answers at the news briefing
Q: What happened to the people who surrendered to the army since you were leading the army at that time? Could you please tell us what happened to those who surrendered to the army? Where are they?
A: I think you are mistaken, I was not leading the army.
Q: Your brother was?
A: No! No! The army was led by the army commander
A: About 13,784 surrendered and they were rehabilitated and reintegrated into society. They were given employment in the Civil Security Force and some of them were recruited in the military as well. We had one of the most successful rehabilitation programmes. Even foreign observers commended our programmes.
Q: Does that mean that there are no missing persons?
A: Even in the military, over 4,000 officers and soldiers went missing during the war in the battlefield. Once, I went to Jaffna Fort and even we couldn't recover the bodies of the military personnel. People are missing. Similarly a number of soldiers are missing.
Q: Some say those who surrendered did not return? So are they lying?
A: No! Somebody can say that but that is an allegation. We had a commission on this. There were no cases like that.
Q: Even the Paranagama Commission of your time said there were such cases
A: I don't think so.
Q: It was said that various census and statistics were conducted which came out with numbers. What was the process that you had in mind to carry this forward?
A: You are talking all the time about the past. Ask about the future. If you concentrate on the future, it is better I think.
Q: But can you move on without addressing the past?
A: Yeah sure, can move on.