---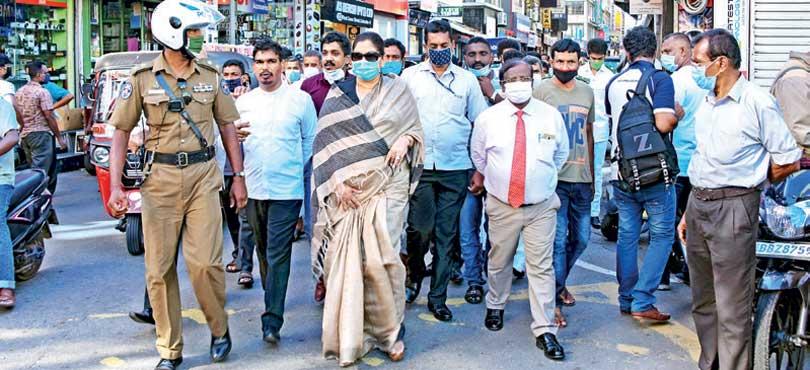 Hawkers paid taxes to the CMC to carry out their trade
By Lahiru Pothmulla
The Colombo Municipal Council (CMC) is exploring the possibility of allowing hawkers to resume their trade on pavements along the streets in Pettah, CMC sources said.
Colombo Mayor Rosy Senanayake, who inspected the streets in Pettah yesterday instructed Chief Medical Officer Dr. Ruwan Wijayamuni to make arrangements for the hawkers to resume their trade in line with health guidelines.
Accompanied by a group of council members, Dr. Wijayamuni and the Fort Police OIC, the Mayor inspected the 1st Cross Street, 2nd Cross Street and Olcott Mawatha in Pettah to look into ways and means of normalising the livelihoods of pavement hawkers.

The hawkers who carried out their trade on pavements along the busy streets of Pettah by paying taxes to the CMC, were severely affected by the restrictions imposed to contain the spread of COVID-19 in the country.
Accompanied by a group of council members, Dr. Wijayamuni and the Fort Police OIC, the Mayor inspected the 1st Cross Street, 2nd Cross Street and Olcott Mawatha in Pettah to look into ways and means of normalising the livelihoods of pavement hawkers