---
Says his remarks made in 'Hindu' interview was false
He has displayed his ignorance of the SLFP constitution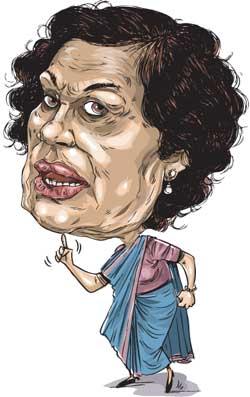 By Kelum Bandara
Former President Chandrika Kumaratunga, in a hard hitting letter, berated former President and Polonnaruwa district MP Maithripala Sirisena over his remarks made in an interview with the Hindu newspaper of India.
She said Mr. Sirisena had said a blatant lie that she was no longer a member of the Sri Lanka Freedom Party(SLFP). In the harshly-worded letter, she said it was unbecoming of a former Head of State to utter such falsehood. She had cited the relevant provisions of the SLFP constitution to disprove Mr. Sirisena in this regard.
A visibly annoyed Ms. Kumaratunga said Mr. Sirisena had shown his ignorance of the party constitution despite him being its longest serving General Secretary.

She said Mr. Sirisena who addressed UNP leader Ranil Wickremesinghe as 'sir' in the run up to the 2015 presidential election blackguarded him in filth later on. "I have not stooped to such levels," she said.