---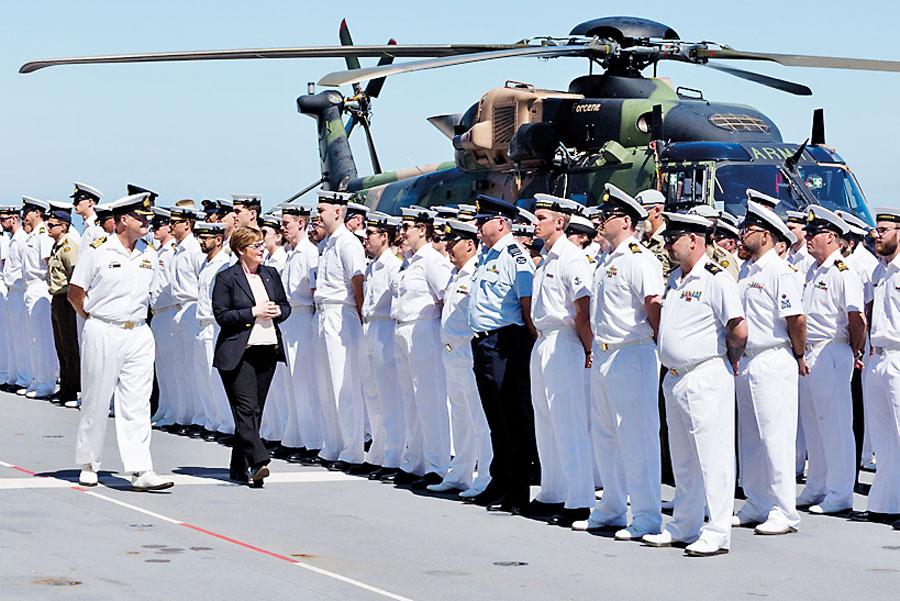 By Kelum Bandara
Australia will conduct its largest ever defence engagement with Sri Lanka from March 23 to 29 with the participation of more than 1000 Australian personnel, signifying Sri Lanka's strategic importance for maritime security, an official said yesterday .
Acting Australian High Commissioner Jon Philip told a news conference that a Joint Task Group comprising Australian naval, army and air force personnel would visit Sri Lanka as part of this event titled 'Indo-Pacific Endeavour 2019 (IPE-19) multinational visit'.

The Joint Task Group will comprise HMA Ships Canberra, Newcastle, Parramatta and Success as well as Australian Army force elements and other support personnel drawn from the Navy, Army and Air Force.

Mr. Philip said the Australian ships would undertake port visits in Colombo and Trincomalee, and Australian Air Force assets will visit Mattala.

Asserting that the two countries have shared interests, he said it would be a valuable opportunity for both countries to improve cooperation and familiarity with one another's Defence Forces, and to explore opportunities to further promote regional stability. He asserted that Sri Lanka is a partner of choice for Australia.

Mr. Philip referred to Australia's 2016 Defence White Paper that acknowledged Sri Lanka's location on a vital maritime corridor in the Indian Ocean. After the events in Sri Lanka, IPE19 ships and assets will visit other countries -India, Indonesia, Malaysia, Singapore, Thailand, and Vietnam.

"Activities will encompass disaster assistance planning, multinational naval manoeuvres and military training activities," he said.

Australian High Commission's Defence Adviser Group Captain Sean Unwin said Australia-Sri Lanka defence relationship had grown steadily since 2015 with a strong focus on education and training, supporting the whole-of-government counter-people smuggling efforts and maintaining a rules-based order in the Indian Ocean.

"Our engagements in Trincomalee will focus on the Navy-to-Navy engagement between our two countries with a particular focus on interoperability between clearance diving teams focusing on explosive ordinance disposal counter-IED techniques," Mr. Philip said.