---
ADB Trade Finance Programme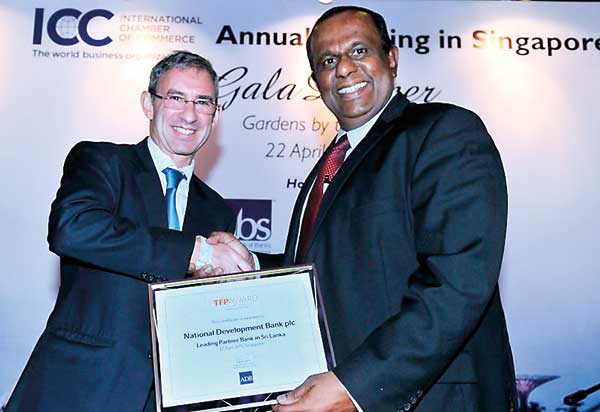 The Asian Development Bank (ADB) backed by its AAA credit rating, works with over 200 partner banks to support import and export activities in Asia's most challenging markets under its Trade Finance Programme.
With dedicated trade finance specialists and a response time of 24 hours, the Trade Finance Programme has established itself as a key player in the international trade community, providing fast, reliable and responsive trade finance support to fill market gaps.
The Annual Meeting of the International Chamber of Commerce (ICC) Banking Commission was held in Singapore from April 20 to 23, 2015. During these sessions in Singapore, National Development Bank PLC (NDB) won the award- Leading Partner Bank in Sri Lanka for the Asian Development Bank under its Trade Finance Programme.
The award acknowledges NDB's significant efforts in contributing to the promotion of trade finance within Sri Lanka and in the region.
NDB's recognition will further establish the solidarity of the strong partnership between the ADB and NDB and will be an encouragement to engage even more aggressively and actively in contributing to the promotion of trade finance in the developing Asia Pacific region.
Assistant Vice President Trade Finance Rivindu Nanayakkara, who represented NDB Bank, accepted the award.