---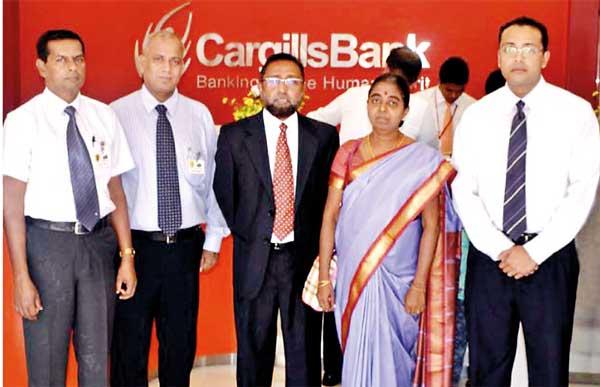 The Cargills Bank Vavuniya Branch declared open by Saraswathy Mohanadasan, Additional Government Agent - Vavuniya. Also in the picture Rumaiz Rahim – DGM Marketing of Cargills Bank, Palan Rajanadan – AGM Corporate Banking of Cargills Bank, G S Neshakumar - Business Development Manager North – Cargills Ceylon PLC and. P. Perumal – Operations Manager Cargills Food City



Matara, Maharagama and Vavuniya branches were opened under the first stage on the 5th, 6th and 9th of November respectively.




New branches will also be established in Jaffna, Kurunegala, Hawa-Eliya, Thanamalwila and Chunnakkam in the near future.


Heralding a new era of banking for the people in the area, Cargills Bank will begin operations in Vavuniya as the first step towards its plans for expansion to the North and the East.
The bank is confident that its services will be of immense value to the people of Vavuniya and its suburbs in providing financial assistance to SME's the Agri-Diary sector and Consumers.
Cargills Bank believes that its entry would strengthen and encourage accelerated development within the area, officials of the bank said.
"By expanding the branch network, Cargills Bank was reaching out to their customers across the nation with the aim of undertaking inclusive banking and incorporating and inculcating a culture of financial understanding and savings in the community, he further added.
The bank is confident that it can offer customers an excellent service standard to ensure all their financial service requirements are satisfied.
Cargills Bank , a fully-fledged commercial bank now has 5 branches presently, located at Colpetty, Maitland Crescent, Old Moor Street and 3 new branches at Matara, Maharagama and Vavuniya providing a range of services and products, including Current and Savings accounts, Fixed Deposits, Trade services and Treasury services.
Bank officials said that "The Bank is passionate in instilling the savings habit in the people of Sri Lanka and its savings initiatives have been extended to all Sri Lankans through widespread promotional campaigns. These new bank branches will add more convenience and banking reach to the community in these areas he said, adding that the bank focuses on greater financial inclusion amongst the people of Sri Lanka by bringing a range of financial services to them."
Reflecting their commitment towards the larger community and also understanding the need for social responsibility. Cargills bank offers responsible and sustainable products including savings accounts, current accounts, children's savings account, senior citizens accounts as well as foreign currency accounts, etc. which are competitively priced. These financial products meet customers' needs, providing innovative solutions aiming to build long-term relationships cutting across age, class and gender. It has also introduced an offer on local and foreign currency fixed deposits and savings accounts to all its customers.