---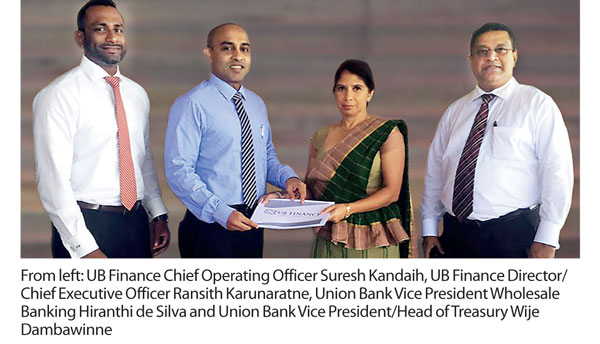 In order to strengthen the capital structure of UB Finance Co. Ltd, its parent company Union Bank of Colombo PLC invested in a subordinated debenture of Rs.300 million.

UB Finance Chief Executive Officer Ransith Karunarathne said that the company would use the money raised through the debenture to strengthen its lending portfolio with product diversification to suite the market demand.
"This offering is a proactive move, made from a position of obvious strength that allows UB Finance to secure capital in anticipation of upcoming plans in the coming years, further strengthening its position as a leading financial services organisation."

This debenture issue will lead to a well balanced growth in the company's balance sheet and maintain the quality of the asset portfolio. Furthermore, the funds will also be utilized to support the lending in the small and medium enterprise (SME) sector, a growing business focus of the organisation. Its range of products and services, including investment solutions such as fixed deposits and savings, coupled with financial solutions in the form of leasing, vehicle and mortgage loans as well as working capital solutions through factoring, cheque discounting and easy drafts. Value additions to the existing product portfolios and launch of new products to deliver unique value propositions to customers are being considered to strengthen the company's focus of being Sri Lanka's preferred financial provider.

The organisation has been expanding its business presence through both organic and inorganic routes, a reflection of the organisation's ongoing progression following the landmark investment from TPG, the global private investment firm, in its holding company Union Bank.

UB Finance has a reputation for strength and stability within the financial services arena, which is supported through its competitive edge of being the first finance company in Sri Lanka to be backed by a private sector commercial bank. As a Union Bank company, UB Finance leverages on the expertise of Union Bank for guidance in operations.
The company has also built its reputation on strong connections with local communities and stakeholders and through a well distributed network with a presence in 16 location points across Sri Lanka.