---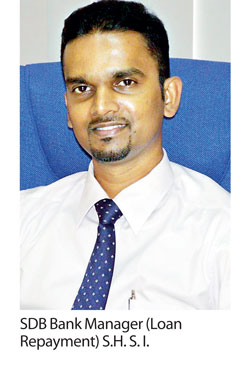 SDB bank has introduced a broader and efficient mechanism to collect loan payments from its customers under the name 'Tele-collection'.

Through this loan review mechanism, the bank will be able to keep tabs on customers and their repayment schedules, while obtaining details on all those who failed to make payments by the deadline.

SDB bank usually offers its loan customers a grace period of four additional days counting from the scheduled date of payment. With the new review system, a phone call is given to the relevant customer from the 5th day onwards to remind on repayment details. The bank also enquires regarding the reasons for the delay and finds means to help them overcome the difficulties and continue repayment.

Commenting on the Tele-collection Service, SDB bank Manager (Loan Repayment) S.H. S. I. Udayangana explained that the customers who failed to regularly make their repayment will be promptly informed and updated on the matter, and provisions will be provided to continue repayment on a regular basis.

The new unit has been established a year ago in conjunction with a series of internal changes made in the SDB bank.

The special mechanism further expedited and streamlined the bank services while facilitating quick access to the required information. SDB bank which was established 20 years ago, currently serves the nation with 91 branches island-wide.

In the banking sector, non-performing loan ratio was recorded as 2.6 percent by 31.12.2016 while in specialized banks the amount was recorded as 3.6 percent. However, the non-performing ratio of SDB bank was recorded as 2.1 percent, clearly portraying the success achieved through its unique loan collection system.

Following the investment of world renowned financial bodies SBI, FMO and IFC, SDB Bank has further consolidated its footing and continues to provide a number of services to uplift small and medium scale enterprises in collaboration with government institutions such as Central Bank of Sri Lanka, Ministry of Industry and Commerce, Southern Development Authority.