---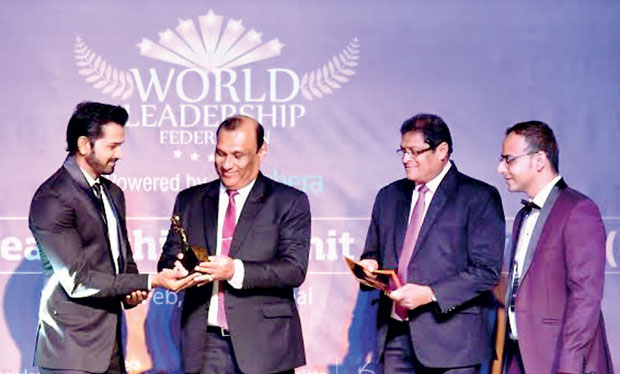 Making it official, this February, Merchant Bank of Sri Lanka (MBSL) & Finance PLC was crowned the 'Emerging Financial Institute of the Year' at the Middle East Asia Leadership Summit Awards 2017.
This latest award, which has been won against competition from Asia and the Middle East, has reinforced MBSL's potential as an emerging force in the Sri Lankan financial landscape.
In the short span of two years following one of the most complex mergers in the country involving three companies, MBSL has effectively rolled out its amalgamation plan to integrate its people, processes and growth strategy, to emerge as a highly competitive financial Institute. This is demonstrated by the strong financial performance recorded by MBSL in 2016. The company showcased an outstanding 293 percent cumulative bottom line growth year-on-year by the end of the year 2016, with a profit after tax (PAT) of
Rs.176 million.
These accomplishments were recognised at Middle East Asia Leadership Summit Awards 2017, which was held on February 23 at the Marina, Dubai, attended by a glittering crowd of business elites and prestigious corporate representatives from leading businesses across the Asian and Middle Eastern regions. The forum was attended by MBSL Chairman Dr. Sujeewa Lokuhewa and CEO T Mutugala.
"I am indeed extremely proud of this achievement and I congratulate the MBSL team for their hard work and commitment in making it possible for MBSL to reach this position. However, I believe we still have a long way to go and I hope this award acts as an encouragement to our team to stand united and face the challenges of the future as we consolidate and expand our presence in the country," said Dr. Lokuhewa. "MBSL has sustained its third quarter performance into the fourth quarter of 2016, end the 2016 financial year on a high note. In addition, our strategic blue print for future growth and expansion will be rolled out in the 2017 financial year, which will see MBSL continue to expand its services and presence across the country," said Mutugala.
The Middle-East Asia Leadership Summit and Awards is organised by the World Leadership Federation and is aimed at recognising leaders for their outstanding contribution towards the growth in economic, educational, social and leadership
development aspects.
This year, the Leadership Summit and Awards Ceremony extended to all sectors globally, from corporates to e-commerce, retail to BPO, aviation to hospitality and many more. The event was open to business professionals such as directors, chairpersons, CEOs, CFOs, COOs, CTOs, CSOs, celebrities, sports personalities, community leaders and other key organisational figures.