---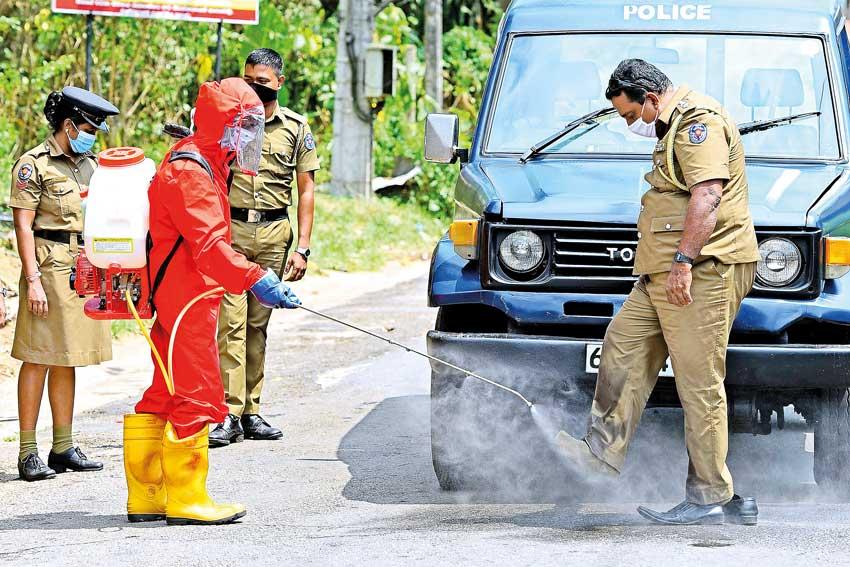 The police have done an invaluable service in the frontlines to combat the COVID-19 pandemic, foregoing their off-days and staying away from their loved ones while on duty. Their dedication to raise public awareness and protect the people must be appreciated. Often when attending to the safety of the people, police officers have no time to take care of themselves or their families.

In this backdrop many police officers reportedly contracted COVID-19 from the Peliyagoda cluster emerging from the second wave of the outbreak. These officers and their associates were first housed in the police barracks. Even though this was not unfamiliar lodging for them, it proved inapt in the face of the virus.

So far over 600 police officers have contracted COVID-19 and have been sent to quarantine centres around the country. Some 150 associates of these patients are in quarantine centres in the Polonnaruwa district. At the time of writing 98 of them have tested positive and the rest are at risk of contracting the virus.

Junior police officers charge they got the virus due to negligence by their superiors. They charged many had contracted the virus due to a lack of treatment and PCR testing, and also because COVID-19 patients had been lumped together with associates. There was a high risk of the disease spreading when placing them with COVID-19 patients in mosquito- and fly-infested settings, the officers said. While the World Health Organization (WHO) has warned about COVID-19 spreading from animals, police high-ups had ignored this aspect, they charged.

Health authorities have constantly urged separating COVID-19 patients from their associates. They have also advised against releasing associates into society until PCR results are issued. By housing COVID-19 infected police officers, their close associates and secondary associates together in the same barracks, the police cluster had grown. If PCR tests had been done on infected persons and their associates simultaneously, the situation could have been prevented. The police officers added they were not looked after even when they tested positive.

The close associates of a senior officer, from the Fort Police, who tested positive, have reportedly been engaged in duties instead of being quarantined. Many associates of COVID-19 positive officers in barracks have also been sent out on duty, despite showing symptoms like fever. Furthermore, they have been interacting with the public, and in such a situation the community is also at risk of being infected. Therefore it is suspected that the police cluster could also have caused the spread of COVID-19 in the Colombo district, in addition to the Minuwangoda and Peliyagoda clusters.

A total 220 officers from the Fort Police are in quarantine now. Most have tested positive. While on duty, they had mixed with people in Colombo. Therefore investigations should be conducted to find out if these contacts caused the virus to spread in housing complexes and police divisions in the Colombo city and district. Police sources charged a senior officer had advised against conducting PCR tests on the close associates of infected police officers without prior approval from the Director of the Police Hospital. The Police Hospital had not paid attention to this matter thereafter, the source revealed.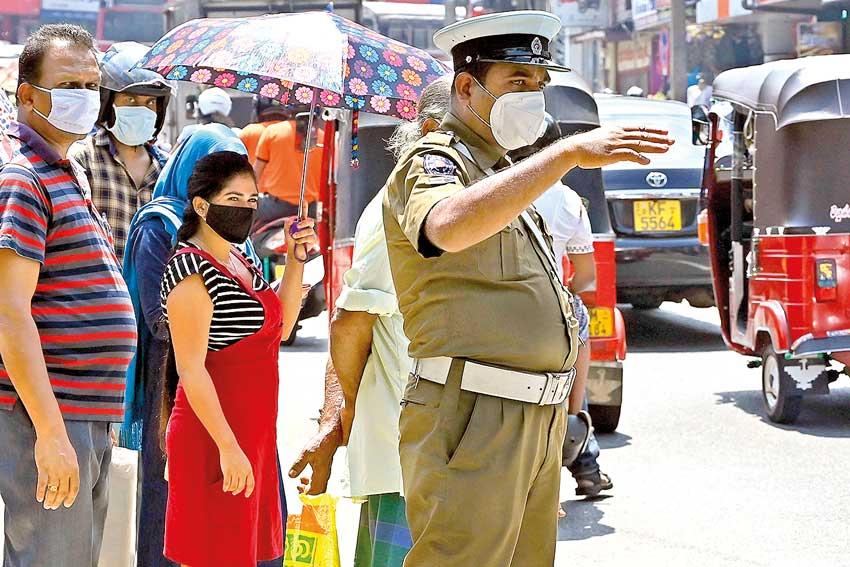 When on duty, police personnel are likely to come into contact with infected persons. In such situations, they are required to take care of their own safety. Even though some protective equipment is provided, the officers must purchase masks from their own money. Even sanitizer is not given to them. After duty no proper disinfection is carried out. Junior officers charge the Police Health Director has turned a deaf ear to their grievances, and therefore officers had been unnecessarily infected with the virus.

They charged not a single senior officer would listen to the injustices they were facing. Even though each police division has a senior officer, no one is willing to address their duty-related problems, the junior officers charged. Most senior officers are either too busy or unwilling to hear their grievances, they said, adding this had caused the emergence and spread of the police cluster. If PCR tests had been done on associates of infected officers as soon as they had tested positive, and if they were accordingly quarantined, the police cluster could have been controlled, they added. However, some had tried to do PCR tests on officers only after sending them to quarantine centres in a bid to prove COVID-19 was not spreading via the police. Junior officers said they were infected while still in Colombo. Even though they had shown symptoms, they were made to carry out duties to show that infected officers were only found from quarantine centres, they charged.

After some officers from the Fort Police tested positive for COVID-19, the rest were quarantined in the police barracks. During those 14 days they had to pay for their meals. Usually when associates of COVID-19 patients are quarantined, health authorities care for them. But senior police officers did not look after them at all, the junior officers said. The affected officers urged authorities to investigate why the chance to control the spread of the police cluster was missed, adding more attention must be given to the safety of frontline officers combatting COVID-19.

Lapses in quarantine safety measures
Usually when people are taken to quarantine centres, the buses are followed by other vehicles providing security. However when police officers were taken to centres there were no security vehicles. Instead, two senior police officers were dispatched in the same bus. A total 65 officers had been sent to the Polonnaruwa quarantine centre in three buses. During the journey, a DIG had phoned the senior officers and asked them to provide the juniors with food for the journey.

Buses carrying people to quarantine centres do not make stops for any reason, as it would heighten the risk of the virus spreading in the community. But police officers employed for the security were also placed inside the buses sans protective equipment with those being taken to quarantine centres. When these officers returned, they were deployed for duty again.

If those who were taken to quarantine centres had tested positive, the officers providing security were also at risk of contracting the virus, and unknowingly spreading it. If they had reported for duty when they returned, there is a high probability of the virus spreading in the community.

Police sources said junior officers and their associates had not been examined by health authorities. If the advice of health authorities had been sought, the situation could have been controlled. If the Colombo district cluster grew as a result of the carelessness of the police, who should be held responsible?
---
"Special circular issued to grant relief"
-
DIG Ajith Rohana
Police Media Spokesman DIG Ajith Rohana said that all COVID-19 infected officers and their associates were quarantined in centres in Hiniduma, Kalutara and Kundasale, Kandy. Quarantine facilities had also been set up in Police Training Colleges. Meanwhile STF personal were being kept in police barracks until they could be moved to quarantine centres, DIG Rohana said.
DIGs must take the responsibility for any reported shortcomings in the quarantine process of police officers, as the acting-IGP had empowered them to attend to such matters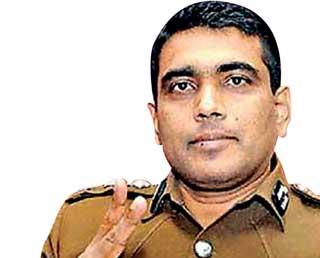 He added a special circular had been issued by acting IGP C.D. Wickramaratne to grant relief to those in quarantine centres and their families. In addition, a relief pack of Rs 5000 plus a daily grant of Rs 500 has been offered to police officers, and funds have been allocated for these purposes. As it was difficult to move all police officers to quarantine centres at once, they were initially housed in the barracks, DIG Rohana said, adding that STF personnel had also been quarantined in three STF camps.

He noted it had not yet been confirmed whether STF personnel had infected officers of the Prime Minister's Security Division (PMSD). He said VIP protection was provided at close quarters by MSD and PMSD personnel, whereas the STF provided VIP protection at the periphery.

He said the respective area DIGs must take the responsibility for any reported shortcomings in the quarantine process of police officers, as the acting-IGP had empowered them to attend to such matters. In addition, a special team led by Senior DIG Priyantha Wijesuriya has been appointed to monitor these matters, he said.

Further, the acting-IGP had instructed that the medical officer of the Police Hospital be kept informed of PCR tests on police officers so as to maintain accurate data on infection numbers, he said.
---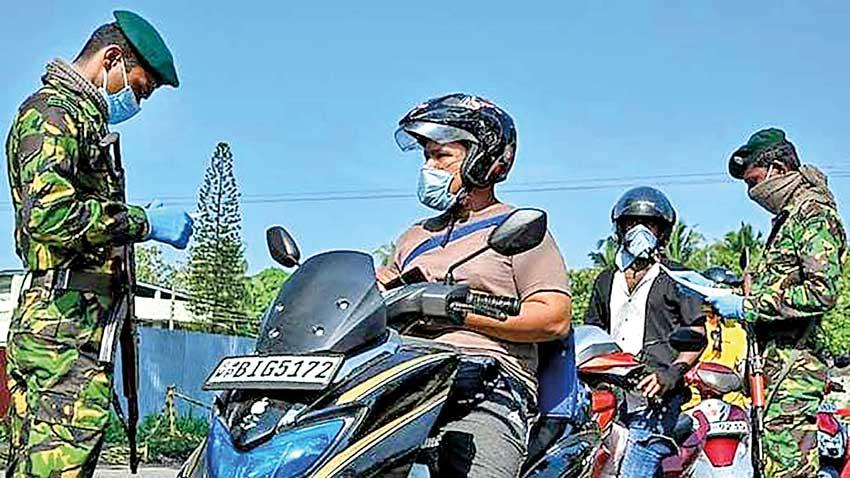 COVID-19 spread in STF due to inaction of top officers
"If the top brass acted properly the pandemic would have been limited to one-fourth within the STF"
The elite Special Task Force (STF) with a limited number of specially trained personnel is one of the worst hit units of the Sri Lanka police at present. With over 200 personnel infected with the COVID-19 virus, a number of STF officers complained that the COVID-19 spread within the STF was mainly due to negligence and carelessness of the top brass. It is now suspected that some personnel in the security division of a VVIP unit too were infected through STF personnel specially trained to provide security to VVIP along with Presidential Security Division (PSD).

"If a simple precaution like maintaining social distancing was followed within the STF the spread could have been limited to one-fourth. The common feeling among STF personnel right now is that the spread of COVID-19 was allowed within the STF," an STF source told Daily Mirror.

"What we feel is that those in top positions didn't care about the spread of the pandemic within the STF," a spokesman complained.

"The first COVID-19 positive case from the STF camp in Rajagiriya was reported on October 24. That was from three personnel who went to the Peliyagoda fish market to buy fish for the mess. By Sunday, October 25, we had come to know about one of the three being infected. Similarly there were other STF personnel from other camps who had gone to Peliyagoda. At the initial stages what we could have done to control the spread was to maintain social distancing. But this didn't happen within the STF and both these cases, before being proved positive, were kept with the others in the same messes. We came to know that personnel who were negative and positive were sharing the same premises," the spokesman said.

The STF officer said there was no serious 'push' from the top-brass even to conduct PCR tests soon. He said it was those among the middle ranks who somehow got the tests done.

"The result was that some STF personnel who were found negative initially returned with positive results following the PCR tests conducted later," he added.

Limited logistics
"On the other hand there was a serious problem with regard to the management of logistics, welfare, housing and sanitary facilities of the STF personnel during this pandemic. This resulted in aggravating the situation. There was no proper coordination or communication," another STF personnel complained.

"As soon as the spread was identified the hierarchy should have got a vacated public or school building to separate the STF personnel. But it did not happen. Instead what happened was those undergoing PCR testing and even the others were kept together. The result was more STF personnel becoming victims," the source said.

Problems with welfare facilities
Another STF personnel said that a basic welfare facility like soap, towel and other sanitary facilities were not available for those subject to quarantine.

"In the STF there is a general welfare facility where an employee admitted to a hospital is provided with a welfare pack comprising basic necessities like soap, towel, sarong and other basic needs. But even that was not provided during this pandemic. This was not like contracting an ordinary sickness. When we are asked to go for treatment or be quarantined there was no opportunity to get outsiders or family members to provide these facilities and the only place we could get them was from the STF itself.

We cannot go to a supermarket or shop to buy them. Unfortunately even these weren't provided," he complained.

Relief package worth Rs. 5000 by Inspectors Association not provided
Meanwhile relief packages that were to be given to the families of those undergoing treatment and being quarantined, using a fund by the Sri Lanka Inspectors Association (SLIA), had not been distributed.

On November 6, SLIA has donated Rs. 500,000 to the Police Welfare Division, so relief packages, each worth Rs. 5000, could be distributed to each and every family of the police personnel affected by the pandemic, but it was revealed that many have so far not received this relief.

"Some officers have completed the quarantine period and have even gone home, but the relief packs have so far not reached them. There is a serious lack of coordination," a police personnel stated.

"When a security personnel gets injured, ill or infected with a disease while he is on duty it is the responsibility of that institution to provide some relief to the family which needs help. During a pandemic like this it is reported that the neighbours of a police officer undergoing quarantine were treated indifferently by the entire village. The families need some comforting thought that at least the police department is looking after them," he added.
---
Response from Police Inspectors' Association
When asked why the relief packs hadn't reached the police personnel affected by the pandemic SLIP Chairman CI Sanajaya Perera said that according to his knowledge the packs had been distributed.

"We donated Rs. 500,000 from our association to the Police Welfare Division as we could not individually do it. But it is happening.

There could be mistakes due to many duties entrusted to the Police Department. Maybe one or two personnel may have not received them. Also there could have been issues with locating the addresses as they live all over the country. But this will be given to everyone affected by the pandemic," said CI Perera.