---
Two suspects also arrested in Dehiwela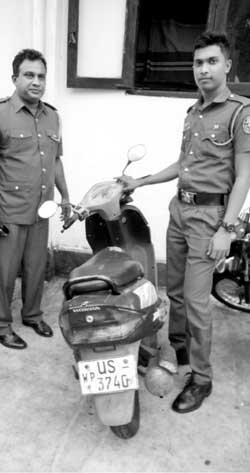 By H.M.Dharmapala and Kusal Chamath
A motorcycle used by the terrorist Mohamed Mubarak Asan, who carried out the suicide attack on the Kingsbury Hotel in Colombo was seized and two suspects were taken into custody during a raid on a house at Saranankara Road, the Dehiwela Police said.

One of the suspects was a 23-year-old man from Dematagoda and the other a 27-year-old man from Saranankara Road in Dehiwala, according to Police.

The Police said they carried out the raid on information from the general public and arrested the two men and seized the motorcycle registered under the name of the suicide bomber.
A senior Police officer said the police had received information on four vehicles used by the suicide bomber and one van was seized earlier.

The Police said the motorcycle had been used by the terrorist and the two suspects for more than four years.

The suspects were handed over to the CID for further investigations.

OIC Crime Investigations Branch SI Roshan Udayanga, SI Prabhath, PCs 47932 Ranjith, 33449 Sandaruwan, 91475 Sanka, 77785 Mendis, carried out the raid on the instructions of OIC Dehiwela Police CI P.P. Indunil, ASP Santha Wedage and SSP Muditha Pussella.
The Police said they carried out the raid on information from the general public and arrested the two men and seized the motorcycle registered under the name of the suicide bomber