---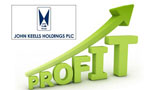 Premier blue chip John Keells Holdings PLC (JKH) saw its net profit for the quarter ended September 30, 2014 (2Q15) improving 29 percent year-on-year (yoy) to Rs.2.64 billion, despite lagging transportation and logistics sector performance.The earnings per share for the quarter improved to Rs.2.67 from Rs.2.32 reported in the corresponding quarter of the previous year.The revenue for the quarter rose 6 percent yoy to Rs.22.1 billion while cost of sales increased at a lesser pace of 4 percent yoy to Rs.15.8 billion, resulting in a gross profit of Rs.6.3 billion, up 11 percent.

The other operating income for the three months fell 29 percent yoy to Rs.357.4 million. The distribution costs during the quarter rose 14 percent yoy t o Rs.817 million while the group was able to cut its administrative expenses by 3 percent yoy to Rs.2.68 billion.The operating profit for the quarter stood at Rs.2.35 billion, up 25 percent.

The net finance income for the quarter rose 150 percent yoy to Rs.1.9 billion. JKH made a cash-call of Rs.40 billion by way of a rights issue, which included warrants, to fund a US $ 650 million integrated resort in the heart of Colombo, which is currently in progress.The total assets of the group as at September 30, 2014 stood at Rs.212.6 billion, improving from Rs.202.4 billion in March 31, 2014. The net asset per share also improved to Rs.127.84 from Rs.123.96.

An analysis on group's business segment showed the key transportation segment reporting a post-tax profit of Rs.552.8 million, down from Rs.696 million reported during the corresponding quarter of the previous year. The total revenue of the segment also fell to Rs.3.3 billion from Rs.4.2 billion.
"The decline in profitability is mainly attributable to the lower contribution from the bunkering business, where, in spite of maintaining market share, margins contracted on account of an increasingly competitive operating environment," JKH Chairman Susantha Ratnayake said in his review of the quarterly performances. He further said the performance of the port business was in line with expectations, as volumes stabilized and the continuous focus on cost management further contributed towards profitability.

The post-tax profit of the group's leisure sector operations remained flat at Rs.1 billion despite revenue increasing to Rs.5.49 billion from Rs.5.27 billion.
According to Ratnayake, the Sri Lankan resorts sector witnessed an increase in occupancies, aided by the growth in tourist arrivals, whilst higher average room rates and successful management of costs further strengthened profitability. "The performance of the City Hotel sector was negatively impacted during the quarter under review on account of lower volumes generated primarily through the corporate and MICE segments."

"The associate, 'Cinnamon Red', a select service business hotel, commenced operations during the quarter under review and has recorded encouraging occupancies to-date," he added.The property sector reported healthy gains during the quarter with a post-tax profit of Rs.322.5 million against just Rs.8.4 million. The revenue doubled compared with the previous year to Rs.1.1 billion.

"The improved performance was mainly on account of higher revenue recognition at the 'OnThree20' and '7th Sense' on Gregory's Road residential apartment projects, which have sold 96 percent and 83 percent of apartment units to-date respectively.Construction of the 'Waterfront Project' is in progress with demand for both residential and commercial spaces continuing to be promising," Ratnayake said.Meanwhile, on a cautionary note Ratnayake stressed that The Land (Restrictions on Alienation) Act recently passed by Parliament poses several challenges to business in general.

"Impacts to the group, if any will be assessed once the specifics in the Act are interpreted and understood," he noted. The post-tax profit of the consumer goods & retail segment rose to Rs.364.4 million from Rs.175.7 million. The segment revenue also improved to Rs.7.1 billion from Rs.6 billion.
According to JKH Chairman, both frozen confectionary and beverage businesses benefited as a result of a growth in volumes emanating from improving consumer sentiment and an evolving product portfolio. "The retail sector recorded a significant improvement in performance as it continued to benefit from year-on-year growth in same store sales due to a notable increase in footfall."

The financial services sector which consist group's banking, insurance and stockbroking businesses saw its post-tax profit increasing to Rs.318.2 million from Rs.216.2 million. The sectoral revenue also rose to Rs.2.56 billion from Rs.2.36 billion.According to Ratnayake, Nations Trust Bank was the primary contributor to the improved performance as it benefited from a marginal pick up in credit volumes coupled with an increased focus on operational cost management and investment in IT infrastructure."The Stock Broking business recorded strong results in the quarter under review driven by higher revenue on account of improved daily market turnover levels and the execution of a few large transactions," he added.

The post-tax profit of the group's ICT sector rose to Rs.91 million from Rs.31.1 million while the revenue slightly dropped to Rs.1.79 billion from Rs.1.82 billion.Other, including Plantation Services and the Corporate Centre recorded post-tax profit of Rs.305.8 million."The improved performance is mainly on account of an increase in the finance income," Ratnayake said.