---
By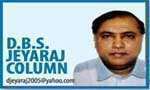 D.B.S. Jeyaraj
The greatest political surprise or upset in Sri Lankan politics last year was the political realignment of President Maithripala Sirisena and former President Mahinda Rajapaksa. In a bizarre political twist, Maithripala joined forces with his ex-leader to launch an unconstitutional and undemocratic attempt to remove Prime Minister Ranil Wickremesinghe and replace him with Mahinda Rajapaksa as the purported Prime Minister. The backdoor bid to grab power failed miserably. The reasons for the debacle are well-known.

What is of interest now is the prevailing state of political relations between President Sirisena and the recently-recognised opposition leader Rajapaksa. The tactical alliance formed last year to oust Ranil Wickremesinghe is yet functioning, but recent straws in the wind seem to indicate that all is not well in the opportunistic union. While Maithripala Sirisena wants the "October 26 partnership" of Prime Minister Mahinda and President Maithripala to continue as planned the "Pohottuwa" camp does not appear to be very keen about perpetuating the Sirisena-Rajapaksa political arrangement.
President Sirisena would very much like to contest the presidency again, but knows he cannot win without the support of either the United National Party (UNP) nor the Sri Lanka Podujana Party (SLPP)


The move to install Mahinda as Prime Minister has ended in failure, but the presidential election is due this year. Since President Sirisena completed four years in office on January 8, 2019, he is entitled to advance the presidential election if he wants to. According to the Constitution, the President may, at any time after the expiration of four years from "the commencement of his first term of office, by proclamation, declare his intention of appealing to the people for a mandate to hold office, by election, for a further term." Therefore, after January 9, 2019, the President can declare his intention to call for an election. The Constitution also stipulates that the poll for the election of the President shall be taken not less than one month and not more than two months before the expiration of the term of office of the President in office. This means not after December 8, 2019and not before November 8, 2019.

President Sirisena would very much like to contest the presidency again, but knows he cannot win without the support of either the United National Party (UNP) nor the Sri Lanka Podujana Party (SLPP). Maithripala's machiavellian shenanigans in association with Mahinda last year show clearly that Sirisena has thrown in his lot with the Rajapaksas at least for the time being. It is a political reality that the mandate on which Maithripala Sirisena was elected President in 2015 is now irredeemably fractured and totally distorted. The man who broke away from and later defeated Mahinda with the aid of Ranil has now backstabbed Wickremesinghe and forged an alliance with Rajapaksa. This topsy-turvy change of platform and principle has negated the mandate on which Sirisena was elected President. As such, it is imperative that President Sirisena should go to the polls again and obtain an electoral endorsement -- if possible -- of his convoluted political stance. This, the President will do willingly if he has Mahinda's backing. That, however, does not seem so readily available at the present juncture. An air of uncertainty prevails.

SLFP PRESIDENTIAL CANDIDATE SIRISENA
The newly-appointed General-Secretary of the Sri Lanka Freedom Party (SLFP), Dayasiri Jayasekara made a unilateral declaration that Maithripala Sirisena would be the SLFP presidential candidate. This was not received well in Sri Lanka Podujana Peramuna (SLPP) circles. Jayasekara, an adroit political triple-jumper, ruffled feelings further when asked about the SLPP. He replied with an idiomatic expression in Sinhala meaning; "One does not build a house in a cemetery if he is afraid of the devil." This cocky response aroused the "Yakka" (Devil) in Mahinda Rajapaksa. When asked about Dayasiri's "Yakka" comments, the visibly irritated opposition leader responded; "You need to ask Jayasekara, he must be dealing with the devil."

Two other SLFP loyalists of President Sirisena also made announcements to the effect that Maithripala Sirisena would be the SLFP candidate at the forthcoming presidential elections. One was former Cabinet minister and accredited SLFP spokesperson Mahinda Samarasinghe. The other was former opposition leader and senior-most SLFP deputy-leader cum ex-minister Nimal Siripala de Silva. Samarasinghe who crossed over to Mahinda from Ranil's side and then went over from Mahinda to Maithripala is now a close confidante of the President. He stated that Sirisena was the SLFP presidential candidate and declared brazenly "It is a matter for other parties if they want to support him or not." Siripala de Silva echoed the same sentiments at a party press conference though somewhat less stridently. It does not appear that Jayasekara, Samarasinghe and Siripala de Silva were announcing Sirisena's candidacy without the President's approval. Although Maithripala is silent overtly, he seems to have covertly sanctioned the announcement by SLFP stalwarts. This again is typical of Sirisena's functional style which is keeping mum while letting his lapdogs do the yapping.

Whatever the agreement Mahinda and Maithripala may have arrived at before, during or after the "October 26 political crisis" about the presidential candidacy, the reaction in "Pohottuwa" (Lotus Bud) circles to Sirisena's proposed candidacy seem hostile. A gathering of SLPP local authority members and provincial councilors -- both past and present -- resolved unanimously that Sirisena should not be the SLPP-backed presidential candidate. Several UPFA/SLPP backbenchers too declared their opposition to a Sirisena candidacy and reiterated that the presidential candidate should be from the SLPP.

ELECTING A PRESIDENT FROM SLPP
This SLPP stance was forcefully articulated further by former Cabinet minister and Rajapaksa sibling Basil Rajapaksa. The dynamic architect of the SLPP's political success addressing a party event in Mahara said the next President would be from the Sri Lanka Podujana Peramuna (SLPP). According to a release by the SLPP media unit, Basil Rajapaksa had reportedly stated that he expected a President to be elected from the SLPP-led new alliance before 2019 ended. "Electing a President from the SLPP is not a mere statement. When the SLPP was not more than one year old, it showed it's strength by defeating grand old parties like the UNP and the SLFP at the last local government election," Rajapaksa said. The statement about an SLPP President by Basil Rajapaksa, the chief political strategist of the SLPP, is not something which could be dismissed lightly as political rhetoric.

Further political developments of a very interesting nature continued to occur. Kalutara District MP and former minister Kumara Welgama came out with a controversial suggestion. Welgama, an avowed Mahinda loyalist, stated that Mahinda Rajapaksa himself should run for President. Although the 19th Amendment barred Rajapaksa from contesting, Welgama seemed to be of the view that this should be put to the test in court by Mahinda contesting himself. Welgama's opinion was that the 19th Amendment could not be applied retrospectively. Therefore, Mahinda Rajapaksa (or even Chandrika Kumaratunga) who had been President twice before the 19th Amendment came into force could contest again was the crux of Welgama's argument. It is noteworthy that Kumar Welgama has boldly opposed the candidacy of Gotabaya Rajapaksa in the past as well as that of Maithripala Sirisena in recent times.

In spite of Welgama's loyal entreaties, it is highly-unlikely that Mahinda would try to contest again. By doing so, Mahinda would certainly get embroiled in court cases again. Given recent happenings, it is doubtful whether Mahinda would place himself at the mercy of the judiciary again. The former President in his short-lived avatar as purported Prime Minister has received powerful punches from the Supreme Court and Court of Appeal recently. Mahinda knows that the current conduct of the upper echelons of the judiciary is vastly different from what it was when Sarath Nanda Silva or Mohan Peiris held office as Chief Justice. Mahinda is not likely to risk being humiliated again by a potentially adverse ruling from the courts. There is a Tamil proverb "Soodu Kanda Poonai Aduppankarai Naadaathu" meaning a cat singed by the fire once would not go near the hearth again.

GOTABAYA READY FOR PRESIDENTIAL CANDIDACY
In another significant turn of events, former Defence Secretary and Rajapaksa sibling Gotabaya Rajapaksa captured widespread media attention just one day after the SLPP local authority representatives and PC members decided not to support Sirisena at a presidential election. Providing what was the clearest indication yet of his intention to run in the upcoming presidential elections, Gotabaya Rajapaksa stated openly that he was ready to take up the presidential candidacy challenge, if and when polls were called, possibly by the end of 2019. Speaking at a 'Viyathmaga' event at Water's Edge, Rajapaksa argued that he advocated 'Jathikathwaya' over 'Jathiwadaya.'

According to Gotabaya, 'Jathikathwaya' was defined as inclusive and egalitarian nationalism while 'Jathiwadaya' was divisive nationalism. According to news reports, Gotabaya contended that Sri Lankans needed to embrace 'Jathikathwaya' to develop the country and pointed out that this message had to be delivered to the masses ahead of a likely presidential election later this year. "We know there should be a presidential election this year. I am ready if you are," Rajapaksa said to a cheering crowd at the end of his speech. During the short address, Rajapaksa called on professionals to unite and build a common identity that could be embraced by all Sri Lankans. Some days later when Gotabaya was accosted by the media at the Special Court premises and asked about his presidential election candidacy, the reply was "I have already said I'm ready."
In spite of Welgama's loyal entreaties, it is highly-unlikely that Mahinda would try to contest again. By doing so, Mahinda would certainly get embroiled in court cases again. Given recent happenings, it is doubtful whether Mahinda would place himself at the mercy of the judiciary again
Almost as if acting on cue, the Gotabaya fan club within the SLPP expressed support for his candidacy. Addressing a press conference at the Nelum Mawatha political office of the SLPP, UPFA MP Rohitha Abeygunawardene confirmed his party's support for the former Defence Secretary. Rohitha also sought to find some common ground between the political ambition of Gotabaya Rajapaksa and Maithripala Sirisena. "The former Defence Secretary also has a close connection with President Maithripala Sirisena. It is not difficult for them to embark on a journey together," the UPFA Parliamentarian said. Although Rohitha jumped the gun by announcing SLPP support for Gotabaya's candidacy, the fact of the matter is that no official decision has been made in this regard by the party so far.

This however was not the end of surprising political twists. Newspaper reports said former Speaker and eldest of the Rajapaksa brothers Chamal Rajapaksa too was ready to contest the forthcoming presidential elections like Gotabaya. When questioned by the "Daily News" over media reports about his presidential ambitions, the former Speaker reportedly said he was ready to contest if the people were ready. "When the media was posing various questions as to whether I am ready for the elections, I said 'yes.' If the people are ready, then I too am ready. That's all," he said. Chamal Rajapaksa was however skeptical whether he would be given the opportunity to contest. "Let's see if the offer comes my way. It's too early to comment," he added. Asked whether he preferred to contest from the SLFP or the SLPP, the former Speaker said that it had to be decided when the time comes. "When the time comes, the party will nominate a suitable candidate. There is nothing much to agitate over it," he said. The former Speaker said they were attempting to put forth a single presidential candidate jointly from the SLFP and the SLPP.

SUMMARISED IN SIX BRIEF POINTS
All these political currents provide an insight into the prevailing state of affairs in the Rajapaksa camp about forthcoming presidential elections. This situation could be summarised in six brief points. Firstly, the SLPP/SLFP/UPFA forces would prefer a common presidential candidate. Secondly, there is growing opposition within the SLPP towards the idea of a Maithripala Sirisena candidacy. Thirdly, there is a strong tendency endorsed by SLPP chief political strategist Basil Rajapaksa that the presidential candidate should be from the Pohottuwa party. Fourthly, there is a systematic ongoing campaign to promote Gotabaya Rajapaksa as the candidate while efforts are also on to counterbalance it with other prospective candidates like Chamal Rajapaksa. Fifthly, the ultimate decision in this regard will be taken by Mahinda Rajapaksa in concurrence with Basil Rajapaksa and publicised at the appropriate time. Sixthly, it is unclear as to whether Maithripala Sirisena would acquiesce meekly with the decision if unfavourable to him or would strike out independently either alone or in association with others.

As of now the only factor in favour of a Maithripala presidential candidacy is the agreement or understanding supposedly arrived at with Mahinda at the time of the October 26 political conspiracy. That however was not a permanent agreement. There was only a convergence of interests between Mahinda and Maithripala that paved the way for both to align against the perceived common enemy Ranil. Both Mahinda and Maithripala needed each other to topple Ranil and set up a new dispensation. There was no identity of interests. More importantly neither trusted each other despite being partners in a political conspiracy. The common mission however was not accomplished. What is interesting now is that while Sirisena is yet dependent on Rajapaksa to realise his political objectives the same could not be said for Rajapaksa. Although Maithripala could be of utilitarian value to Mahinda as long as the former remains President, it appears that Sirisena's usefulness to the Rajapaksas is gradually diminishing. In fact, the lame duck President could turn out to be more of a political liability than asset to the Rajapaksas in the current context.
What was most unexpected politically and most unacceptable morally about the abortive power grab bid last October was the "unholy alliance" between Maithripala and Mahinda. Sirisena a senior minister in the government headed by Mahinda Rajapaksa as President was also the secretary of the Sri Lanka Freedom Party (SLFP). He defected from the then government in November 2014 and became the common opposition candidate at the 2015 January 8 presidential elections. He defeated Mahinda Rajapaksa with the aid and support of the United National Party (UNP) led by Ranil Wickremesinghe. Thereafter Sirisena appointed Wickremesinghe as Prime Minister and also assumed office as leader of the SLFP. Sirisena and Wickremesinghe together enacted the 19th Amendment to the Constitution that abolished Mahinda's chances pf contesting for the presidency again. The UNP-led United National Front (UNF) and sections of the SLFP led by Sirisena formed a coalition government after the August 2015 parliamentary polls. However, internal dissension set in soon. The situation was complicated further by political and personal incompatibility between Maithripala and Ranil. Sirisena covertly initiated a no-confidence motion against Wickremesinghe that did not succeed. After months and months of simmering tension the flashpoint of tension exploded on October 26, 2018.

FIFTY-ONE DAYS OF POLITICAL CRISIS
As is well-known now, President Sirisena removed Ranil Wickremesinghe as Prime Minister and replaced him with Mahinda Rajapaksa after getting the UPFA to pull out formally from the coalition government. Despite the pull-out, Wickremesinghe had a majority in Parliament. Parliament was prorogued for 3 weeks to enable Mahinda to cobble together a majority by enticing MPs from different parties with "incentives." Although a few MPs did crossover, the bulk of Parliamentarians did not join the purported premier Rajapaksa's government. Having failed to garner a majority, Sirisena dissolved Parliament and scheduled fresh elections in what was a flagrantly intentional violation of the Constitution. The legislature spearheaded by Speaker Karu Jayasuriya offered stiff resistance to the arbitrary, unconstitutional action of the Executive President. A majority of MPs passed several votes in the House thereby demonstrating that Mahinda Rajapaksa had no majority. Political parties and MPs also filed petitions in the Supreme Court and Court of Appeal. The courts upheld the petitions through landmark judgments. Maithripala and Mahinda were compelled to throw in the towel after fifty-one days of political crisis. Ranil Wickremesinghe was rightfully restored as Prime Minister.

The ill-advised attempt to grab power through anti-constitutional means dented the political image of Mahinda Rajapaksa considerably. As for Maithripala Sirisena his already tarnished reputation plunged further. The only tangible gain -- if one may call it that -- accruing to Mahinda Rajapaksa was his becoming the accredited opposition leader. Although thwarted in their power grab bid both Mahinda and Maithripala will jointly and separately continue to work hard to undermine the Wickremesinghe-led government though Sirisena as President is the nominal head of the same government. Thus, Maithripala Sirisena and Mahinda Rajapaksa will be waging war against Ranil Wickremesinghe's Government from within and without. Rajapaksa will launch attacks from outside and Sirisena will sabotage from the inside. They will continue with renewed vigour the task of completing their unfinished agenda.
The ill-advised attempt to grab power through anti-constitutional means dented the political image of Mahinda Rajapaksa considerably. As for Maithripala Sirisena his already tarnished reputation plunged further
The Maithripala-Mahinda agenda was to set up a government with Mahinda Rajapaksa as Prime Minister for a short duration and then go in for parliamentary elections. Although an election to Parliament is due only in 2020 and a presidential election has to take place before 2019 ends, the plan was to go for an early parliamentary poll. This was primarily because Mahinda Rajapaksa was debarred from contesting the presidential elections as the 19th Amendment had reversed the 18th Amendment and restored the earlier provision of the two presidential terms only restriction. Thus, Mahinda cannot contest as President but can become Prime Minister again if he wanted to. Since Maithripala was eligible to contest for the presidency again, he hoped to contest with the support of Mahinda and win. Thereafter he would complete his term and retire enabling Namal Rajapaksa to take over.

It was on the basis of this agenda that Maithripala realigned with Mahinda. However, there was always the possibility that Mahinda may not have gone through with the arrangement if he was able to register a sweeping parliamentary victory. If Mahinda were able to win with a large number of MPs, he could always expand it to a two-thirds majority by encouraging defections as he did in 2010. If Mahinda obtained a two-thirds majority, then he had the option of revising the 19th Amendment to facilitate a third presidential term for himself. For instance, the restriction on two terms could have been amended to holding two "consecutive terms" as in the case of Putin's Russia. This could have enabled Mahinda to dispense with Maithripala if he wanted to do so. After all, the septuagenarian Mahinda seeks power primarily to ensure the successful succession of son Namal Rajapaksa to the top seat of power. Also, Mahinda would prefer to extend the Executive Presidency. All this is merely speculative. In any case, the possibility of cutting or not cutting out Maithripala never arose as the entire plan of holding early parliamentary
elections went awry.

OPTION OF EARLY PRESIDENTIAL ELECTION
The option of holding an early presidential election is now possible as President Sirisena has completed four years in office. As stated before Maithripala would like to have it soon as possible if he is the candidate backed by Mahinda or the common candidate of the SLFP. SLPP – UPFA combine. But it is doubtful whether he would plunge in without such support or backing. In the case of Mahinda Rajapaksa, he would very much like to have Maithripala Sirisena on his side as long as he holds office as President because there are advantages to be derived. Sirisena though a lame duck President still has the capacity to sabotage, obstruct and embarrass the government headed by Ranil Wickremesinghe. More importantly, Mahinda would not like to make an enemy of Maithripala as long as he wields power as President.
As such he would opt for a partnership at Provincial Council or parliamentary polls. It is very possible that the SLPP and SLFP may contest together in a common alliance at the Provincial Council elections when held. But Mahinda is somewhat reluctant or hesitant to back Sirisena as the presidential candidate at this point of time.

There are many valid reasons for Mahinda's vacillation or procrastination in this matter. In the first place, the political image of Mahinda Rajapaksa has been tarnished by the abortive attempt to gain power through anti-constitutional means. This does not mean Mahinda has become unpopular but his support base has been eroded. He needs time to engage in political salvage and restore his reputation again. In that context Mahinda would prefer an election campaign where he would be the central figure and not a presidential election where -- being debarred from contesting -- he would have to play second fiddle to whoever is the presidential candidate. So he would try and have parliamentary or Provincial Council polls where he would be the chief campaigner on an islandwide basis.

Mahinda also needs time to sort things out before deciding on a presidential candidate. There are tensions and currents within the family circle pulling in different directions. Amicable political relationships between and among family members have to be restored and streamlined. The SLPP is undecided yet but seems to be opposed to an "outsider" being the presidential candidate. Likewise some siblings too are likely to be offended if an "outsider" is selected as a candidate for the presidency. It is also unclear whether Gotabaya will be eligible to contest the presidency. Also, Mahinda does not want any decision arrived at to be challenged before the judiciary. Earlier, he may have been confident about getting favourable verdicts from court, but after being "burnt" recently, he would not take any chances. So he would prolong the time needed to take a firm, final decision on the presidential candidate.

BACKING SIRISENA FOR PRESIDENCY
All these factors are reasons enough for Mahinda's reluctance to endorse Maithripala's presidential candidacy at this juncture but there are other important reasons for this delay too. According to informed sources who are to some extent cognizant with Mahinda's thinking, the former President is now having second thoughts about backing Sirisena for the presidency. There are two broad reasons for this. One is whether Maithripala Sirisena can win the presidential elections even with Mahinda's backing. The other is whether Sirisena will remain dependable and trustworthy after winning.

Mahinda Rajapaksa is like a wounded lion after the October 26 fiasco. According to informed sources, he is meeting with a cross section of party members, supporters and independent observers nowadays and trying to do a postmortem on what had happened and what went wrong. Much of the feedback, Mahinda has received is rather negative about Maithripala Sirisena. Mahinda being a veteran politician is realising slowly that Maithripala Sirisena does not have a positive image after his political conduct in recent times. He is seen as a selfish, unreliable politician who has made a mess of things. The grassroots supporters of the Rajapaksas perceive Sirisena as a traitor who joined the UNP to defeat Mahinda. Now they view him as a man who took Mahinda for a ride by appointing him premier and causing serious damage to his reputation. The supporters of Chandrika and Ranil look at Maithripala as an ungrateful upstart who betrays all in his lust for power. Civil society sections regard him as public enemy one nowadays.

The little clout enjoyed by Sirisena now is likely to dwindle and vanish after he relinquishes office as President. Some of his current lackeys too may desert him then. If Maithripala Sirisena becomes a presidential election candidate with or without the support of Mahinda, he is likely to be politically-attacked by diverse forces on multiple counts. The various acts of omission and commission by Sirisena will provide lethal ammunition to his political rivals in a presidential poll. The very fact that Sirisena is contesting again as President after promising earlier that he would not contest again and that saying he would abolish the Executive Presidency will work against him. Even if Mahinda supports Maithripala, there is every chance that voters of the Rajapaksa camp may vote against him or not vote at all. Some may even fault Mahinda for supporting Maithripala. Thus Mahinda hesitates as he is unsure whether Sirisena can win.

The second and more compelling reason for Mahinda's reluctance is the personality and character of Maithripala Sirisena. The general impression after the 19th Amendment was that presidential powers had been downsized and that the Prime Minister post had been empowered. It was on that basis that former President Mahinda Rajapaksa opted to become Prime Minister under President Sirisena. But the unrestrained manner in which Sirisena conducted himself and exercised his real or imaginary powers has demonstrated that the presidency has not been rendered toothless. The legislature and judiciary combined with people's resistance may have helped countermand the executive power grab but the sordid 51-day tragi-comedy has illustrated clearly the potential of the Executive Presidency to inflict destructive damage to democratic institutions and the polity. Even now, Sirisena is demonstrating that the powers he possesses are yet enough to wreak havoc with the Ranil Wickremesinghe Government.

SIRISENA LIKE DICKENSIAN URIAH HEEP
It is therefore obvious that Maithripala Sirisena would have the capacity to do much harm or good if re-elected as President. Even if he wins with Mahinda Rajapaksa's support there is no guarantee that Sirisena would be politically grateful or abide by the Rajapaksas after being installed in office. The manner and mode in which Maithripala Sirisena utilised Ven. Sobhitha Thera, Civil society organisations, Chandrika Kumaratunga, Ranil Wickremesinghe and the minority community political parties to climb to the pinnacle of power and later discarded them are clear pointers towards the man's duplicitous character. The way in which he let down MPs of the UPFA/SLFP who supported him later is another indicator. There was a time when Sirisena like the Dickensian Uriah Heep fawned obsequiously before Chandrika and Ranil saying he would always call them "Madam" and "Sir." Contrast that utterance with how he treated Ranil and is now treating Chandrika.

Under these circumstances Mahinda Rajapaksa is understandably hesitant about endorsing Maithripala Sirisena's presidential candidacy. He is reluctant to emulate Dr. Frankenstein and create a "monster" that may run amok again. Aligning with Sirisena and getting the President to break with the coalition Govt and wreak havoc on the Ranil Wickremesinghe Govt may have been acceptable to Mahinda at this juncture but he would not like the same to be done to him by Maithripala in the future. After all Mahinda could not have forgotten how Maithripala partook of an egg hopper and coffee dinner with him and crossed over the next day. Mahinda could not have forgotten how he sent Lalith Weeratunga and Gotabhaya Rajapaksa to meet Sirisena in the morning after hearing that he was planning to jump and how Maithripala solemnly assured them of his bona fides and did the dirty in the evening.

It is against this backdrop therefore that Mahinda Rajapaksa is showing a marked reluctance to endorse Maithripala Sirisena's presidential candidacy. Mahinda perceived Maithripala as a political asset to fracture the coalition Govt , replace Ranil as Prime Minister , dissolve Parliament and schedule early elections. That political exercise ended in failure and Sirisena's usefulness is gradually diminishing. As stated earlier the SLPP and SLFP may contest together as part of a common alliance in the Provincial polls but it seems unlikely that the SLPP will back Sirisena in a presidential poll. Maithripala is of utilitarian value to Mahinda as long as he remains the President. Thereafter he is of very little value to the Rajapaksas politically.

INFAMOUS KARAPINCHA/KARUVEPPILAI TREATMENT
Furthermore, Maithripala Sirisena is fast becoming a political liability to Mahinda Rajapaksa. There may come a time when the Rajapaksas give the infamous "Karapincha/Karuveppilai" treatment to Sirisena. If and when that happens the ranks of Chandrika, Ranil and even Mahinda may shout jubilantly saying poetic justice has been done!

D.B.S. Jeyaraj can be reached at dbsjeyaraj@yahoo.com