---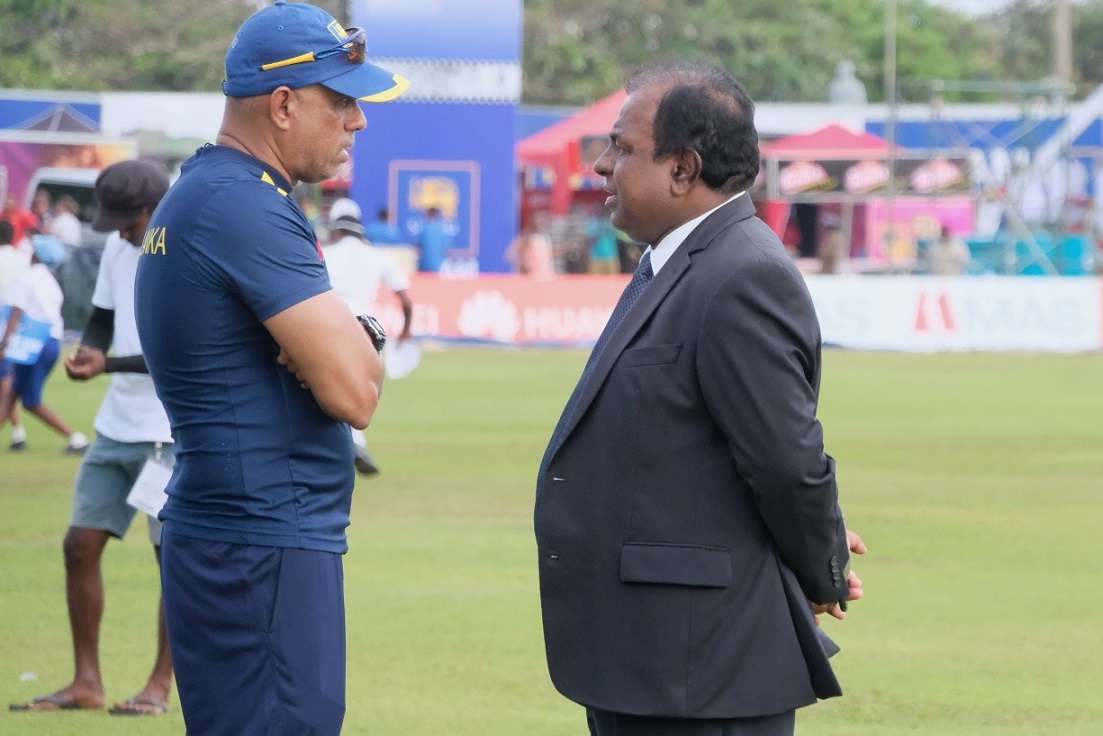 by Champika Fernando
An ugly personality clash between the Head Coach and Team Manager has now reached a boiling point, with the manager relinquishing his duties with immediate effect, accusing the coach of conspiring to get rid of him. He has been replaced by Jeryl Wouterz.
Charith Senanayake, former Sri Lanka cricketer, replaced Asanka Gurusinha, who took up the position of Chief Cricket Operating Officer as team manager in July, in time for the South African series. He is likely to be appointed to the Sri Lanka 'A' team.
He made this decision after meeting the SLC hierarchy on Friday in Galle where the national team suffered a hefty 211-run defeat in the first Test against England. He has been accused of being detrimental to the team.
The two had been at loggerheads since the disastrous Asia Cup where the Manager was relieved of all but logistical arrangements during that series. His appointment was initially for the period up to the Asia Cup, it was extended up to the current tour.
"However, in this instance, I am not prepared to accept if any other individual [sic] trying to get rid of me for their shortcomings, selfish or personal gains at my cost making me the ultimate scapegoat second time around," Senanayake wrote to Sri Lanka Cricket CEO Ashley de Silva, few days before he decided to walk away.
Senanayake was shown the door ahead of Sri Lanka's tour to South Africa in December 2016, just ten months into his two year contract. At that time, the Board claimed he was not sacked but rotated—as part of a new 'rotation policy'—of the Thilanga Sumathipala administration.
"I seriously have no issues in SLC replacing me if I have let the Team or SLC down or failed in my duties at any time," he says in an email to the CEO after latter had not responded to his Whatsapp messages on the same matter.
"I am sure that you agree that I handled many tough situations with utmost professionalism whilst safeguarding the best interests of both SLC and the team during the SA, Asia Cup and ongoing English tour at all times."
The Manager was an integral part of the team management before Hathurusingha's entry into the Sri Lanka fold. The Head Coach soon demanded full control over the team and decision-making process. This meant some of the powers vested in the Manager, like heading selections on tour, were removed.
"Thus, I would be grateful if you can kindly indicate to me where I stand right now since lot of work is piling up relating to New Zealand, Australia and South African tours where Chandima (Mapatuna) requires my assistance," the letter states.
"Though I do not have a contract in hand, I have already sorted out most of the logistics and other issues including visas, etc without any expectations simply with the best interest in my heart for the game, institution and the team. However, until I hear from you or have a contract in hand, I shall refrain from doing any further work relating to these three tours with immediate effect."
In the letter Senanayake also demands an immediate relieving of his duties if he is no longer going to be the Manager, saying any replacement should take over urgently in order to ensure continuity: "Furthermore, if I am no longer the Team Manager, I kindly request you to relieve me off my duties with immediate effect or at the end of the first Test as it will not be healthy for the team environment to have me around. The new appointee should take over urgently in order to ensure continuity."
Meanwhile, SLC is also looking at the possibility of replacing Fielding Coach Manoj Abeywickrama as Sri Lanka's fielding standards have pummeled to disgraceful levels.