---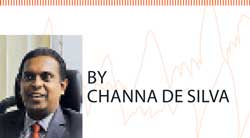 In a bold effort to ensure Sri Lanka's payments industry landscape continues to revolutionize and stay abreast with the latest global trends, LankaClear unveiled another groundbreaking initiative with an ambitious objective to drive 20 percent of retail payments via smart mobile devices by the year 2020.
Making its debut recently, JustPay was launched as an initiative to facilitate retail payments via disruptive technology innovations.
LankaClear's newest addition
The newest addition to the national payment network, a brainchild of LankaClear, is a facility that is backed by the Central Bank and all the member banks of LankaPay Common Electronic Fund Transfer (CEFTS). It typically aims to facilitate secure real-time retail payments below Rs.10000 under an extremely low tariff scheme. Accordingly, it is acknowledged that JustPay will enable customers to make retail payments from their bank account by using smart mobile phones and other smart devices.
This latest innovation kicked off as a highly secure payment mode, which will utilize two factor authentication and end-to-end encryption, according to LankaClear CEO Channa de Silva. He noted that such additional measures would further strengthen the security efforts of banks when enabling mobile payment applications by adhering to Central Bank (CBSL) prescribed baseline security standard for mobile applications.

Bridging the gap
De Silva opined that due to absolute convenience, highest level of security and the extremely low transaction costs, the newly inaugurated service JustPaywill soon become the de facto payment option for Sri Lanka's retail payments segment.
"In order for JustPay to be accepted by the masses, the mobile payment applications must be extremely easyto use, secure and need to support local languages. The aim is to make it a huge success by extending the usage to a point where even a farmer or a milkman in the rural most villages would be comfortable in opting for the service," said de Silva.

Need for 'pull' service in Sri Lanka
An analysis of the current status of the country's retail financial transaction volumes indicate that although the option of facilitating a transaction through an electronic platform is available, a good majority of payments are still carried out using cash.
Global statistics reveal that despite the surge in Internet usage, cashless retail transactions account in between 2 to 5 percent of the total transaction volumes in this region. A total number of 125 million transactions per year happen in Sri Lanka via electronic mode as per CBSL statistics, which essentially means that somewhere between 2.5 to 6 billion retail transactions are still carried out using cash.
Even if we assume that only 95 percent of the transactions are being carried out using cash, de Silva stressed it is imperative to create a shift in the near future if the economy is to reap benefits by reducing money in circulation since some of the cash even remains completely outside the banking system stored in vaults and other "safe" locations.
"This shift would not only benefit the banks by increasing their revenue by Rs. 6 to 10 billion through transaction fees and interest, but also help to pull-in the masses to adopt electronic payment modes. The ultimate aim is to get a majority of the general public involved in the development process," said de Silva.
Studies have shown that the printing and distribution of cash cost a nation nearly 1.5 percent of its GDP. While this is the estimated worldwide average, the percentage is expected to be notably higher for developing economies such as
Sri Lanka.
"If we can attract at least 20 percent of these cash-based payments into electronic mode, this alone will drive a huge surplus in electronic transaction volumes. It potentially could save the country a significant amount of money since the usage of cash would be reduced, which would result in savings via less cash handling. The second objective to be fulfilled is the possibility of cash currently sitting in someone's cash box or a vault coming back into the banking network. That could potentially create a huge advantage to the economy" reiterated the chief.

The solution
As a solution to fast track the country towards reducing the usage of cash, LankaClear sought after to identify a futuristic instrument that would drive the initiative forward. With Sri Lanka standing out in the region for its high mobile phone penetration rate, and increasing usage of smartphones, the company recognized that the ideal delivery channel of choice would be the smart devices.
"After much deliberation, we felt that the smart devices would be the preferred instrument for this initiative. As it is, there are over 4 million smartphones and a significant number of other smart devices used in the country, thus we were convinced that this is the most appropriate channel in enabling banks to accommodate the general public to make electronic payments even at their grocery store," de Silva expressed.
The infrastructure required to drive this initiative forward is to enable the payment of a customer to be made to a merchant. "If a customer can make a payment through a smart phone and the funds gets transferred from his bank account to the merchant's bank account in real time, then one doesn't need to exchange or even have cash in his wallet" he added.

JustPaylow tariff solution
Currently banks charge Rs. 50 per transaction to make a real-time payment to another bank, immaterial of the value. However, when we are looking at the retail space a transaction fee of Rs. 50 would be unacceptable to a common user especially for low value retail payments. In an effort to encourage the usage of the facility, LankaClear and the respected banks have agreed on a low transaction tariff structure for paymentsup toRs. 10,000 where the transaction fee would be extremely insignificant such as a fee of Rs. 1 for a payment up to Rs. 1000. In time to come, we are anticipating either some banks or the merchants might opt to absorb this fee and provide the service free of charge to the customer.

Challenges to overcome
While the services to general public would be delivered via a smart apps, the most successful apps would belong to the acquiring banks that sign up the most number of merchants, which will give customers enough options to make payments. The primary issue addressed by this concept, which was designed by the banks together with LankaClear, is the scale of adoption where both customer and merchant account doesn't require to be in the same bank.
"If the customer and the merchant are in the same bank then there is no scale for growth. As we are trying to reach 20 percent cashless transactions by 2020, the other problematic issue is in the area of adoption," said de Silva.
He stressed that the ICT industry in partnership with banks have been encouraged to come up with extremely convenient apps that addresses different needs of consumers and facilitate a 'one click payment' option.
The biggest challenge is in gaining the confidence and trust of the general public to use Smart devices towards making payments. "This would be our primary hurdle to overcome. However, we have made significant investments to ensure sufficient security is provided by obtaining highest levels of security certifications to our payments network. The banking sector would also adopt a seamless two factor authentication process for payments made via smart devices to give much needed confidence to general public to increase adoption," said the chief confidently.
(Writer is the General Manager / CEO of LankaClear Pvt. Ltd)