---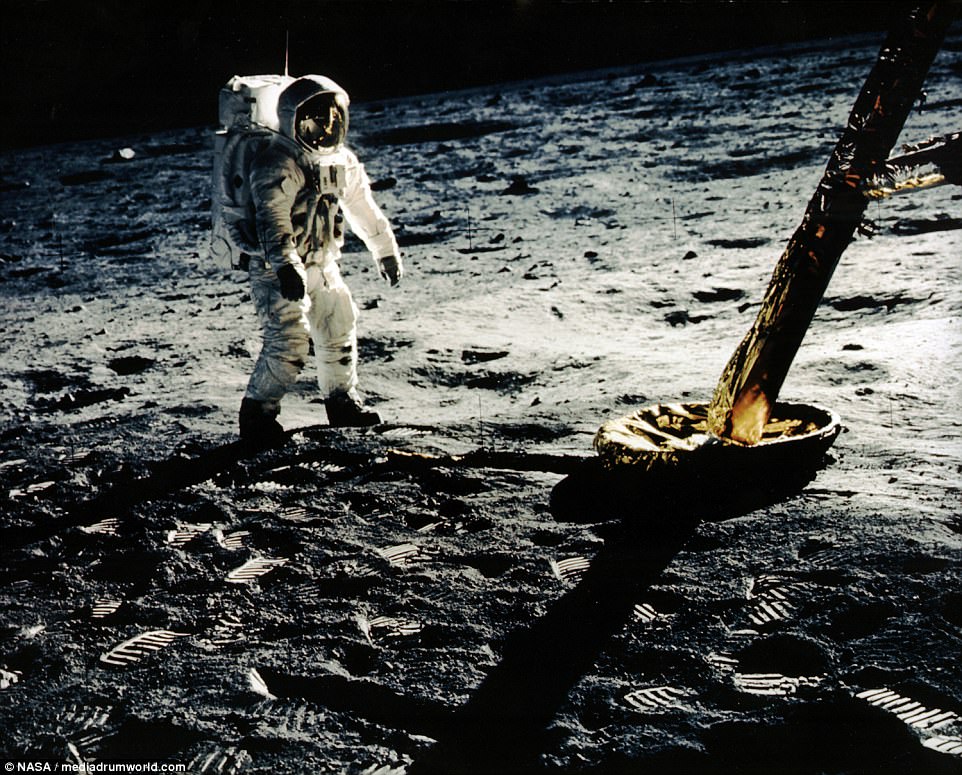 Astronaut Edwin 'Buzz' Aldrin is pictured walking on the lunar surface near the leg of the lunar module, named the Eagle
---
Astronauts Neil Armstrong and Edwin E. 'Buzz' Aldrin Jr are seen walking on the moon as they make 'one small step for man, one giant leap for mankind'. The American flag planted in the surface of the moon, the Apollo 11 taking off attached to a Saturn V rocket from the Kennedy Space Center in Florida and President Richard Nixon waiting for the astronauts to return. Apollo 11 was the spaceflight that landed the first two humans on the moon on July 20, 1969. (Daily Mail)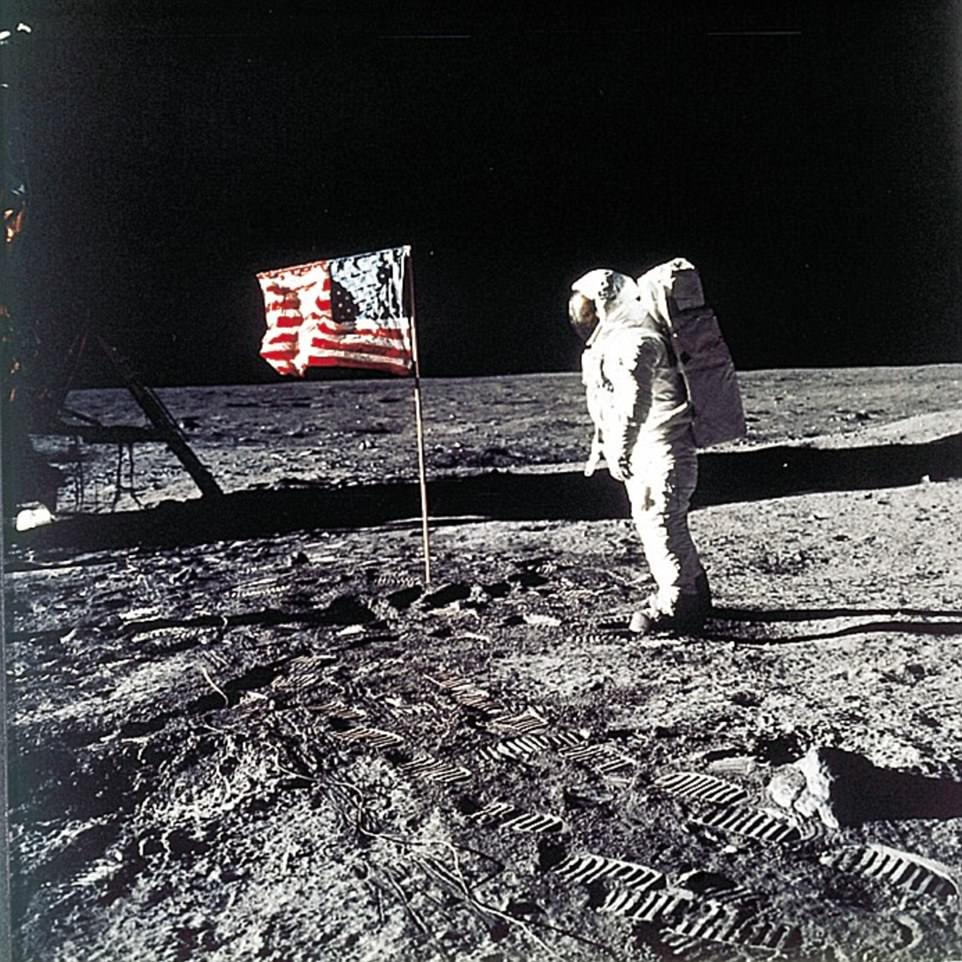 The first successful moon landing was broadcast on live TV to a worldwide audience and effectively ended the Space Race between America and the USSR. Armstrong and Aldrin landed the lunar module Eagle in the Sea of Tranquility. They were on the surface of the moon for around 21.5 hours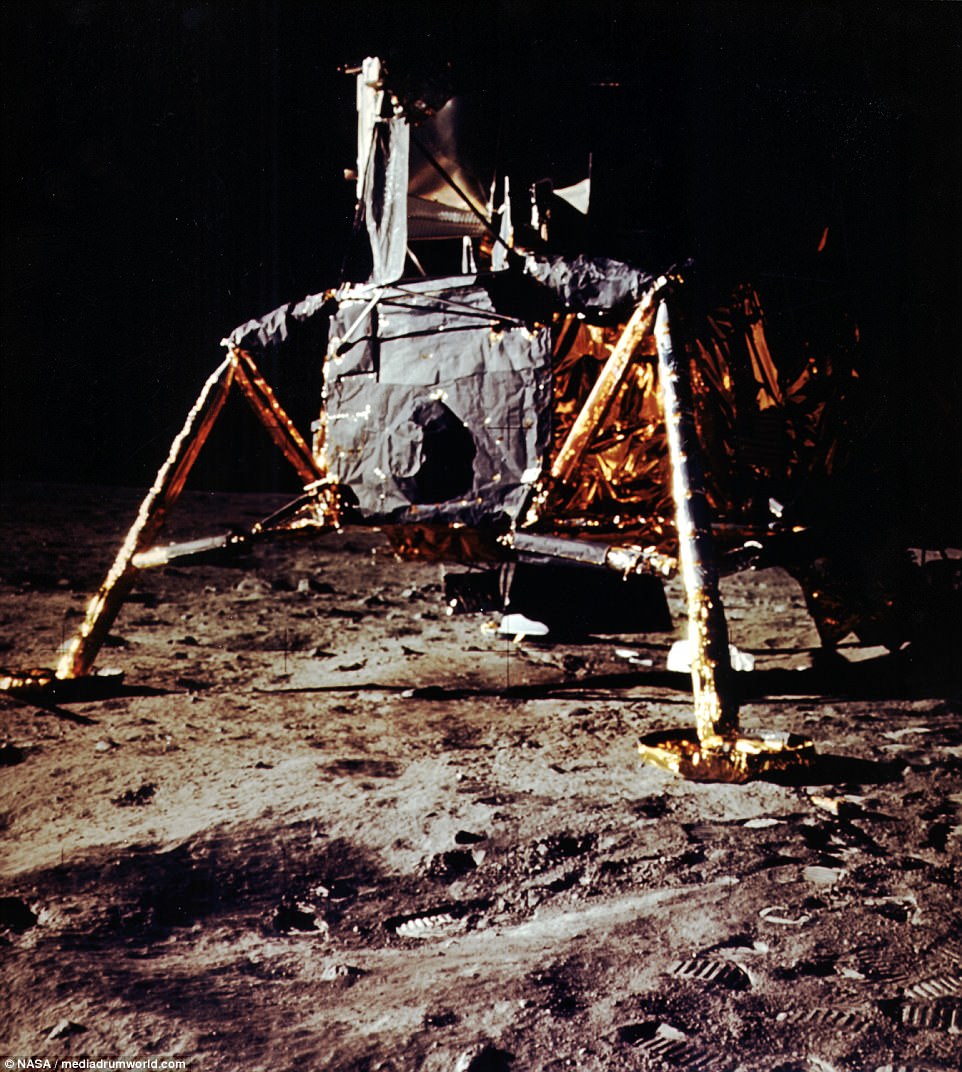 The Eagle has landed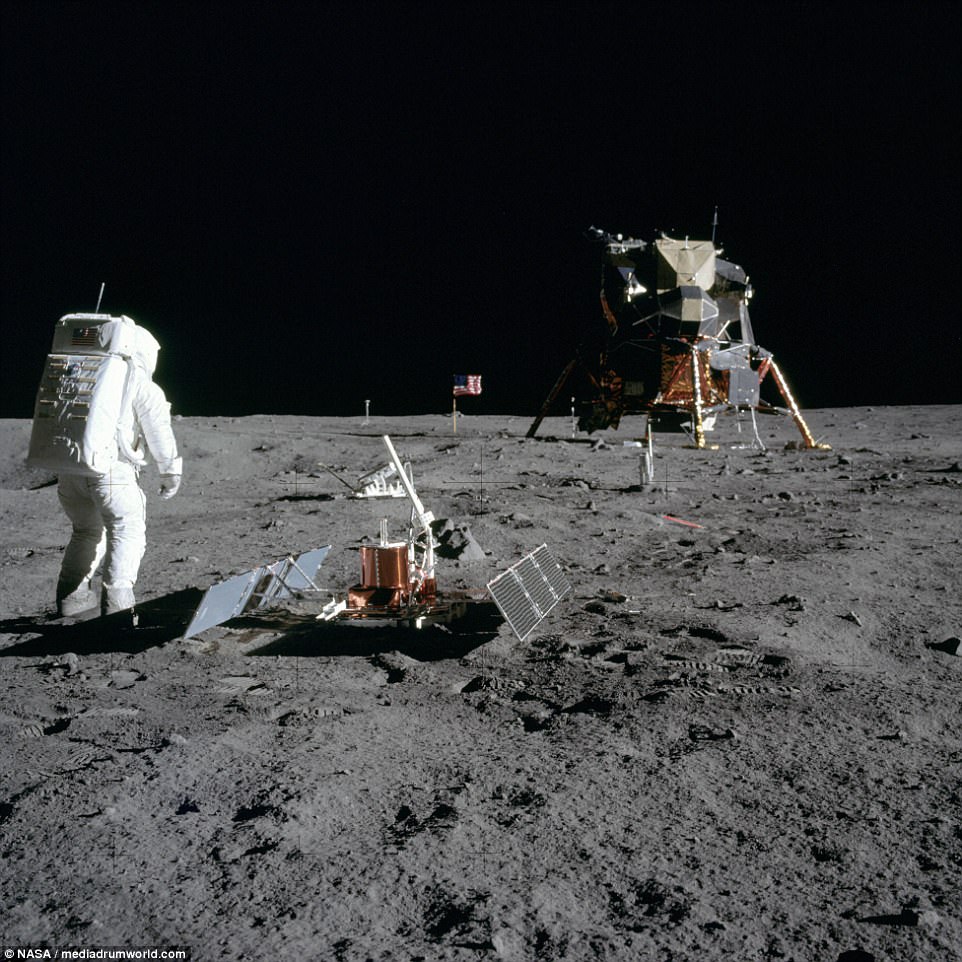 Astronaut Edwin E. 'Buzz' Aldrin Jr is shown on the surface of the moon after the deployment of Early Apollo Scientific Experiments Package (EASEP).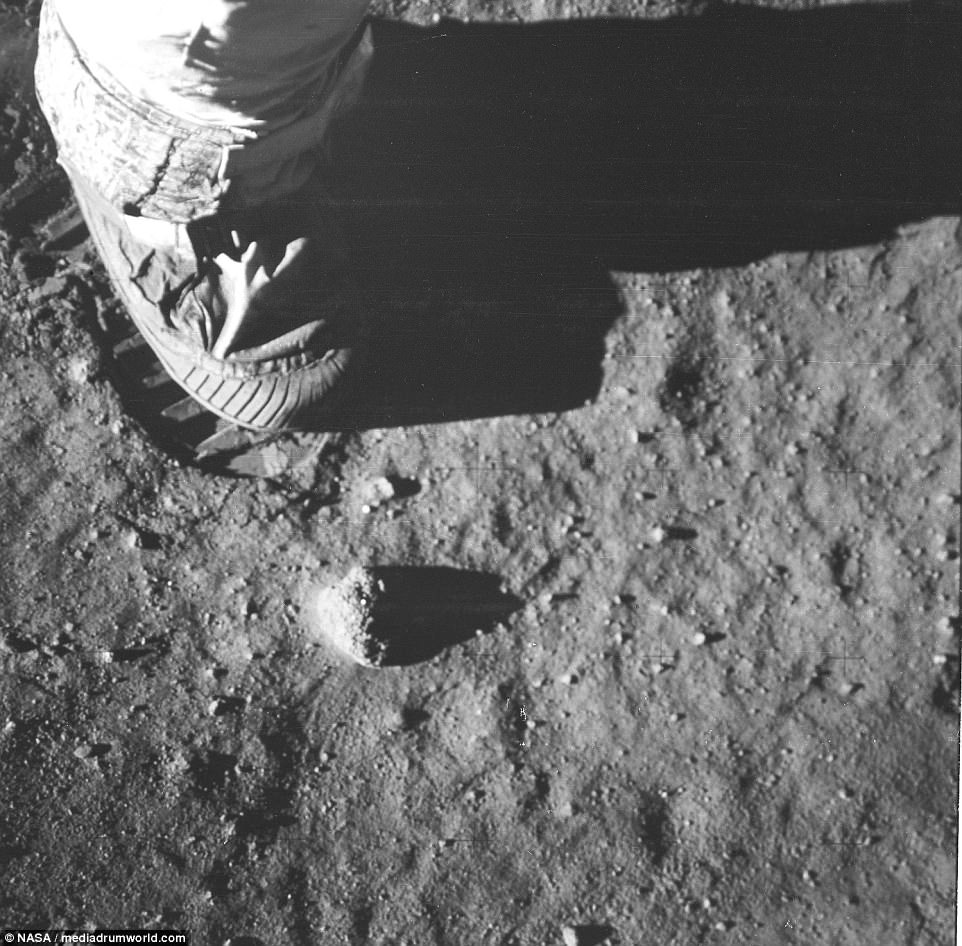 One of the images shows what could be the first human footprint ever made on the moon, with Armstrong's foot hovering over the imprint.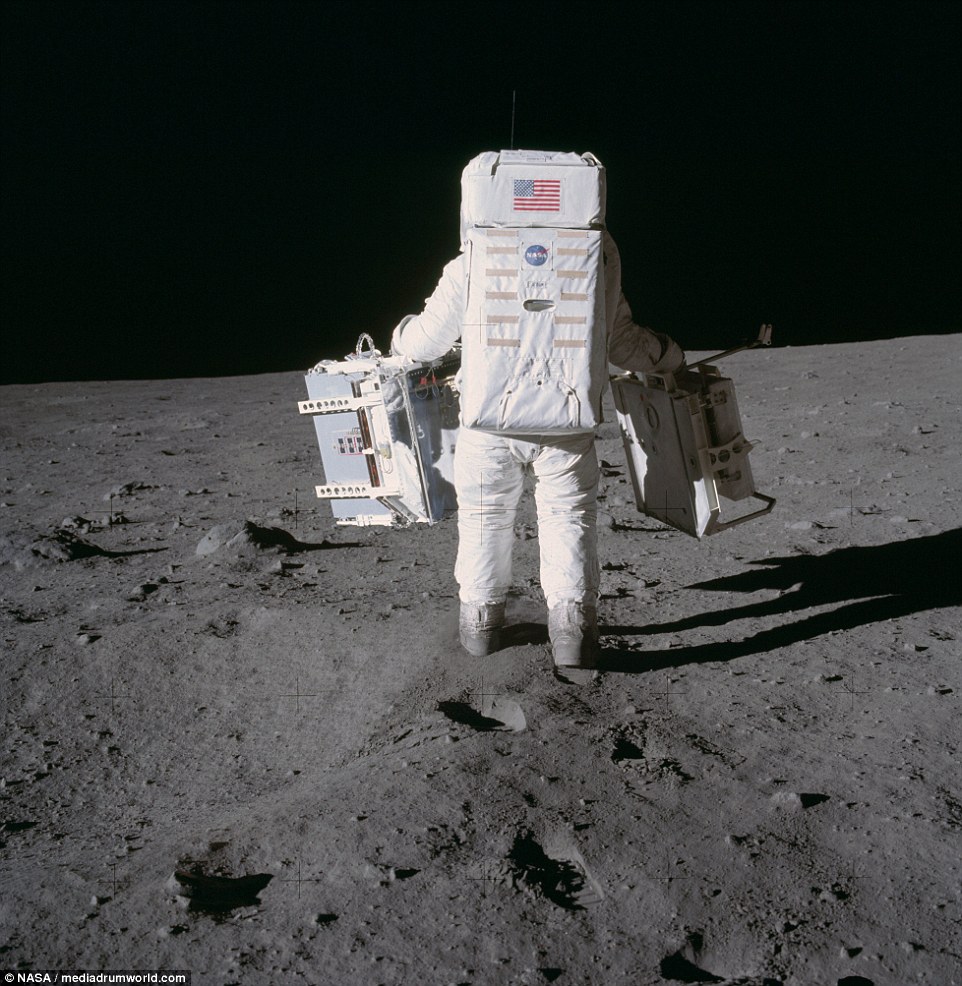 The mission fulfilled a national goal set out by President John F. Kennedy in 1961 where he promised a man would land on the moon and returning safely to Earth before the decade was over.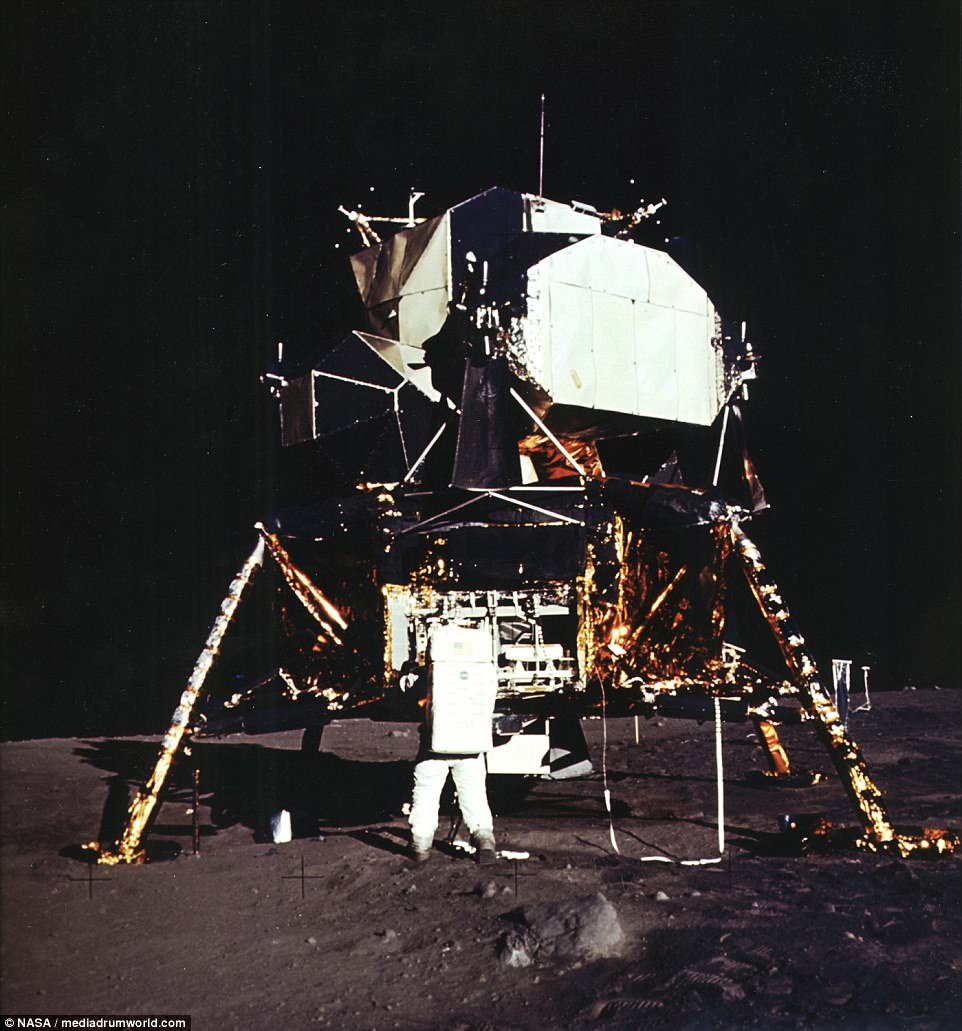 The first successful moon landing was broadcast on live TV to a worldwide audience and effectively ended the Space Race between America and the USSR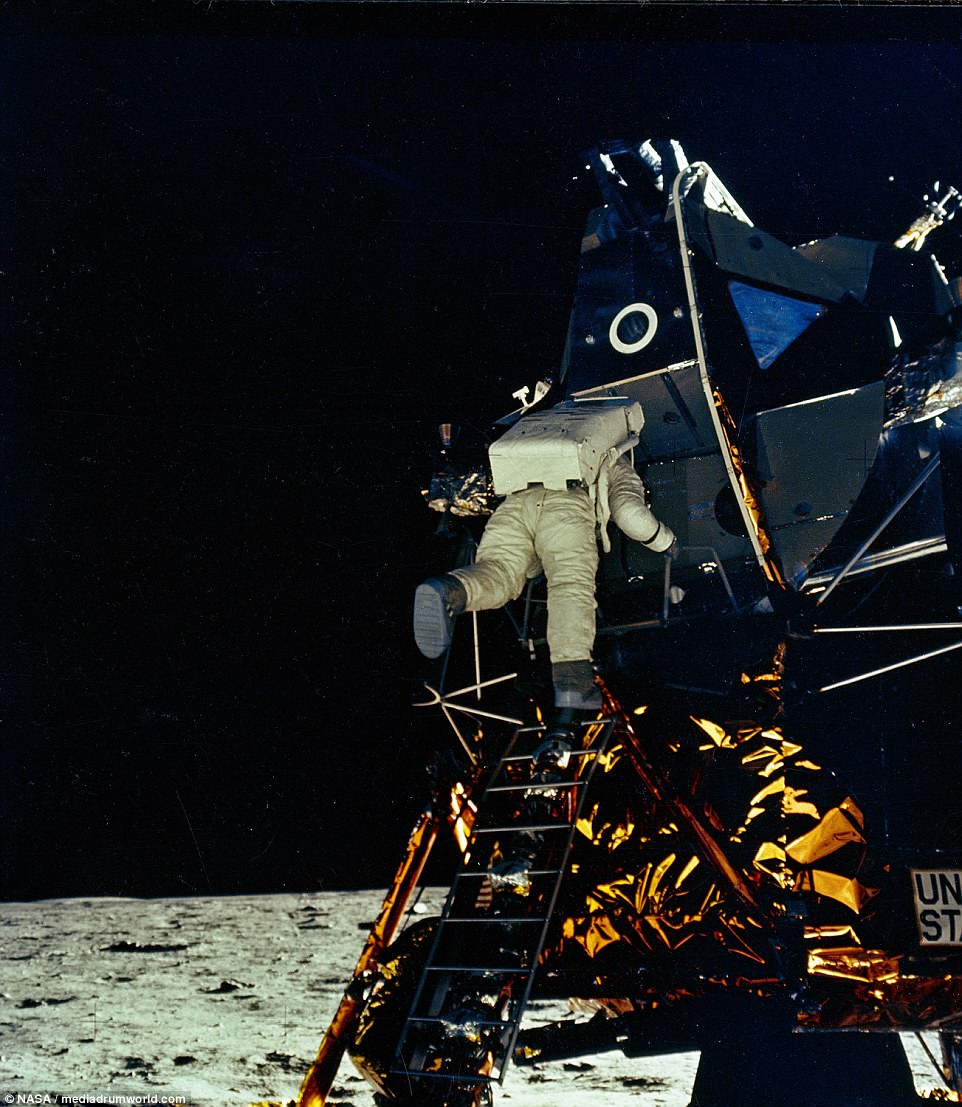 'Buzz' Aldrin is pictured climbing down from the lunar module onto the surface of the moon. The picture was taken by Armstrong, who had already descended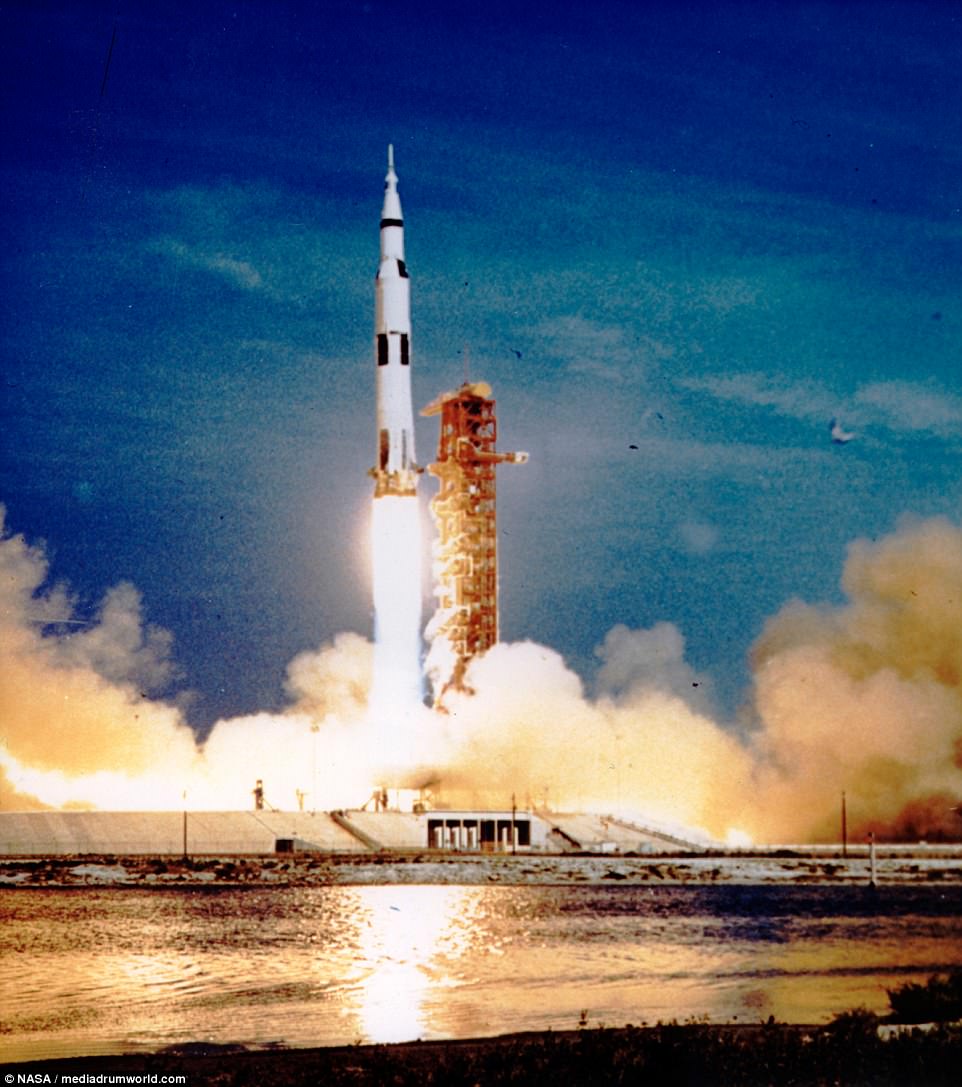 The Apollo 11 mission, the first manned lunar mission, launched from the Kennedy Space Center, Florida, via the Marshall Space Flight Center (MSFC) developed Saturn V launch vehicle on July 16, 1969 and safely returned to Earth on July 24, 1969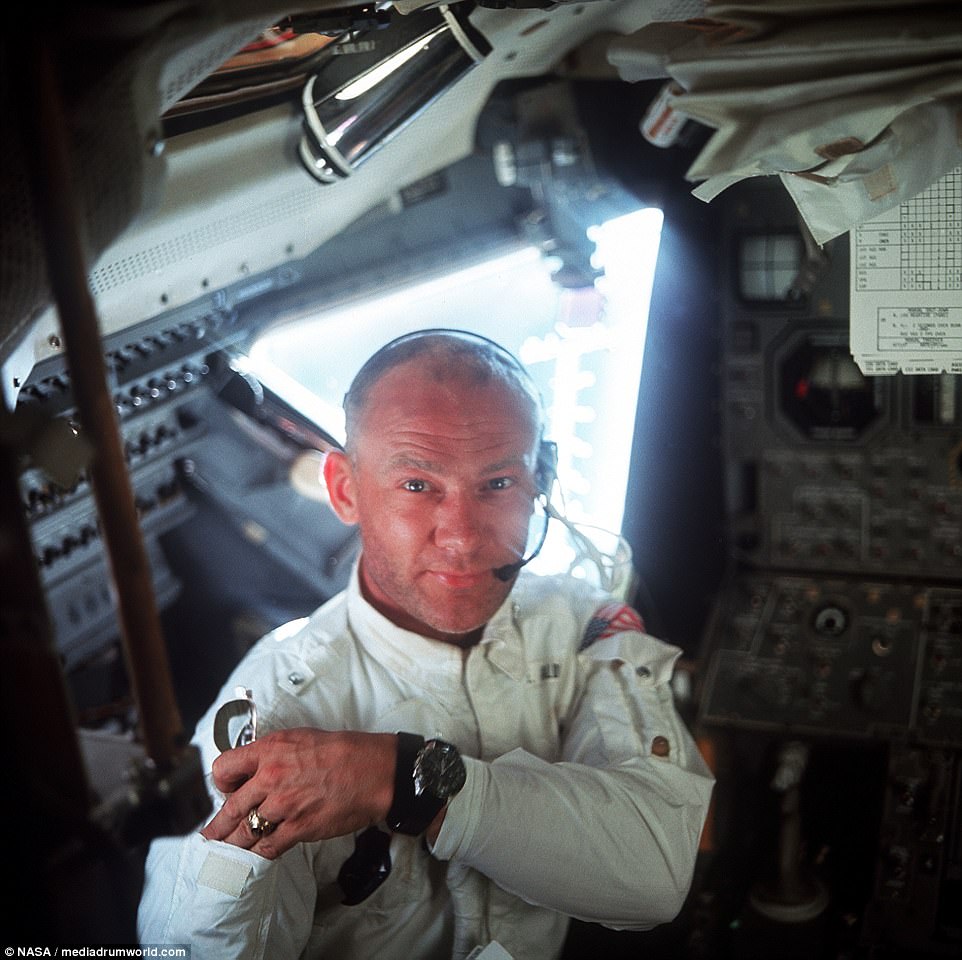 Candid shots show Buzz Aldrin (pictured) and Neil Armstrong relaxing inside the space vessel on their way to the moon. Aldrin was a former Air Force officer, who would be the second human to walk on the surface of the moon.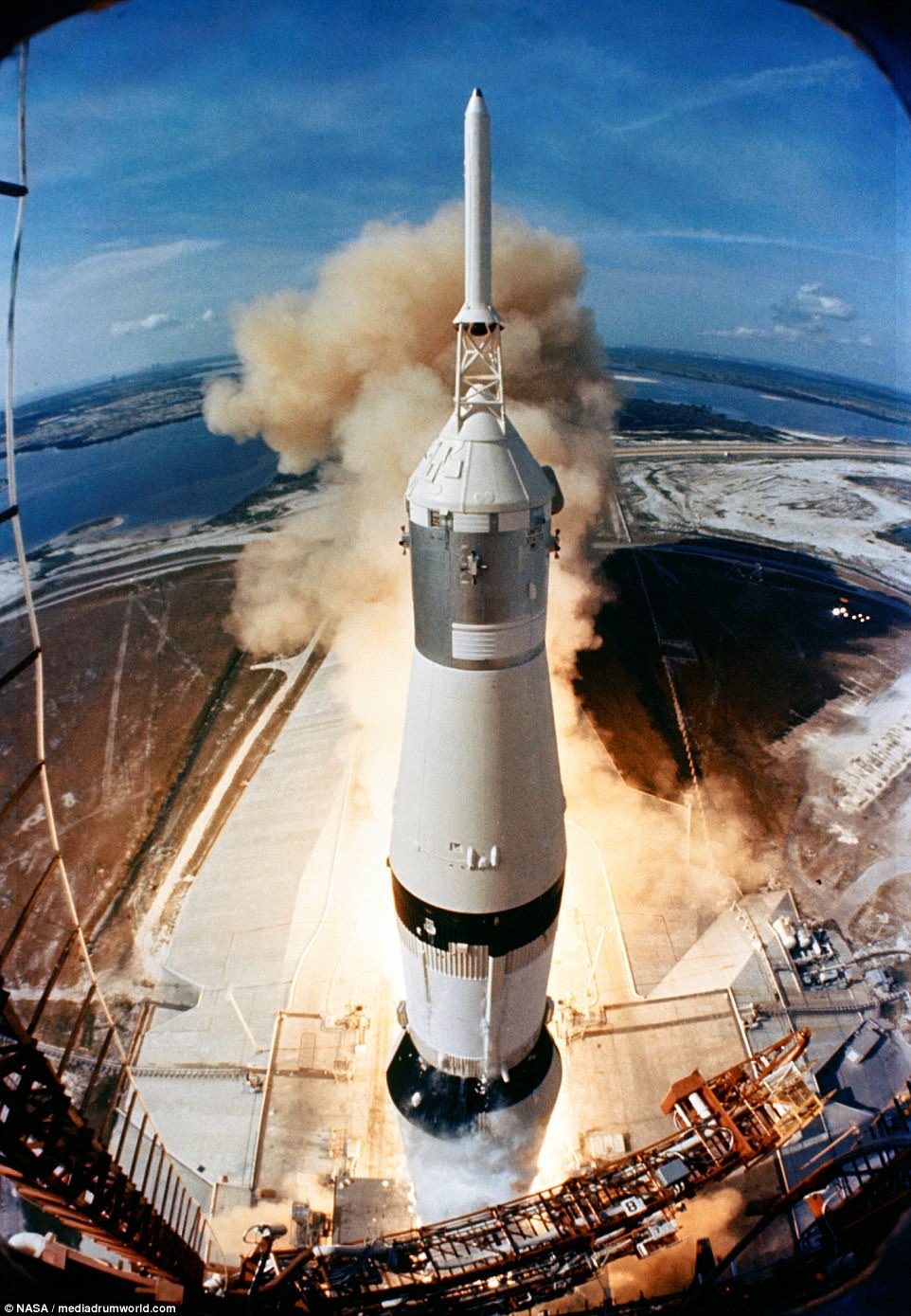 The huge, 363-feet tall Apollo 11 space vehicle was launched from Pad A, at Launch Complex 39, at the Kennedy Space Center at 9.32am on July 16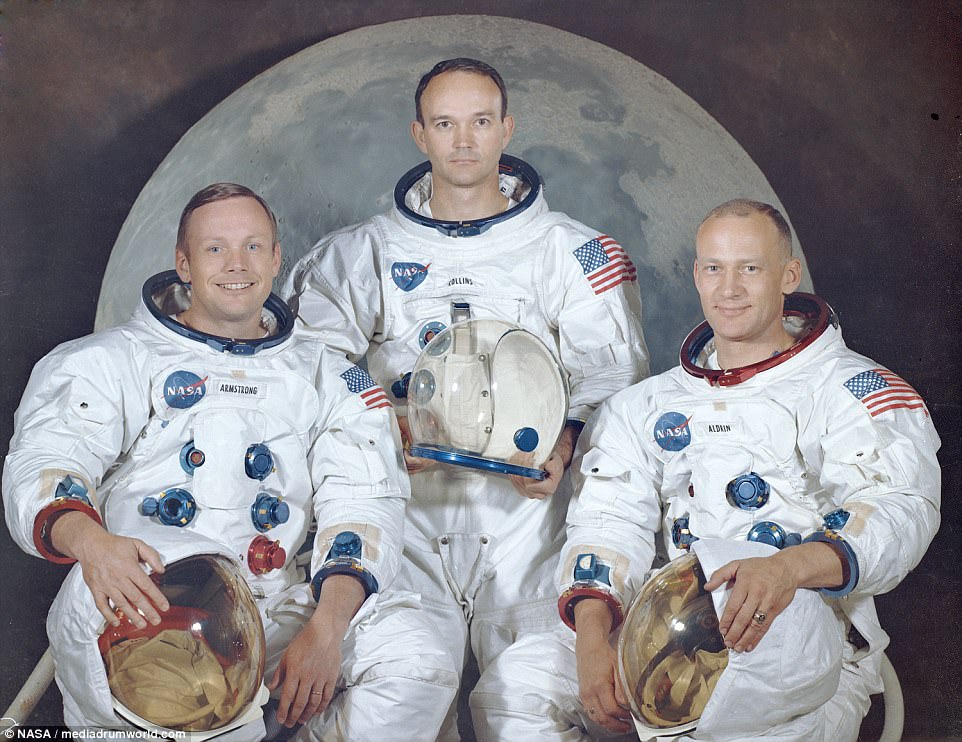 Mission commander Neil Armstrong (left), command module pilot Michael Collins (center) and lunar module pilot 'Buzz' Aldrin took part in the mission which saw mankind land on the moon for the first time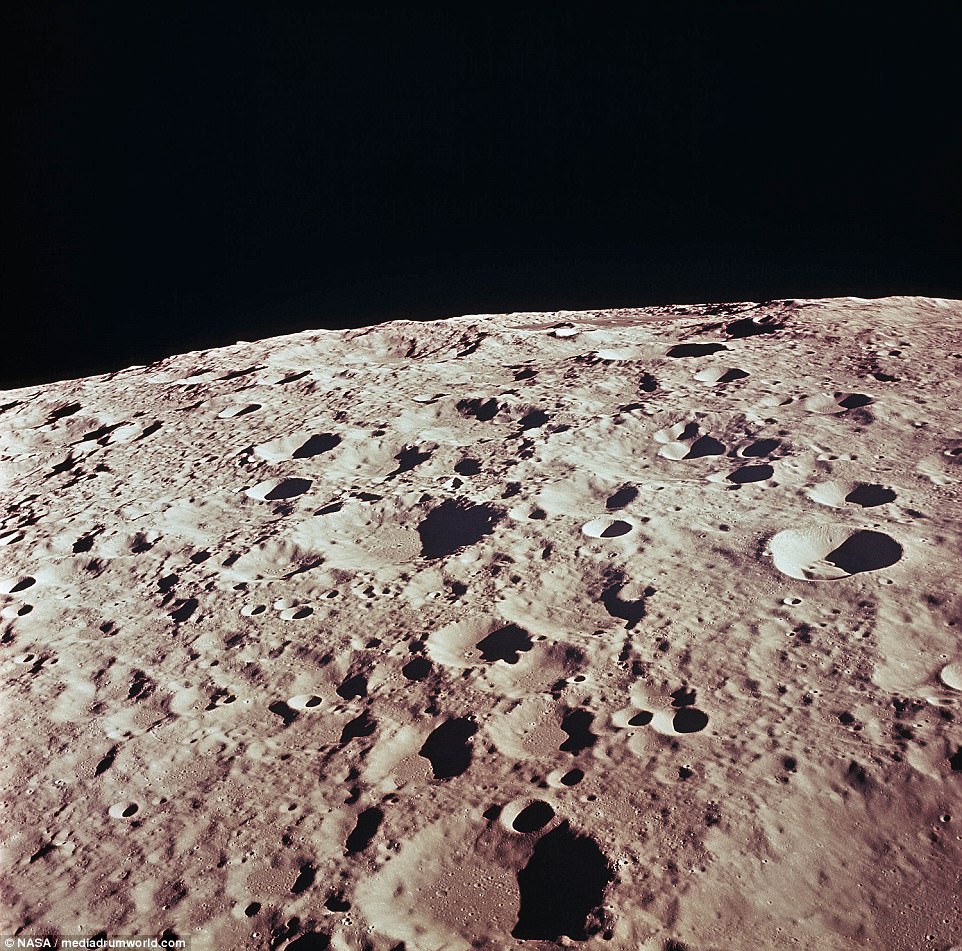 The surface of the moon is shown in the stunning color photographs taken during the historic first moon landing back in July 1969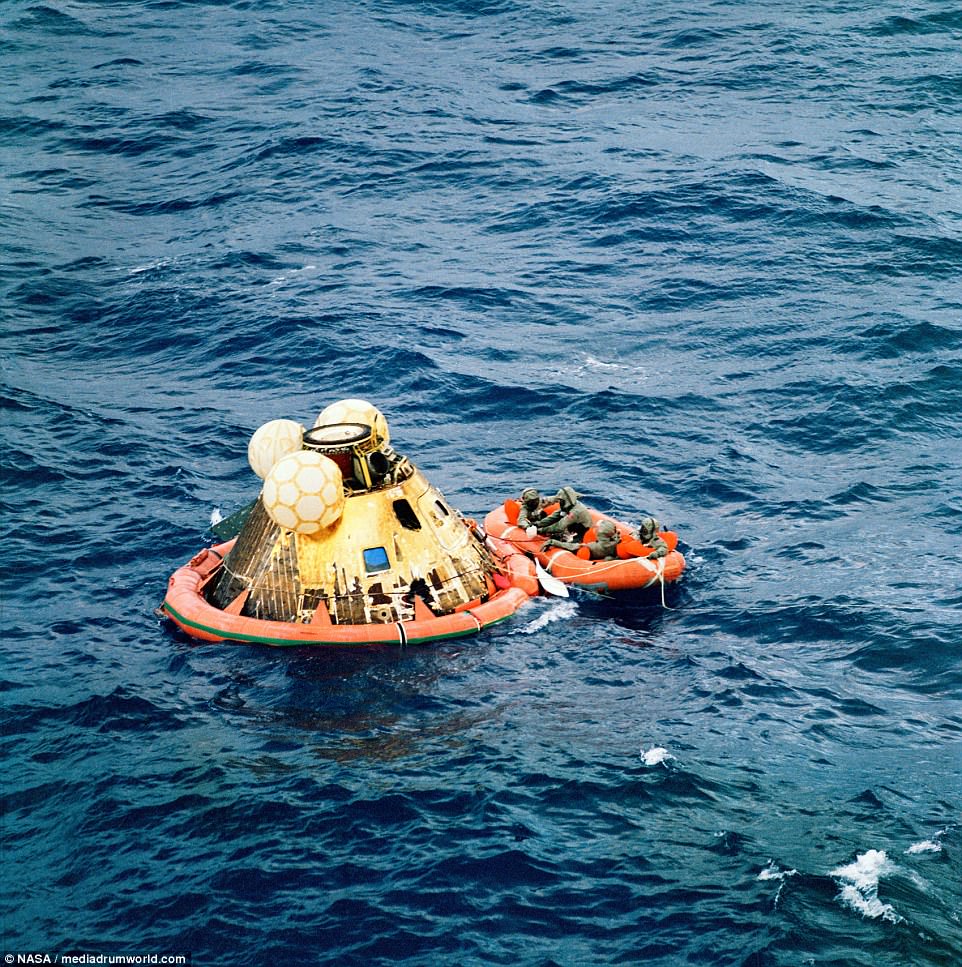 The crew are pictured waiting to be picked up after landing in North Pacific Ocean, around 812 nautical miles south of Hawaii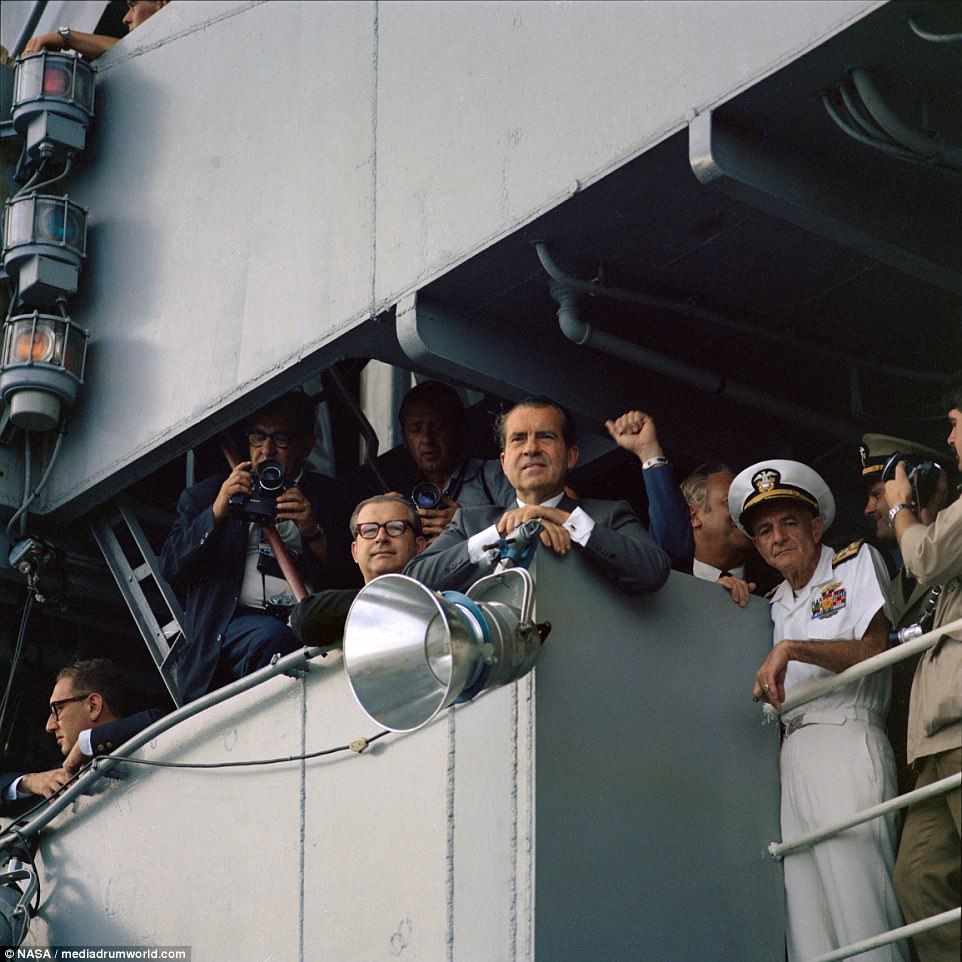 Then-US President Richard Nixon is seen on the deck of the USS Hornet awaiting the arrival of the Apollo 11 crew. He spoke to the astronauts while they were on the surface of the moon on July 20, 1969