---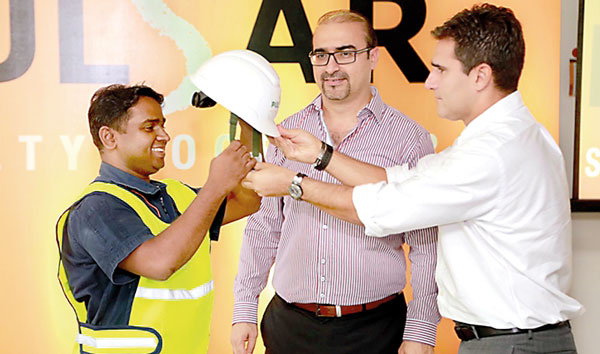 CTC CEO handing over safety gear to a 'PULSAR Observer'

Ceylon Tobacco Company (CTC) recently launched PULSAR, a unique, behaviour-based safety programme as part of its commitment to improve the overall health and safety (H&S) standards for employees.
PULSAR, which was initiated by the British American Tobacco (BAT) group, is a system that operates on the basis that all employees must take ownership of their behaviours, thereby playing a crucial role in maintaining a safe working environment. The programme is spearheaded by the company's Environment, Health and Safety Manager Upendra Illanco.

Speaking at the launch, CEO and Managing Director Felico Ferraz noted, "CTC embodies the belief that every employee can make a difference, particularly with regards to improving safety standards at the work place. CTC has always maintained high standards to safeguard employee safety and through PULSAR, we hope to enhance this further. We are humbly proud to be one of the first among the BAT entities in the Asia Pacific region to implement this programme."
PULSAR engages people in different ways and reinforces positive safe behaviours until they become a part of employee psyche. What makes PULSAR unique is that it is not just a management-driven tool for safety but rather an employee-driven initiative aimed at reducing workplace safety risks. A group of 'PULSAR - observers' have already been trained and deployed to observe the behaviour of employees and provide feedback to improve safety standards. PULSAR will complement the existing H&S processes already implemented at CTC by addressing the human element in creating a safer work environment.

Speaking on the programme, Supply Chain Director Shah Mansoor Khalil said, "At CTC, we believe that employees are the source of expertise of behavioural change. PULSAR reiterates that employees are better at observing their own colleagues and sharing constructive criticism aimed at effectively improving workplace health and safety. Amidst the best practices and protocols that we have already implemented at CTC, the PULSAR programme will inevitably enhance the output whilst delivering on our aim of doing business responsibly."

The company had organised several interactive sessions at the launch event to create awareness amongst its employees and draw their attention to the importance of paying attention to safety at the workplace as well as at their homes. Employees were able to participate in events such as the 'Hazard Hunt', 'Safety Sprint', 'Weight Lifting' and the 'Entrapment Game', which demonstrated safe ways to carry out work.
---
---
Add comment

Comments will be edited (grammar, spelling and slang) and authorized at the discretion of Daily Mirror online. The website also has the right not to publish selected comments.

---