---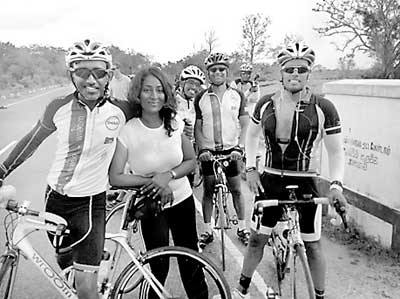 During Day Three of 'Around the Pearl' ride, cyclists left Kataragama and cycled along the southern coast to Arugam Bay. This stretch was definitely one of the most picturesque parts of our ride to-date.
On Day Four, the cyclists reached breathtaking East coast. En route to Passikudah, cyclists made a stop in Batticaloa, for a cerebral palsy awareness camp. The 'Around the Pearl' team conducted a special counselling and guidance session for over 200 parents who have children who are affected by the disorder. There was a donation made to 200 wheelchairs to families in need.
On Day Five, as cyclists rode onwards, the heat and pain slowly started to take their toll on them.
"When you've been cycling for five days in a row, you learn a lot about your body. If you develop pain in the front of your knee, you learn to your saddle slightly until the pain eases; check out our Facebook page (Around the Pearl) for more tips on how to handle pain when cycling long distances. Remember, before a long ride, you should always make sure that you're fit, health and in good shape. When cycling you should never rush and you should always be aware of your body and any aches or pains that are developing. In the event that you feel a nagging pain, stop and seek medical assistance immediately, it never helps to keep cycling with an injury."
After a beautiful sunrise in Trincomalee, cyclists started their ride on Day Six with much excitement due to the New Year ahead of them.
After another early start on Day Seven, cyclists travelled to Jaffna, on one of the toughest stretches of their journey to-date. After hours in the hot sun, they finally reached Jaffna, which was bustling with commercial activity and energy. Jaffna has always been a thriving mercantile centre and has supported various industries including fishing, manufacturing and trading.
On Day Eight yesterday, the epic journey around Sri Lanka almost came to an end.
"At this point, we are all emotionally and physically exhausted and drained. The hot and dry weather conditions in Jaffna and Mannar don't make our ride any easier. The last few dayshave tested our will and determination. Every time we feel like giving up, we try and focus on the children who we are raising funds for. Children suffering from cerebral palsy live with limited mobility and freedom, and the funds raised from this journey will help them enjoy a more fulfilling life – it is this single thought that keeps us going through the most challenging of moments."
Around the Pearl' (ATP) is an initiative by 'Wheels for Wheels' which is conducted in partnership with the Cerebral Palsy Lanka Foundation (CPLF) and WrooM – a project that promotes cycling as an alternative mode of transport and increases awareness of public road safety rules.
ATP is taking place for the second consecutive year, and this time 20 cyclists are participating in the initiative. All the proceeds raised from the initiative will be donated to the Cerebral Palsy Lanka Foundation. Cerebral palsy (CP) is the term used for a group of non-progressive disorders of movement and posture caused by the abnormal development of, or damage to, motor control centres of the brain. CP is a common physical disability that affects many children and is caused by events before, during, or after birth. In Sri Lanka, CP remains a significant health problem and many parents are unable to provide adequate care for children with CP.
Last year, the 'Around the Pearl' initiative raised funds for 1000 wheelchairs, and throughout this year's journey, some of these wheelchairs will be donated to children in need across the country. In Galle, Batticaloa and Colombo, the cyclists will also conduct special camps to raise awareness about cerebral palsy, they will also conduct WrooM cycling and road safety sessions for members of the local community. To follow the journey and pledge your support, log onto www.aroundthepearl.lk.

---
---
Add comment

Comments will be edited (grammar, spelling and slang) and authorized at the discretion of Daily Mirror online. The website also has the right not to publish selected comments.

---