---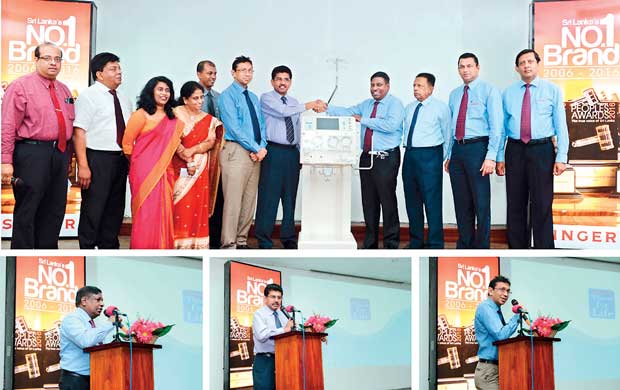 Singer Sri Lanka, the country's leading consumer durable retailer, donated three CRRT (Continuous Renal Replacement Therapy) machines worth over Rs. 7.5 million under the Singer "Thirst for Life" health and wellness sustainability project, making the total number of machines donated to six units, in helping those affected by CKD (Chronic Kidney Disease).
Donations were handed over by Asoka Pieris - Group CEO, Mahesh Wijewardene – Director, Sales and Commercial, Kumar Samarasinghe Director - Marketing of Singer Sri Lanka PLC to Dr. Anil Jayasinghe Director General of the National Hospital.
The donations were made to three national hospitals that were in dire need of these expensive equipment. They were the Dialysis Unit of National Hospital (NHSL) – Colombo, Base Hospital – Wathupitiwala and General Hospital - Jaffna. Prior to the handing over of these high-tech machines, Singer had donated three Dialysis machines since the inception of the project 3 years ago. Two of them were donated to the Polonnaruwa Base Hospital in mid-2013 at a cost of Rs. 4 million while the 3rd machine was donated to Medawachchiya - Hospital in December 2014.
Speaking at the event, Asoka Pieris, Group CEO of Singer Sri Lanka, mentioned that, "We are happy to donate three more CRRT machines, that will help the national hospitals to cope up with the high rate of kidney-related patients in the country and we truly trust that our initiative will be followed by others in saving lives".
Manager in charge of the project, Darshana Appuhamy - Senior Brand Manager of Singer, commented, "Thirst for Life" is a fully-integrated sustainability project that witnessed the company responds to a social concern by adopting a broad-based, remedial, and root-cause public service campaign over the issue of waterborne diseases. The mechanics of the project was devised at Singer and carried out across the country by the Singer retail and dealer network. Singer found a direct link between the absence of filtered or purified water and the crisis over Chronic Kidney Disease 1 (CKD1) primarily found in the North Central Province. The project was initiated when Singer discovered that many hospitals were unable to address the demand of treatments required for CKD patients".
Expressing his views on the handing over of the new dialysis machines, Mahesh Wijewardene – Director-Sales and Commercial of Singer Sri Lanka stated, "Singer is concerned of educating the society to access clean water, as prevention is better and on the other hand facilitating proper healthcare to cure and heal the victims of CKD. We feel it is our moral obligation to help in this national cause of fighting this menacing kidney diseases and we commenced the 'Thirst for Life' project 3 years ago." He went on to point out that every time a customer purchases a Singer Water Filter or Water Purifier from any Singer outlet or authorized dealer, they are contributing Rs.100 towards the purchase of these urgently needed dialysis machines".