---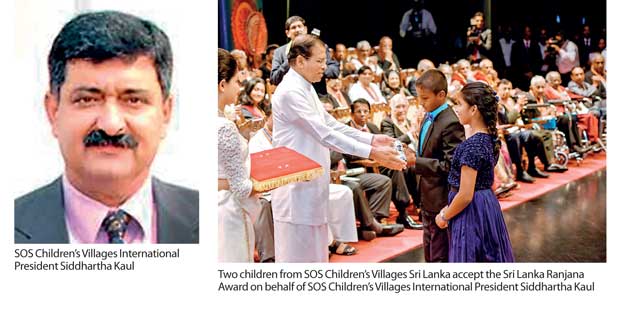 In recognition of not years, but decades of untiring efforts put into creating 'A Loving Home For Every Child' in Sri Lanka, the SOS Children's Villages International President Siddhartha Kaul was bestowed with the prestigious Sri Lanka Ranjana Award at a ceremony held earlier this week at the Nelum Pokuna Theatre in Colombo.
It is an honour presented to foreigners or non-nationals for 'distinguished service of highly meritorious nature' awarded by President Maithripala Sirisena and was accepted on behalf of Kaul by two children from SOS Children's Villages Sri Lanka as the recipient of the award was not in the country at
the time.
"This honour from the Government of Sri Lanka recognises and accepts that SOS Children's Villages are the right way to provide a home and family to a child who has lost his/her family. For over 35 years, SOS Children's Villages Sri Lanka have been by the side of vulnerable children and families and I appeal to the government and people of Sri Lanka for greater support so that 'no child grows up alone'," stated Kaul when commenting on this accolade.
He added, "I am humbled and feel honoured. I do not think I would have succeeded in bringing about the home concepts of SOS Children's Villages without the trust and friendship of Sri Lankans. Sri Lanka is a country where I feel at home."
An Indian national, Siddhartha Kaul established the first SOS Children's Village in Sri Lanka under an agreement with the Social Services Ministry. He served as the first Project Director of SOS Children's Village, Piliyandala from 1981
to 1986.
During this period, he also developed the SOS Children's Village in Piliyandala and Nuwara Eliya, Hermann-Gmeiner Social Centre, Hermann-Gmeiner School, Youth Facility and other ancillary SOS projects in Piliyandala, through which countless vulnerable children and families have been supported to reach their full potential to be independent and responsible individuals in their respective communities.
Furthermore, in the aftermath of 2004 tsunami, Kaul played a vital role in driving the relief efforts in Sri Lanka by supporting the construction of permanent houses, social centres and a school to support the affected families and children.
This accolade is one of several honours that have been bestowed upon Kaul by numerous governments and civil society organisations in countries across the world, as well as within the SOS organisation for his incredible efforts in creating homes for marginalised children across the continent. The government of Vietnam has honoured him thrice, including the prestigious Friendship Award in 1992, in recognition of his instrumental role in the re-establishment of organisation in the country.
Currently, Kaul holds the position of President of SOS Children's Villages International and oversees SOS Children's Village Programmes in 134 countries around the globe to support the children who have lost parental care and who are at risk of losing the care of their biological family.
Since the inception in 1980, SOS Children's Villages Sri Lanka have provided support to thousands of children through six SOS Children's Villages and 39 ancillary projects scattered throughout Sri Lanka.