---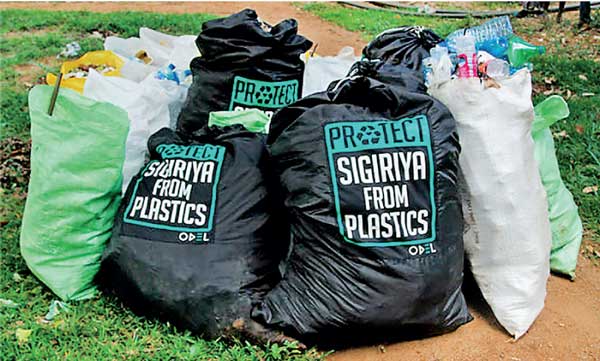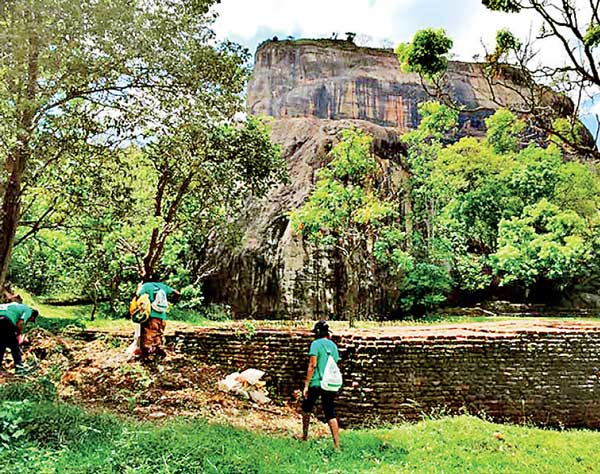 Here are some members of the ODEL team in action at Sigiriya on World Environment Day 2016
Callous visitors defile the historic Sigiriya rock with 40 sack loads of rubbish each day, an alarming fact brought vividly alive by employees of ODEL who undertook to clean up the site to mark World Environment Day this year.

Joined by more than 100 volunteers including 16 children from a nearby school, a 61-strong team from ODEL scoured the precincts of the fifth century rock fortress, collecting plastic bottles, polythene bags, lunch wraps and similar detritus abandoned at this UNESCO World Heritage Site.

Recognising the need to go beyond picking up litter to create greater awareness of the need to protect this iconic historical and archaeological landmark, ODEL's 'LUV SL' brand has also launched a special collection of themed clothing and accessories with messaging on the preservation of the glory of Sigiriya.

As the ODEL team was busy hauling down 40 sacks of garbage from the 660 foot rock on 5th June 2016 – World Environment Day – visitors to ODEL's flagship store at Alexandra Place were greeted by an eye-catching display in the store's Atrium Lobby depicting the litter usually found at the site.
The LUV Sigiriya collection created in support of the cause comprises of T shirts, bio-degradable bags, badges and other accessories with slogans against the pollution of the location, which attracts an average of 2,500 visitors a day.

"Sigiriya is an icon of Sri Lankan history that must be carefully preserved for future generations," a spokesperson for ODEL said. "The extent of pollution by visitors is shocking, and we felt that ODEL and the LUV SL brand could play a role in drawing public attention to the problem and promoting greater civic consciousness."