---
By Zahara Zuhair
As an initiative to safeguard health, nutrition and well being of expectant mothers, Baby Cheramy launched 'Baby Cheramy Mathru Sathkara' with the aim for enriching 50,000 pregnant mothers through 85 centres in eight districts.

The programme which started on April 1 from Galle, would touch through aspects such as eating patterns and habits, importance of consuming balanced diets, early childhood development and care.
It would educate mothers on the physical and mental changes that the body goes through during and post pregnancy and the life style changes. Moreover, it will include soothing musical therapy sessions for the participants.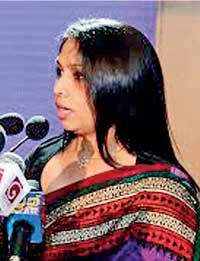 Commenting on the initiative Hemas Manufacturing (Pvt) Ltd., Group Product Manager Shiranaaz Kaney said that they are taking a huge step to help mothers to become better mothers where they would gain a lot of knowledge through the programme conducted by an expert panel.
"Over the years, Baby Cheramy has been involved with these mother clinics, and we have touched over 50,000 pregnant mothers the last eight years. This time we are willing to do something different than what we did for last eight years," she said.
"Helping pregnant mothers to prepare for child birth, looking after the new born, staying healthy during pregnancy and to give confidence is what we want," she added.

She said that mothers will be chosen through the Ministry of Health clinics. "All the mothers who are registered with MoH clinics will be entitled for this and will be invited," she said.
It was noted that the total investment for this project would be Rs. 25 million - 30 million.

The lectures will be done by Ministry of Women and Child Affairs Retired Deputy Director Chandrapala Dissanayake, Ministry of Women and Child Affairs Nursing Officer Sudharma Uyanhewa and music therapy session will be done by Sri Lanka Broadcasting Corporation Music Director Jagath Watawala.
Baby Cheramy product was launched in Sri Lanka by founder of Hemas in collaboration with a French multinational company
in 1962.