---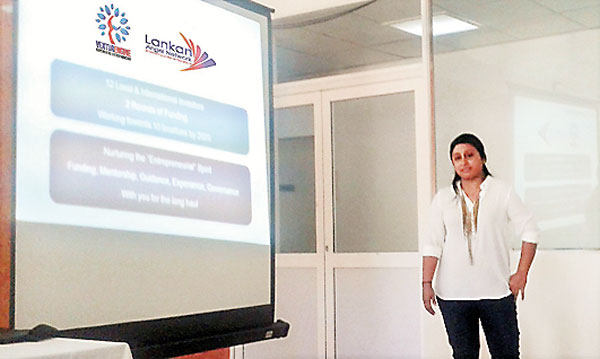 Sri Lanka's pioneering entrepreneur empowerment platform Venture Engine will once more welcome the participation of top global startup accelerator 500 Startups, along with a number of high profile venture capitalists (VCs) and angel investors, at its June 29 grand finale to be held in Colombo.
500 Startups is a leading global venture capital seed fund and startup accelerator. It manages US$ 200 million in assets and has invested in more than 1,300 technology start-ups to date.
Angel investment's key advantage is that startups can access it at an early stage, with angel investors able to help out with mentoring and funding at the very beginning, when it is most needed, in exchange for a minority stake. Getting involved at the inception enables angel investors, many of who are entrepreneurs themselves, to empower the startup's founder to run their own ventures better, creating a culture for success early on. It also allows angel investors to exit once the startup achieves early success.
Additionally, a dedicated team of mentors and funded start-ups representing Venture Engine, and its strategic partner Lankan Angel Network, are currently conducting workshops that include topics such as "What angel investors look for", "Support given to early-stage entrepreneurs", "Benefits to entrepreneurs", "Benefits to investors", etc. Workshops are being held at the Lankan Angel Network Incubation Centre in Colombo 04, with plans also underway for presentations at top local academic institutions such as the University of Moratuwa, the Post-graduate Institute of Management (PIM), the Sri Lanka Institute of Information Technology (SLIIT), the University of Peradeniya, etc.
A lead-in to the high profile, fifth anniversary edition of Venture Engine, which is currently accepting business plans until May 11, these educational workshops form the backbone of the Venture Engine 2016 platform. Teams shortlisted following the May 11 close of entries will also have access to a number of workshops on best practices in areas vital to operating a successful business venture. Further, teams will also benefit from highly individualized mentoring sessions focused on specific business ideas.
Conceptualized by Blue Ocean Ventures, in collaboration with the Indian Angel Network, Venture Engine is run by strategic partner Lankan Angel Network, and backed by platinum sponsors Expolanka Holdings, Orion City, Dialog and Aavishkaar, supported by KfW, a German-government owned development bank.
Commenting, Blue Ocean Ventures Co-Founder Prajeeth Balasubramanium said, "It is our single-minded focus on growth, as well as the domain specific entrepreneurial experience that only we bring to the table, that differentiates us from others. We invite anyone with a well thought out business plan to take part in Venture Engine in 2016 since there is no time like the present to seize this opportunity to start up or expand, and even maybe take your business idea to the international market."
With a focus on real world results, Venture Engine has, since 2012, provided Sri Lankan entrepreneurs with every opportunity needed to fast track business success, specifically by developing stronger business plans, aided by mentoring sessions, in addition to educational workshops on Accounting, Governance, Marketing, Legal, Recruitment, etc. that feature some of the region's top entrepreneurs and business leaders.
To date, over 20 companies have achieved remarkable levels of success as a result of Venture Engine, with key local innovators, including Takas.lk, Trekurious, OMAK Technologies, Ridgecrest (tickets.lk), Saraii (eco-village), Extrogene, Nithya, Katha, Wild Trails (eco-adventure), House of Lonali, Glitteray, Threadsol (IntelloCut), Lanka BPO Academy, MyWish (weddings), Push Skateboards, Healthy Living, Zacki Herbal Products, Zigzag.lk, Endemic and 24-7 Techies, having been mentored and funded, to the tune of over US$ 6 million, over the last four years.
Open to new business ideas and start-ups, as well as existing enterprises looking to grow to the next level, Venture Engine is currently accepting applications via www.ventureengine.lk. Entries will close on May 11, 2016, at 12 midnight.
caption: