---

Strathspey Estate, Upcot, which is situated in the Maskeliya area, owned by Richard Pieris Group of Companies and managed by Maskeliya Plantations PLC, celebrated its factory's 90th anniversary recently by conducting a lot of religious activities such as giving bestowment to those who rendered their services to Strathspey Estate since the year 1927.
Prior to the commencement of the celebrations, lighting of the traditional oil lamp, observing two-minute silence, offering alms were undertaken. The children staged a drama. Midday meals were provided to the child development centres and alms to the pensioners/retired workers.
A special souvenir, picture post cards and souvenir mugs were distributed to remember this memorable unique event.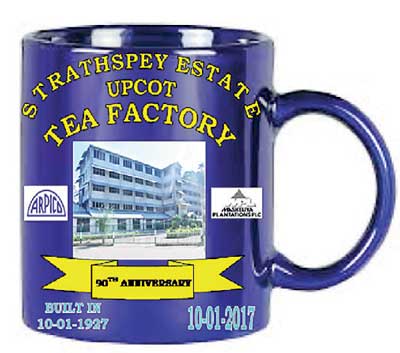 Strathspey Factory was built in the year 1927. Since then it would have manufactured millions and millions of black tea under different managements. This factory is situated in a higher elevation of 1,300 meters above the main sea level.
This factory is fully fledged with all modern machineries. It has a capacity to manufacture 25,000 kilos of green leaf per day. This factory consists of four stories, with 50 to 60 male and female workers working. This factory is famous for producing thick liquor high-quality tea, which raw materials (green leaf) grown in the best climatic condition (environment) and manages small garden thick liquor teas as well, which is inherited by Strathspey Estate texture of soil, cultivars planted at its climatic condition and elevation.
Lower fields are situated in 1,300 meters going up to from main sea level. This factory has been awarded with very many awards, certificates such as International Standard Organisation (ISO) 9001 and 22000 – 2005, Kaizan Award, National Safety Award, Taiki Akimoto 5s' (Japanese Management Technique) Hazard Analysis Critical Control Point (HACCP), National Safety Award 2006, Fairtrade Labeling Organisation (FLO) Ceylon Tea Quality Certificate (CQC) Cleaner Production productivity award, Green Award, Environmental Authority License, Ethical Tea Partnership (ETP) and Rainforest Alliance (RA).
The factory too has a record for obtaining top prices at the Colombo public tea auctions.
The grades of tea manufactured in this factory are BOP, BOPF, BOPSP, Dust 1, Fannings 1 and silver tips.
Strathspey practices good manufacturing practices (GMP) to ensure that a top-quality and product is maintained and given to the customers (buyers) whilst looking after its staff, workers and population living in and around Strathspey Estate and committed to look after its environment.
This estate originally had six factories belonging to each and every estate. Once all the six estates are amalgamated into one with Strathspey, they became as divisions namely Cleveland, Ormidale, Strathspey, Annandale, Minna and Ladbroke. All the factories were demolished and the present factory was built in 1927.
On the western slopes of the central hills lies Strathspey Estate, this stretches from across the foothills of Sri Lanka's legendary mountain and world famous Adams Peak, from the borders of the protected wilderness across the undulating gradients. It's some 160 Km's from Colombo by road and is located in the well- known tea growing region of Upcot (Nissanka Uyana) that comes within the purview of the Nuwara Eliya District.
The estate falls in to the high grown elevation category and the planting district comes under Maskeliya/Upcot, with the factory situated 1300 meters above mean sea level.
Strathspey was originally planted with coffee in 1904 and belonging to T.A. Robertson and D.D.A. Robertson.
Subsequently Rayigam (Cey) Ltd, a tea company, bought the property from its original owners and planted with tea.
Later on, George Stuarts Tea Company bought the estate and managed until the estates were nationalized in 1975 and brought under the management of the Sri Lanka State Plantations Corporation. It was thereafter, in the process of re-privatization it was brought under the management of Maskeliya Plantations Limited on June 22, 1992, which is owned by Richard Pieris Group of Companies.
Some of the long-standing superintendents of Strathspey have been Henry Cosens, whose tenure in office expanded over 15 years from 1931 to 1946, Ralph Westcott, who was in-charge for over eight years from 1946 to 1953 and John Holland from 1958 to 1969. The last foreigner who managed the estate was George Alston.
The present tea processing centre (factory) was built in 1927. The new superintendent's bungalow was designed by the famous architect Jeffery Bawa and was built in the year 1965. Later a new office complex was in built in the year 1987.
Strathspey has a reputation for producing high-quality teas and has won worldwide recognition in this area.
Strathspey produces around 1,000,000 kilogrammes of black tea per annum for the export market.
Strathspey is cultivating in an extent of 467.91 hectares, out of which the VP teas are planted in 291.81 hectares and the balance 176.10 hectares with old seedling teas.
The employees of this estate create value in the fields, factory and office. Additionally 100 percent of our employees reside in the estate and have access to a variety of welfare services provided free of charge, which includes housing privileges, healthcare.
The present and past Superintendents/Managers who have served on this estate both foreigners as well as local are: William John Forbes Lapal (1925-1928), I.R.I. Warey (1929-1930), Hendry Cosens (1931-1946), Ralph Wescort (1946-1953), David Micheal Thompson (1954-1958), B.A. Weinman (1970-1971), Douglas Ashea Johnken (1972-1976), John Hendry Olston (1977-1979), Roy Anthony Winter (1979), Conradi Chowind Abeyasekera (1979-1985), Wickrama De Alwis (1986-1988), Joseph Anthony Huge Samaranayake (1989-1998), Dushi Sunil Perera (1998), J.R.A. Ratnasiri Ranatunge (1999-2003), Channa De Costa (2004 -2011), Vipula Puselle (2011-2013), Seevali Gotabhaya Mudannayake (2013-todate).