---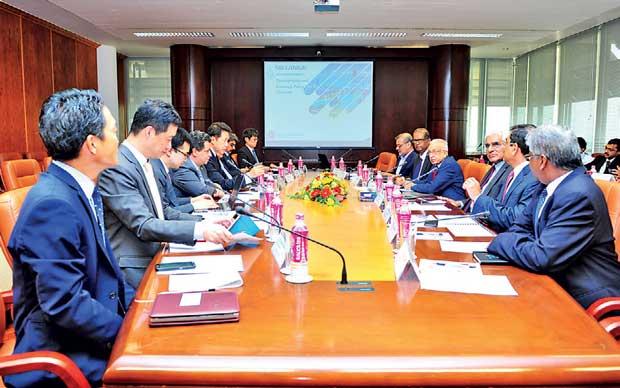 Development Strategies and International Trade Ministry yesterday opened a two-day roundtable investment forum in Colombo with several top sovereign wealth funds (SWFs) in Asia and the Middle East.

The roundtable was an initiative by Development Strategies and International Trade Minister Malik Samarawickrama following his visit to the Global Investment Forum in Dubai during November 2017 and is jointly hosted by the Central Bank of Sri Lanka and Board of Investment.
He met several of these funds in Dubai and they were enthused by the potential of Sri Lanka as an investment destination.

The ministry said the fact that so many SWFs accepting the invitation to participate in the roundtable at short notice was a validation of Sri Lanka's value proposition and its increasing attractiveness due to the current economic policies under adoption.

The SWFs in attendance at the roundtable included the Investment Corporation of Dubai, Kuwait Investment Authority, Khazanah Nasional Berhad Malaysia, Government of Singapore Investment Corporation (GIC), Temasek of Singapore and Korean Investment Corporation.

SWFs are entities that manage the national savings for the purposes of investment. Some of the countries that use SWFs have economies that are heavily reliant on one source of income, for example the oil revenues in the Middle East.

The investments made through the SWFs are effectively a way for those countries to diversify and become less reliant on a single stream of income. Other SWFs manage the income from taxes and state-owned enterprises for the benefit of the future generations. SWFs often have US $ 100-300 billion of capital under management.

"We have seen considerable recent investment commitments by the Chinese and it is encouraging to embark on this journey with other nations. We have always had strong trade relations with our friends in the Middle East and South East," Samarawickrama said.

"It is opportune timing to have GIC and Temasek visit Sri Lanka ahead of the execution of the FTA with Singapore later this month," he added. Investment Corporation of Dubai Senior Advisor Dr. Chang commented, "We've been to many such forums and not a single emerging country has been able to attract such a strong representation of global investors.

This is a reflection of both the trust in the future of Sri Lanka and the competence and capability of the current government. The forum will lead to a mutually beneficial long-term relationship."

The roundtable programme includes presentations on the Central Bank's sovereign bond programme, Colombo International Financial City, public-private partnership programme and Western Region Megapolis.