---
By Zahara Zuhair
Removal of investment barriers would encourage investors to come to Sri Lanka as Swiss investors are ready to invest here, said Swiss Ambassador to Sri Lanka Heinz Walker Nederkoon, adding that Sri Lanka needs to establish a 'conducive regulatory frame work' for the investors.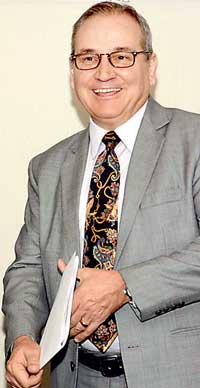 "Switzerland investors are always active, they are looking for new investment opportunities," he said.
"What is important in this transition period is the removal of obstacles which the present investors are faced with. If you remove these obstacles in a convincing way, it would attract new investors. The major challenge is to make the conditions of doing business more conducive, and this is for Foreign Direct Investments and also for local investments," he remarked during the media briefing held to announce the launch of Swiss Institute of Hospitality and Banking in Colombo recently.
"Those who are already here, they look at the transition period, and if they come into a conclusion, yes it goes in the right direction, or if they think it is not what they really expected, they will stay or will move." The envoy said that he was amazed by the number of brands the country has, but still the companies face a lot to challenges in their daily business work.
He also said he witnessed a huge potential in the tourism sector in Sri Lanka when he travelled around the country. "Actually success of tourism will depend mostly on private investors. In our conception, the state has to establish a conducive regulatory framework, then clear rules. Then the private investors can play the game,"he asserted.
"I'm very confident that more Swiss investors will come. At this stage, I invite them to come and have a look at their specific sectors. I don't say everything is OK in this country. My advice is to just come and take a look and socialize," he further added.
Stating his stance on foreign direct investments (FDI) the envoy said: "The concept of foreign direct investment is a bit misleading. For an instance if you take Nestle Sri Lanka, it is a 99 percent Sri Lankan company, 99 percent of the employees are Sri Lankans. So, if you are a part of a multinational company, you have access to the best technology, and access to the best practices of the Nestle group. So, Sri Lankans can hugely benefit in attracting more FDIs, because you are attracting the best technology, brightest people, and can combine these two factors. That is why I often see a misconception of that reality," he said. "Nestle has a portfolio of over US $ 100 billion, more than the GDP of Sri Lanka. You can get so much expertise from a multinational company combining with local skills" he added. Swiss firms such as Nestle, Holcim, A. Baur and Co Ltd, Kuehne and Nagel etc. have already invested in Sri Lanka.