---
Sri Lanka was ranked among the countries with the poorest internet quality in 2020, according to a survey conducted by virtual private network provider, Surfshark.

Singapore topped the list of 85 countries for internet quality, while Sri Lanka came in at the other end of the spectrum with the poorest internet quality, after Philippines.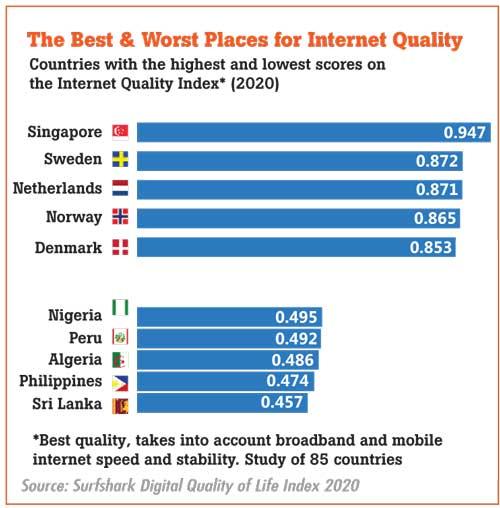 The survey also showed Scandinavian and Benelux countries being ranked high on what was called the 'The Internet Quality Index,' which gauges the speed and reliability of fixed and mobile broadband connections.

According to the Index, Canada came in at number 7th, ahead of United States' 18th ranking.

The ranking of the countries based on their quality of internet by Surfshark was published by Statista, a German company that specialises in market and consumer data.

This shocking finding on Sri Lanka's ranking comes at a time when people and firms depend more heavily on the internet for their day-to-day tasks from work to education to entertainment due to the COVID-19 pandemic. With more people coming online, internet speed has deteriorated drastically and particularly service quality at certain remote areas remains appallingly low. Coincidentally, this revelation comes five years after the firing of Sanath Siriwardena, the person who spearheaded the National Broadband Initiative, which was functioning at the time with the dual objective of ensuring continuously higher internet speeds and affordable rates.
Siriwardena in his five-year stint as a consultant, played an instrumental role at the Telecommunications Regulatory Commission (TRC) of Sri Lanka before his contract was abruptly discontinued effective from December 31, 2015 for no justifiable reason.

The NBI was established under the guidance of the then Secretary to the President and the Chairman of TRC Lalith Weeratunge as an extension to the National Broadband Consultative Committee, which was established in 2010 to spearhead broadband internet development in Sri Lanka.

Since the formation of the initiative, Sri Lanka made significant strides in the development of its broadband platform.

In 2014, Sri Lanka was ranked among top 50 countries with access to high-speed broadband (speed above 4 Mbps), outperforming countries like Australia, Malaysia, China and India.
This was possible in a very short span of time by continuously making broadband affordable while increasing the quality of services.

In 2012, Sri Lanka was ranked world's number one for the lowest entry level fixed broadband charges by the International Telecommunication Union.

Meanwhile, Facebook last week announced the launch of Instagram Lite in several countries, including Sri Lanka. The company said Instagram Lite will allow users to view photos and videos even if their internet bandwidth is low.