---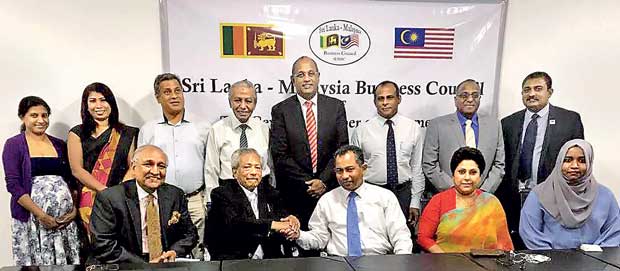 The Sri Lanka-Malaysia Business Council of the Ceylon Chamber of Commerce had a business meeting with members of the Malaysia-Sri Lanka Business Chamber on December 18th, at the Ceylon Chamber of Commerce.

The delegation was accompanying the Malaysian Prime Minister Mohd Najib bin Tun Abdul Razak during his visit to Sri Lanka on from December17thto 19th.

The Malaysian team was very positive about the potential for trade relations between Sri Lanka and Malaysia and noted that the two ccouncils should strive to increase activities with a proactive approach and mentioned that they are keen to expand business interests in Sri Lanka and that they have been promoting Sri Lanka as an investment destination, among Malaysian investors. The discussion took place on the topic in empowering youth in Sri Lanka and Malaysian delegates mentioned that the Malaysian organizations are happy to help Sri Lanka on vocational training and empowering youth, which will address the current issue on shortage of skilled labor in the country.

The Malaysian team shared their high focus directed towards SMEs in Malaysia and mentioned that SME companies in Malaysia are willing to invest in Sri Lanka, following the success stories in China on the same avenues. The team mentioned that they have confident that the same scenario can be replicated in Sri Lanka to achieve synergies through joint collaboration between Sri Lanka and Malaysian businesses. They also mentioned about an integrated building scheme to provide assistance to build houses and also mentioned about plans of organising a conference with focus on one-to-one meetings with Sri Lankan business community.

Sri Lanka-Malaysia Business Council (SLMBC) President Iqram Cuttilan, also a Director of Aitken Spence Shipping Ltd stated that SLMBC will support and collaborate in making these initiatives successful and mentioned that as per the invitation of Malaysia-Sri Lanka Business council, SLMBC will organise a trade delegation to Malaysia and will plan it to coincide with the international conference scheduled for the same period.

Ambassador Kumaseri, President Kulasegaran, V.J. Balan, Kanesan, Magandran, members from the Malaysia-Sri Lanka Business Chamber, SLMBC President Iqram Cuttilan, Vice President Amrit Canaga Retna, Past President Rohitha Silva, Past President Nilrukshi de Silva, Khalid M. Farouk, Mizha Mizver and members of the Sri Lanka-Malaysia Business Council of the Ceylon Chamber of Commerce attended the meeting.