---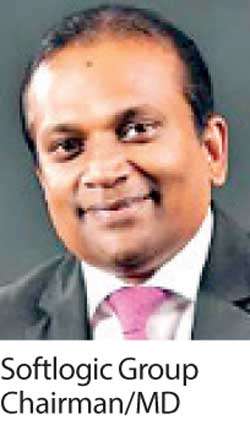 Diversified conglomerate Softlogic PLC will open its first supermarket outlet in fourth quarter of 2018, the company's annual report released last Friday to the Colombo Stock Exchange said.

The group has incorporated a subsidiary named Softlogic Supermarket (Pvt) Ltd., to carry out its soon-to-be-launched supermarket operations. This fully owned subsidiary was previously known as Softlogic Real Estate (Pvt) Ltd.

Softlogic said the supermarkets will be housed under its retail sector holding company, Softlogic retail Holdings (Pvt) Ltd.

In March 2018, Softlogic's retail sector was restructured. This resulted in the creation of Softlogic Retail Holdings (Pvt) Ltd. This new company now owns the group's interest in consumer durables and in telecommunication entities.
"The group's shareholding in Odel and Softlogic Restaurants will be transferred to the new company during the current financial year to ensure intense focus on these two companies as well," the annual report noted.

Sri Lanka's modern grocery retail sector has also seen robust growth supported by improving incomes, rising urbanization and changing lifestyles which have attracted more customers from traditional grocery channels.

According to the market research firm Nielsen, modern trade penetration remains low with only 12-15 percent of FMCG sales generated by modern grocery retail, relatively low in comparison with regional peers.

Currently, supermarkets are concentrated in urban areas, with large untapped potential in rural areas.

At one point speculation was rife that Softlogic would partner a leading foreign supermarket operator to launch its supermarket business.

Sri Lanka's super market space is currently dominated by Cargills, Keells and Richard Pieiris Group.

A distant fourth player would be the supermarket chain operated by Laugfs Group.

The State also has a hand in the business with Sathosa stores, which focus on low income earning consumers.

Independent food retail chain, SPAR International, last year granted licence to Ceylon Biscuits Limited (CBL)—the manufacturer of Munchee biscuits—to operate the SPAR brand as SPAR Sri Lanka is a joint venture with the SPAR Group Ltd South Africa.

SPAR Sri Lanka has announced plans to open 20 SPAR supermarkets within a five-year period. The first of such was opened in Thalawathugoda a couple of months ago.

Softlogic group has business interests in retail, healthcare, financial services, leisure, IT and automobile sectors.

A restructuring carried out in March identified four prime business verticals for the group– retail, healthcare, financial services and re-classified leisure and automobiles as non-core segments.

The three core business verticals contribute 95 percent to the group's top line with retail, healthcare and financial services contributing 51 percent, 20 percent and 19 percent respectively.

Meanwhile, the non-core businesses—automobile and leisure & property segments contribute 2 percent and 3 percent each.