---
Singer (Sri Lanka) PLC returned to profit during the December quarter (3Q20) amid gradual recovery in consumer spending, significant reduction in finance cost, supported by easing interest rates, the interim financial accounts released to the Colombo Stock Exchange showed.

The group earnings for the quarter under review was 82 cents a share or Rs.306.6 million compared to a loss of 48 cents a share or Rs.16 million a year ago.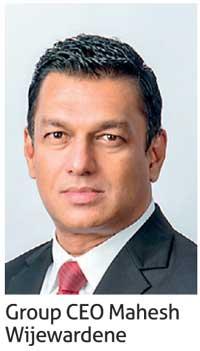 The group top line however fell 2 percent year-on-year (YoY) to Rs.15.5 billion, but cost of sales fell 8 percent YoY to Rs.10.5 billion, resulting in a gross profit of Rs.4.5 billion, up 8 percent YoY.

The operating profit for the quarter rose 22 percent YoY to Rs.1.3 billion. Net finance cost fell to Rs.718 million from Rs.971.2 million a year ago.

"The mainstays of this significant improvement were due to growth across key product categories as a result of targeted marketing efforts, an improvement in gross margins as well as a reduction in the group's finance costs.
Contributing to this momentum was Singer (Sri Lanka) PLC, the marketing arm of the Group, showcasing a notable turnaround, posting a profit after tax of Rs.291.7 million compared to losses of Rs.109.3 million in comparison to the previous year..

Ongoing focus on effective working capital management coupled with the gradual decline in interest rates enabled the Group to record a reduction in net finance costs during 3Q," a press statement by Singer Sri Lanka said.

For the nine months ended December 31, 2019, group earnings were recorded at 75 cents a share or Rs.281.8 million compared to earnings of 69 cents a share or Rs.258.6 million a year ago.

The revenue for the period fell 4 percent YoY to Rs.42.6 billion while cost of sales fell 9 percent YoY to Rs.28.5 billion.

Net finance cost for the period was flat at Rs.2.4 billion.

"We are optimistic on the medium to long-term recovery of the consumer durables market, particularly given the recent tax concessions and the relatively accommodative monetary and fiscal policy stance adopted by the government.

The group will continue to place strategic emphasis on driving volume growth across key product categories through targeted marketing while managing its costs through streamlining processes, digitisation and effective working capital management," Singer (Sri Lanka) Group CEO Mahesh Wijewardene said.

Singer (Sri Lanka) Group is the largest retailer, financier and manufacturer of consumer durables in Sri Lanka. The company has 439 retail stores as well as a fast growing e-commerce platform. The company also serves over 2,800 dealers/sub retailers.

Hayleys group, controlled by business magnate Dhammika Perera, owns little over 90 percent of Singer (Sri Lanka) PLC.